If Tableshop.xyz is showing you pop-up ads, know that you can stop them simply by changing your browser's notification settings – the instructions can be found below.
Tableshop.xyz is a website that spams ads via web push notifications. It works on all browsers that support notifications and that allow their prompts. It affects mobile devices and personal computers. And it can be very annoying.
Tableshop Xyz Notification Spam quicklinks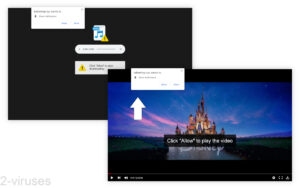 Tableshop.xyz in short:
Threat type
Adware,

browser hijacker.

What happens when Tableshop.xyz hijacks your browser
It shows pop-up ads on your screen,

some of the ads lead to dangerous content.

How to block malicious sites
Avoid sites that show aggressive, deceptive ads,

disable notification prompts,

use ad blockers when visiting such sites,

protect your computer with antivirus tools (Spyhunter for Windows, Spyhunter for Mac, Combo Cleaner for Mac, Malwarebytes).

How to stop Tableshop.xyz spam
Go into your browser settings and block notifications from Tableshop.xyz.
How Tableshop.xyz works
Tableshop.xyz displays ads
Tableshop.xyz is a website that may show pop-up messages on your screen. These pop-ups are ads that, if you click on them, open another website – an advertisement:
VPN ads,
online marketplaces,
fake articles promoting get-rich-quick scams,
suspicious slimming, enhancement, and medical products,
fake virus alerts – tech support scams, fleeceware apps, optimizer apps.
The ads that Tableshop.xyz shows are sometimes for mundane, safe products. Other times, they promote scams and other potentially dangerous content. The quality of ads shared by Tableshop.xyz is the same as that on pirating sites and other controversial sites. You can encounter fake security alerts, fake download buttons, potentially unwanted software, phishing scams (for instance, sites that impersonate the login pages of other sites), made-up doctors promoting fake miracle cures, and other dangerous content.
Tableshop.xyz is advertised online
Tableshop.xyz's operators make money from showing these ads. They also spend some money advertising the site online, often on pirating sites – they tend to show dangerous advertisements.
As Tableshop.xyz has no content, people only discover it thanks to the misleading ads that it shows:
download buttons,
video players,
loading bars,
captchas,
etc.
All of them – fake. When Tableshop.xyz pops up in an advertisement, it wants people to allow its notifications. It shows the notification prompt, then asks people to click the Allow button. "Click Allow to play the video", "Click Allow to start downloading", etc.
In reality, all these pages that Tableshop.xyz shows are fake. They lie just to get people to subscribe to notifications.
Tableshop.xyz is far from the only such site. It is similar to Worldactualstories.com, Leaked-video.live, and many other notification hijackers.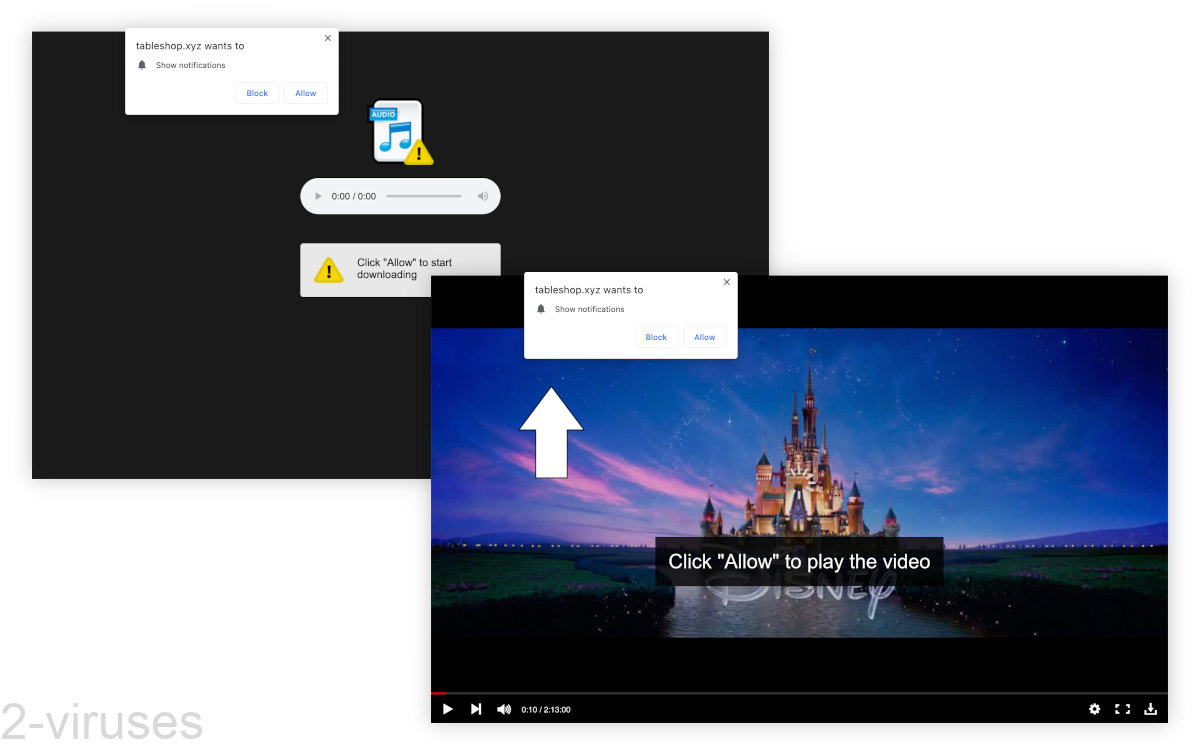 How to avoid notification spammers
Tableshop.xyz and other notification spammers need permission to show their ads. Luckily, browser developers know that notification abuse is a problem. Some hide these prompts by default, others give you the option to hide them. If you stop all sites from showing their notification prompt (all you need to do is change a little setting in your browser), then sites won't be able to get permission to spam you with malicious notifications.
This does mean that sites that don't abuse their notifications will also be unable to ask you to allow their notifications. But you can always allow them by manually adding their address on the same settings page.
Another way to minimize your encounters with notification spammers such as Tableshop.xyz is to block malicious sites and ads. You can use anti-malware apps like Spyhunter for Windows, Spyhunter for Mac, Combo Cleaner for Mac, Malwarebytes, and others.
Ad blockers can also help you stay safe. Most mainstream sites don't show ads that lead to sites like Tableshop.xyz. But some sites, such as pirating ones, show a lot of aggressive pop-up ads. In these cases, it's very helpful to protect yourself with an ad blocker.
Automatic Malware removal tools
How to stop ads by Tableshop.xyz
The reason that Tableshop.xyz is able to show ads on your screen is that it has taken over a setting in your browser. Change that setting – and Tableshop.xyz will stop.
Chrome – open Settings, scroll down to Site settings (under Privacy and security), click on Notifications.
Edge – open Settings, click Site Permissions, Notifications.
Safari – in the Safari menu, choose Preferences, Websites, Notifications.
Firefox – open Settings, Privacy & Security, scroll down to Permissions, and click on Settings next to Notifications.
You should see a list of site addresses. Some of them are in the Allow section – they're allowed to send you notifications. Tableshop.xyz should be here. Click the button next to its entry and choose the Block option.
The Block section lists the sites that are blocked from sending you notifications and from asking you to allow them. Tableshop.xyz should appear there.