Masstrk.com is a malicious website. It spams iPhone users with fake virus alerts. These alerts might appear in people's calendars and/or as notifications and they threaten that viruses and malware will harm the iPhone.
Interacting with Masstrk.com's alerts leads to the App Store, where an app is recommended that will supposedly protect the iPhone. But since Masstrk.com's virus alerts are fake anyway, it's not surprising that the app should be avoided – it's useless and it charges ridiculous subscription costs. Users could accidentally lose hundreds of dollars to the scam.
Masstrk Com Spam quicklinks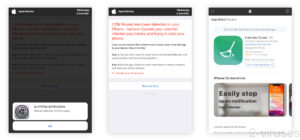 About the Masstrk.com virus:
Threat type
Scam,

scareware.

What the Masstrk.com alerts look like
They appear as notifications and calendar events,

they are disguised as real Apple/iOS alerts,

they say that your device is infected, information is being stolen, and harm is imminent.

What is the goal of the scam
Useless apps with excessive subscription fees
How to stop the Masstrk.com ads
Delete spam calendars,

remove suspicious apps and cancel their subscriptions,

use ad blockers and anti-malware apps (Malwarebytes) to avoid more malicious ads and apps.
How does the Masstrk.com scam work?
Masstrk.com shows fake virus alerts
Masstrk.com is a website. When you visit it normally, it just shows some parked domain ads, as if it was a dead site.
But there's more to Masstrk.com. You can see it if you have a specific link. Masstrk.com shows fake system notifications that claim that there are viruses on your iPhone.
Here's how it all starts: malicious sites send fake virus alerts to people's calendars. These alerts threaten that, in a few minutes, the phone will be infected with malware.
[number] Minutes left before your iPhone could possibly be infected with Malware.

Follow the steps below to protect your device before it's too late.
Following the notification's instructions opens Isafetyd.blogspot.com, which forwards visitors to Update.masstrk.com. This page then shows a fake system notification that warns about malware. Masstrk.com says that the phone's calendar is hijacked (yeah, by the same sites that are showing these fake alerts), the battery was infected (whatever that means), and hackers are trying to steal photos.
(129) Viruses have been detected on your iPhone – hackers hijacked your calendar, infected your battery and trying to steal your photos.

If you do not remove this malware now, it may cause more damage to your device. How to fix this:

Step 1: Tap the button below & install the recommended AdBlocker and virus protection tool free from the AppStore.

Step 2: Run the app, follow on screen instructions to remove malware and repair your phone remotely.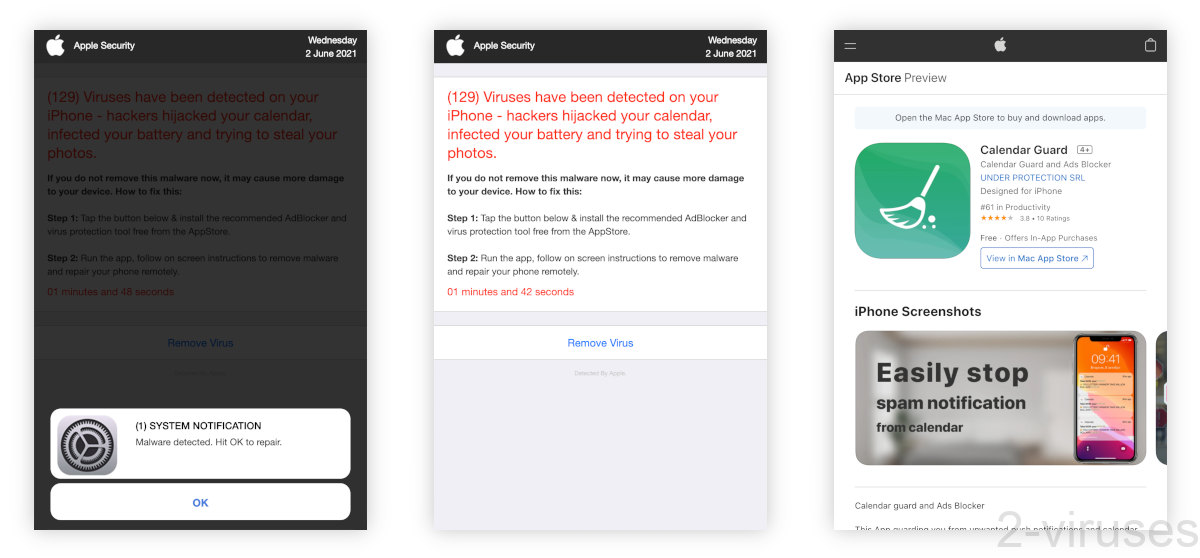 Masstrk.com promotes a fake ad blocker
Clicking anywhere on the Masstrk.com notification opens a page on the App Store. What app is being advertised might change each day: it could be a VPN, an ad blocker. These apps promise to fix all issues with the iPhone – but they are often fake apps that don't deliver the features that they promise.
In my case, Masstrk.com lead me to Calendar Guard (or Calendar guard and Ads Blocker). This app promises to stop notification and calendar spam, speed up the browser, and save battery life. It also costs $129.99 for 3 months.
As the Masstrk.com ads are designed to look like iOS/Apple alerts, some users might believe that the Calendar Guard app is recommended by Apple itself, which is not true.
Calendar Guard is a fleeceware app: it delivers poor features and overcharges its users. It may also be called a fleeceware scam. The goal of these scams is to trick people into paying for useless apps. The Masstrk.com virus alerts help make people feel like they have to install Calendar Guard, even if they don't want to.
How to stop Masstrk.com spam
Ignore all the alerts that you encounter online that say that there's malware on your Mac, iPhone, or another device. Alerts like Your System Is Infected With 3 Viruses!, Hacker is tracking you!, Your device is currently infected with a Trojan virus!, and others are nothing more than scams.
Check out this Apple support article: Delete spam calendars and events on iPhone. Calendar spam and web push notifications are two ways in which malicious actors spam people's devices with malicious ads. These are easy to subscribe to unintentionally, often thanks to deceptive advertisements.
If you downloaded Calendar Guard or another malicious app, remove it and cancel the subscription. You may also want to report the app.
You can scan your device with an anti-malware app, such as Malwarebytes. You can protect your phone or tablet from malicious sites and fake virus alerts by using an anti-malware tool and an ad blocker – a real, reputable ad blocker and not a scam like Calendar Guard.
Source: https://www.2-viruses.com/remove-disk-speedup
Read "Masstrk.com Spam" in other languages