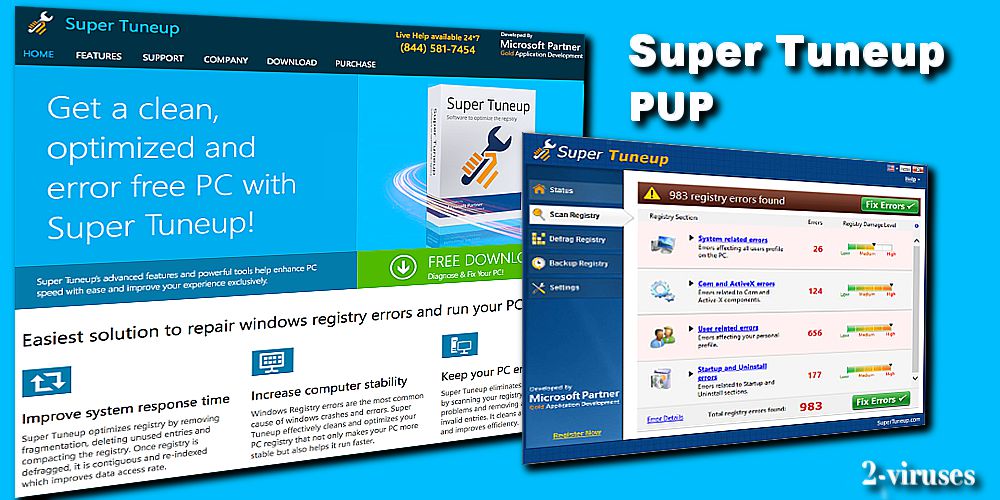 Super Tuneup is another bogus system optimization tool from Systweak Software. This application is advertised online as a free Windows registry repair kit that is going to clean your PC and improve its performance. The professional design, official website, and claims that it was developed by the approved Microsoft Partner, can easily trick anyone who does not know much about malware. Actually, Super Tuneup is no more than a potentially unwanted program that despite the nice lies, is not powerful enough to clean the system or perform anything beneficial for your machine, moreover, developers are going to try luring out money from you whenever they get a chance.
Super Tuneup Pup quicklinks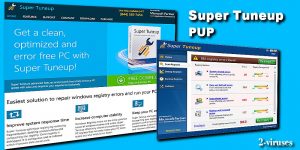 Systweak has already earned a shady reputation for their name from other malicious creations like Regclean Pro, Advanced System Protector, Advanced Identity Protector, System Speedup, which are basically the same thing as Super Tuneup, just with a different exterior. Even though many antivirus programs recognize Super Tuneup as a virus, there are some users that might not have a security tool or think that it is a false alarm, therefore, please, keep reading this article to learn more about the reasons why it is imperative to remove Super Tuneup PUP and how to do so. 
Why is Super Tuneup malicious
At the first glance, Super Tuneup is a typical System optimization program, which performs system cleaning and organizing tasks. Unfortunately, in reality, it is a fake software made by professional scam artists Systweak, which have been making programs like this for years, and know how to deceit an innocent user. Once inside the computer Super Tuneup will capture your attention by alerts requiring you to scan the system. If you won't, it will get super annoying and keep bringing pop-ups multiple times per day. (More about fake system maitenance helpers)
Eventually, after you run the scan, Super Tuneup Registry cleaner will display hundreds if not thousands of discovered mistakes, which will require fixing, but the only way to treat them is getting the full premium version, which costs $29.95. That may not seem like much, especially when it comes to repairing your PC, but you'd be only losing money. When you go to the payment page, prices are very different in each currency, but even the promised $29.95 ends up rounding up to $39.95 for unknown reasons. The refund is also not possible, because you will be paying through another third-party service, which does not support that.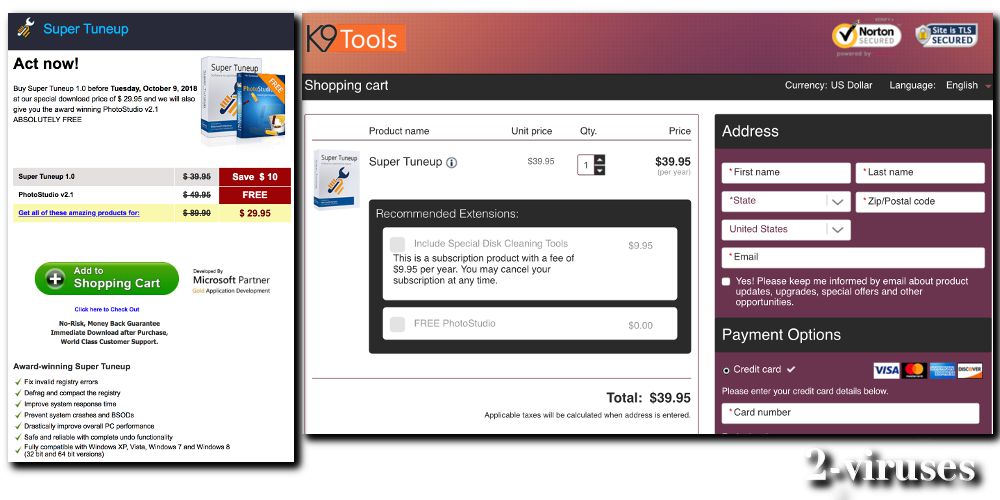 You may have guessed that these found errors are false, and just a scaring technique to make a sale of the premium version. Even on a new computer Super Tuneup virus would be able to find some problems. But that is not the only shady thing about this PUP. It tracks users' personal and non-personal data, which is later shared with third-parties. You can read this in their Privacy Policy, which they have worked on hard to avoid any lawsuits. To add fuel to the fire, if you call the support number (844) 581-7454, or enter your phone when registering or etc. Scammers will call you and try getting money by selling even more products. These are the reasons why Super Tuneup is malicious and why you should delete it immediately.
We collect personally identifiable information; such as name, mailing address and e-mail address when you register to one of our products or place an order (see the section below for more information on placing order). Website visitors may register to receive our newsletter by submitting their name and e-mail address.

In addition to the customary information that may be required to fill your order (full name, address, phone number, ship-to name and address etc.), collection of additional information such as your credit card number and credit card expiration date, is dependent on option of payment as we offer online and offline subscribers additional options such as check, money order and credit card order by fax or phone.

Applications and Services can use the aforementioned information to send product recommendations, product updates and important customer service notifications directly to your computer. Furthermore, the data is used for the purposes of product and market analysis which enables us to improve individual products and the range of products and services.
The aforementioned data may be shared with third party vendors and partners and it will be governed by their privacy policy, which will be provided to you when you accept any offer by them.
How does Super Tuneup spread
There are a few rather legitimate ways that Super Tuneup PUP can spread. There are enough victims that believe in this product and download the optimization tool themselves, but the main technique – Bundling, is common amongst some other malware as well. Super Tuneup, despite having a nice design and official site, does not attract that many voluntary clients, therefore it gives a little push by setting up together with other applications when they are installed, especially those from P2P share sites and freeware distributing pages.
Lots of people technically install Super Tuneup with their consent, simply because they do not unselect premarked additional tools in Advanced mode, and agree to get everything that the Setup Wizard recommends. Therefore never forget to opt-out or else you will get an unpleasant surprise in your PC.
Furthermore, if you get other Systweak products, you can expect to end up with more than one. It is known that if you call the support number these Indian scammers will try to convince you to download Super Tuneup to fix your system issues or bundle it with other products when you purchase/download them.
How to remove Super Tuneup virus
On VirusTotal.com scan 23 out of 68 security programs mark Super Tuneup as a virus, which is very high for an application like this. They call it a PUP (eg. PUP/Systweak, PUA:Win32/Systweak, Win32/Virus.3ad, Program.Unwanted.565, Artemis!Trojan). If you don't already have a security tool, you should get one, such as Spyhunter, because they will be very helpful assisting you with the Super Tuneup virus removal and prevention in the future.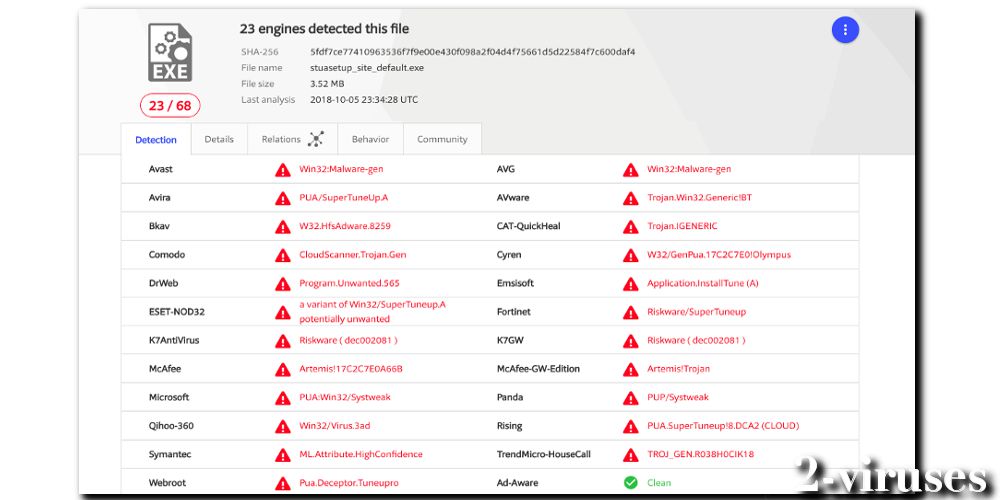 Below there are guidelines on how to remove Super Tuneup program from your Control Panel manually, which are exactly the same as mentioned in the official Systweak's website. Yet, they do not always work and tend to leave lots of malicious leftovers behind, which keep performing undesired actions. That is why having a trustworthy security tool is always a better option, just don't be fooled by another Rogue antivirus, that will be no better than a Super Tuneup Pup itself.
Automatic Malware removal tools
How to remove Super TuneUp PUP using Windows Control Panel
Many hijackers and adware like
Super TuneUp
install some of their components as regular Windows programs as well as additional software. This part of malware can be uninstalled from the Control Panel. To access it, do the following.
Start→Control Panel (older Windows) or press Windows Key→Search and enter Control Panel and then press Enter (Windows 8, Windows 10).
Choose Uninstall Program (if you don't see it, click in the upper right next to "View by" and select Category).
Go through the list of programs and select entries related to Super TuneUp PUP . You can click on "Name" or "Installed On" to reorder your programs and make Super TuneUp easier to find.
Click the Uninstall button. If you're asked if you really want to remove the program, click Yes.
In many cases anti-malware programs are better at detecting related parasites, thus I recommend installing Spyhunter to identify other programs that might be a part of this infection.