SSD Fresh is a potentially unwanted program flagged by a few antivirus tools. It's supposed to make your computer run better by changing a few drive settings on computers that use an SSD. However, it might not always improve your computer's performance, but unnecessarily interfere with it. Even though SSD Fresh is not malicious, it might be better to avoid it.
Ssd Fresh Optimizer quicklinks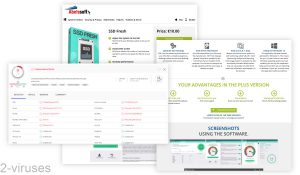 In short about SSD Fresh:
Threat type
Potentially unwanted program.
How SSD Fresh works
It changes various Windows settings in ways that are supposed to help your SSD.
Problems and issues
Its offers are outdated and don't apply to new Windows versions,

its user interface may unnecessarily imply problems where they don't exist.

How to remove SSD Fresh
Uninstall it manually,

remove all malware with an antivirus tool (Spyhunter, others),

use built-in Windows tools to optimize your computer.
What is SSD Fresh?
Potentially unwanted program
SSD Fresh is an optimizer for Windows computers. It's supposed to help your computer run better, faster, and be more stable. Specifically, SSD Fresh is meant to make your SSD (solid-state drive) work better. If you don't have an SSD, then SSD Fresh is not meant for you.
Unfortunately, SSD Fresh is considered a potentially unwanted, low-reputation program by a few reputable antivirus programs: Virustotal.com. While SSD Fresh is not dangerous, it is potentially unnecessary and may use slightly manipulative tactics to appear more useful than it really is, according to these scanners.
For example, AppEsteem, a company that monitors the behavior of various programs and points out risky and potentially harmful features, considers SSD Fresh to be a deceptor for using images in its user interface that could imply danger where there is none, and for making the Return policy and removal instructions difficult to access.
Lots of optimizers get labeled as potentially unwanted programs: Defencebyte Computer Optimizer, Ashampoo WinOptimizer, Tweakerbit Registry Optimizer, and others. They're just not very useful nowadays, and too many of them employ misleading tactics to stay relevant.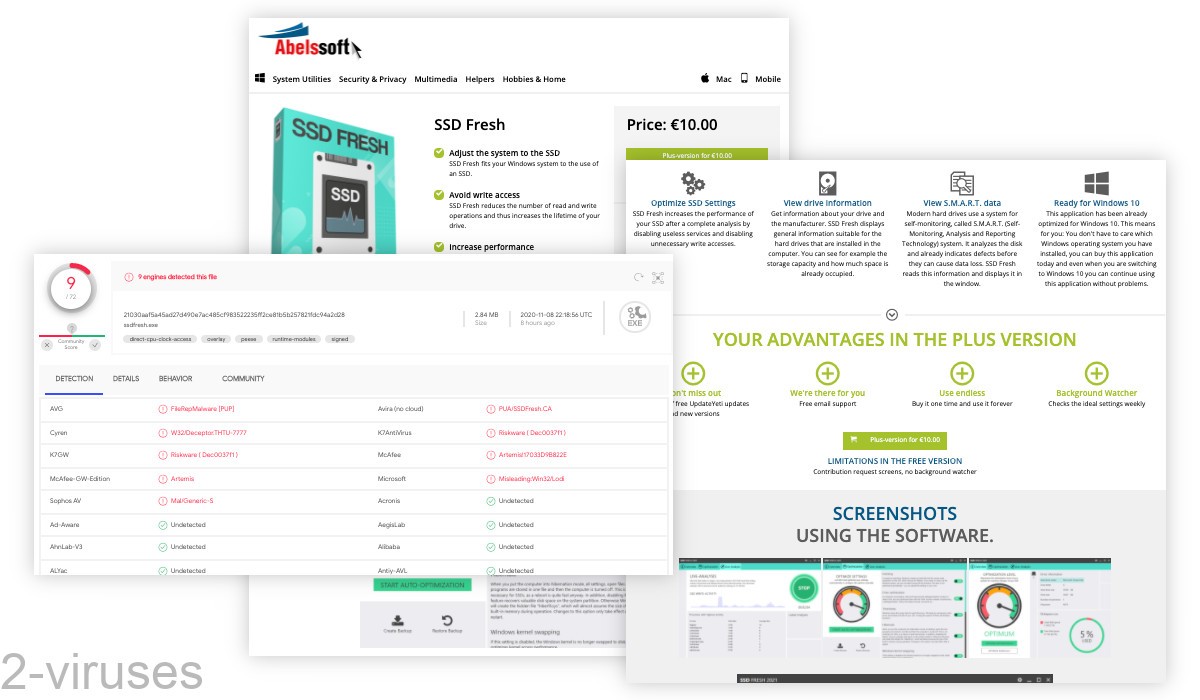 Outdated advice
Another problem with SSD Fresh is that its advice for managing your SSD may be a bit outdated. SSD Fresh is meant to improve the longevity of your SSD by disabling various Windows features, but this may hurt your experience for no benefit. No wonder – SSD Fresh was majorly renewed back in 2016, which was ten years ago.
Here are the features that SSD Fresh promises to bring to your machine:
Disable "useless" services.
Displays information about the health of your drive.
Displays how much storage space you have and how much of it is occupied.
Allow you to turn certain Windows settings that influence how the SSD is used (indexing, timeline, hibernation, and others) on or off.
This advice is just old. By now, Windows is good at managing SSDs, which means that if you have an up-to-date version of Windows, you don't need to worry – your SSD is already optimized.
Downloaded from different websites
SSD Fresh can be downloaded from Abelssoft.de. It can also be found on various freeware sites.
It's recommended to use Abelssoft.de to download their software so that you can avoid unnecessary items being bundled with SSD Fresh's installer. Sites like Softfamous.com include potentially unwanted additions in the installers of free programs, which can result in adware infecting your computer.
How to remove SSD Fresh
If you find that SSD Fresh is good for you, then you can keep using it without worry. But be skeptical of optimizers that promise to make your computer run faster. Often, these paid programs just change a couple of Windows settings and even then, it's not certain that these settings changes were helpful.
To remove SSD Fresh it's enough to uninstall it and then make sure you're not paying via subscription. You can also use an antivirus program, such as Spyhunter, to check your computer for other potentially unwanted programs, adware, etc.
After that, it would be good to check your drive optimization settings and optimize your computer as described by Microsoft: Support.microsoft.com.
With SSD Fresh, browser extensions may also be offered, as well as browser notifications. Check your browser settings and remove unnecessary items.
Automatic Malware removal tools
How to remove SSD Fresh Optimizer using Windows Control Panel
Many hijackers and adware like
SSD Fresh Optimizer
install some of their components as regular Windows programs as well as additional software. This part of malware can be uninstalled from the Control Panel. To access it, do the following.
Start→Control Panel (older Windows) or press Windows Key→Search and enter Control Panel and then press Enter (Windows 8, Windows 10).
Choose Uninstall Program (if you don't see it, click in the upper right next to "View by" and select Category).
Go through the list of programs and select entries related to SSD Fresh Optimizer . You can click on "Name" or "Installed On" to reorder your programs and make SSD Fresh Optimizer easier to find.
Click the Uninstall button. If you're asked if you really want to remove the program, click Yes.
In many cases anti-malware programs are better at detecting related parasites, thus I recommend installing Spyhunter to identify other programs that might be a part of this infection.