Defencebyte Computer Optimizer is a potentially unwanted program. It is flagged by a few antivirus scanners. Defencebyte, the company behind this optimizer, has a bit of a reputation of tricking people into paying for unnecessary software.
On its own, Defencebyte Computer Optimizer is not very useful and is actually somewhat unstable, so I recommend looking for another tool.
Defencebyte Computer Optimizer quicklinks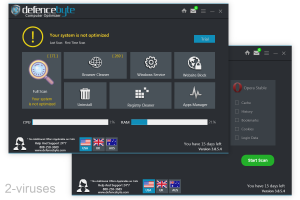 About Defencebyte Computer Optimizer:
Classification
Potentially unwanted program.
Problems with Defencebyte Computer Optimizer
Used to use scareware tactics,

its features are lacking,

it is flagged by some antivirus scanners.

How it is installed
Downloaded from the Defencebyte.com website,

downloaded from freeware download sites.

How to remove Defencebyte Computer Optimizer
Uninstall it,

remove malware with antivirus tools (Spyhunter, Malwarebytes, others).
Defencebyte Computer Optimizer problems
Scareware
Defencebyte Computer Optimizer is a relatively old program that can be downloaded from the Defencebyte.com site. Currently, it gets detected by antivirus programs as Riskware, Malware, Unwanted, etc. Here's a scan page – Virustotal.com.
Back in 2018, Defencebyte Computer Optimizer had a big problem – it behaved like scareware. Here are some of the things it used to do:
Detect harmless items as problems, inflating the number of apparent issues.
Make all the issues appear dangerous by calling them "errors", using alarm signs and "damage level" gauges.
Not explaining clearly what the issues were.
Using different names for the program, causing confusion.
Scheduling various actions and not warning the user.
Of course, Defencebyte Computer Optimizer is a paid program and it won't fix all those "errors" for free. Its goal is to make itself look useful and important, to get people to buy it even if they don't need it.
Still a dubious program
Now, in 2020, Defencebyte Computer Optimizer is noticeably less terrible. It got rid of the alarm symbols and is a lot less stressful to use as a result. Unfortunately, there are still problems.
Defencebyte has some negative reviews on Trustpilot (Trustpilot.com), including some recent ones. According to them, Defencebyte was calling people and telling them that their computer was in danger, telling them to buy hundreds of dollars worth of software. This sounds awfully close to tech support scams.
Of course, the reviews could be referring not to Defencebyte Computer Optimizer, but to Defencebyte Antimalware. Still, the company is the same, so it is a concern.
Also, Defencebyte Computer Optimizer's features are just not very impressive:
Apps manager and Windows service – basically, the Task Manager, but it has fewer features.
Browser Cleaner – a tool for deleting browser data, but it doesn't recognize some web browsers.
Registry Cleaner – be careful with that.
As with other Windows optimizers (PC Gold Optimizer, Ashampoo WinOptimizer, etc.), Defencebyte Computer Optimizer offers nothing beyond what Windows already has, such as Task Manager and Storage Sense and Disk Cleanup. I just don't see a reason to use Defencebyte Computer Optimizer.
Especially when Defencebyte.com requires your name and email to even try the free version. Don't give your real name and email to sites that you don't trust.
Also, Defencebyte Computer Optimizer is unstable, as it crashes pretty easily.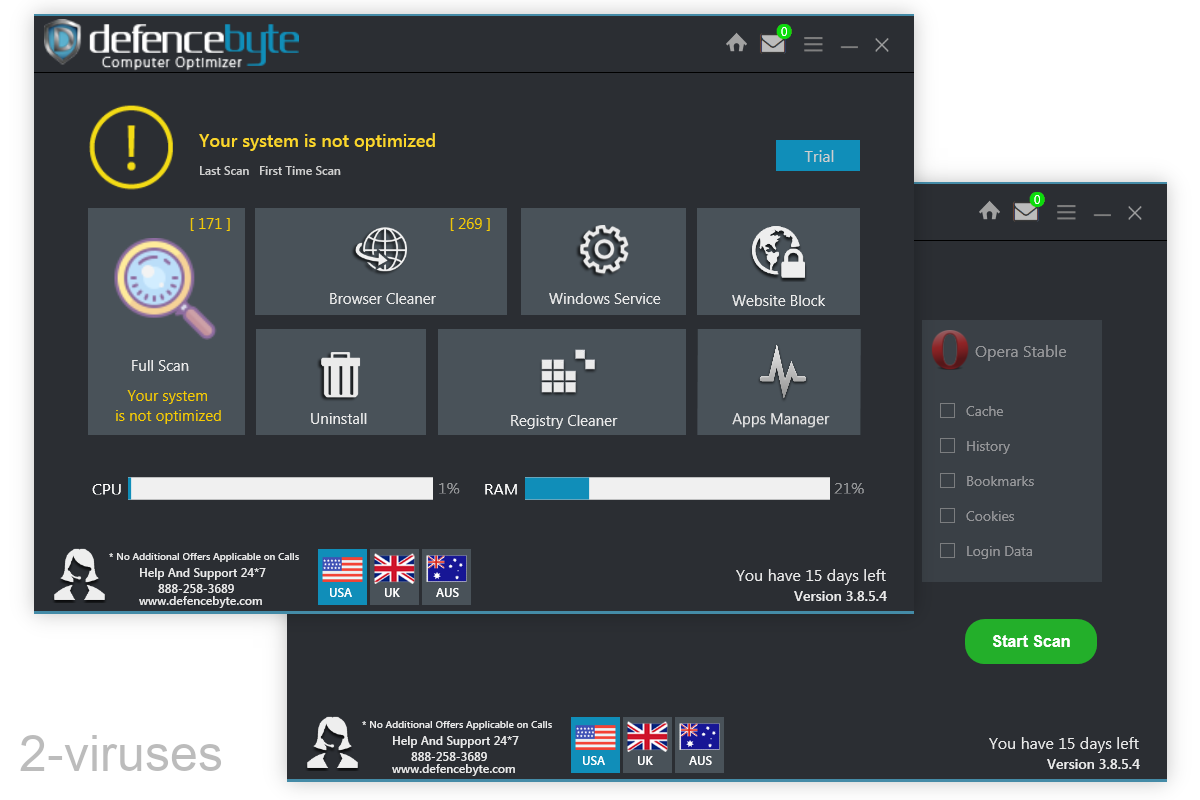 How to remove Defencebyte Computer Optimizer
You can use an antivirus program (Spyhunter, Malwarebytes, and others) to remove Defencebyte Computer Optimizer and other unwanted programs. You can also uninstall it manually, like in the Control Panel.
You need to quit Defencebyte Computer Optimizer first, as it continues to run in the background when you close it. You can do this with the help of Task Manager or in the notification area in the lower right corner of our screen (just right-click Defencebyte Computer Optimizer's icon and choose Exit).
If you reboot at some point, quit Defencebyte Computer Optimizer again, as it sets itself to run on startup.
That said, I always got errors while trying to uninstall this program. If you do too, and if antivirus programs don't help you in removing it, then look into troubleshooting solutions, such as Clean Boot, or contact Window support.
Make sure to scan your computer for other malware and adware. Especially if you didn't use Defencebyte.com to download Defencebyte Computer Optimizer, but some other site. Make sure you didn't accidentally install some optional offers that certain download sites promote.
Automatic Malware removal tools
How to remove Defencebyte Computer Optimizer using Windows Control Panel
Many hijackers and adware like
Defencebyte Computer Optimizer
install some of their components as regular Windows programs as well as additional software. This part of malware can be uninstalled from the Control Panel. To access it, do the following.
Start→Control Panel (older Windows) or press Windows Key→Search and enter Control Panel and then press Enter (Windows 8, Windows 10).
Choose Uninstall Program (if you don't see it, click in the upper right next to "View by" and select Category).
Go through the list of programs and select entries related to Defencebyte Computer Optimizer . You can click on "Name" or "Installed On" to reorder your programs and make Defencebyte Computer Optimizer easier to find.
Click the Uninstall button. If you're asked if you really want to remove the program, click Yes.
In many cases anti-malware programs are better at detecting related parasites, thus I recommend installing Spyhunter to identify other programs that might be a part of this infection.