Ashampoo WinOptimizer is a PC cleaner and optimizer. Unsurprisingly, some of its versions are flagged by multiple antivirus scanners (VirusTotal link). WinOptimizer can be used, but it is not advisable. Not just because it is a PUP but also because this paid program offers a lot of features that are already available for free. Optimizers like Ashampoo WinOptimizer often promise to make your computer run better, but they rarely deliver.
Ashampoo Winoptimizer quicklinks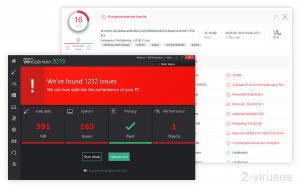 About WinOptimizer in short:
Classification
PUP (potentially unwanted program).
Issues with WinOptimizer
Redundant functions,

features that should be avoided or only used very carefully,

unnecessarily harsh presentation.

How to avoid problems with optimizers
Use built-in features of your operating system to manage your PC,

check the developer's reputation before downloading the program,

be skeptical and careful, ask online for expert advice.

How to remove WinOptimizer
Manually uninstall it,

check for other infections with an antivirus tool (Spyhunter (https://www.2-viruses.com/downloads/spyhunter2), Malwarebytes (https://www.2-viruses.com/downloads/mbam.exe), etc.),

manage notification permissions to block unwanted pop-ups.
Why WinOptimizer should be avoided
Ashampoo WinOptimizer is, as its name says, an optimizer. It is related to Ashampoo Driver Updater.
Ashampoo.com claims that WinOptimizer will improve the performance of your system by deleting cookies, removing junk, "cleaning" the registry, and managing startup items. WinOptimizer also offers to disable Microsoft telemetry, encrypt files, and manage drives.
There are multiple versions of Ashampoo WinOptimizer, including a free version, a 2018 version, and a 2019 one.
Redundant functions
Although WinOptimizer is described as being more powerful than the Windows built-in tools, it's not totally accurate. Some of its functions are exactly like the built-in Windows tools.
The startup and process managers are already easily accessible in Windows, completely free. Windows also has tools for finding and fixing system and drive errors, it automatically defragments the drive, installs new drivers, scans your computer with the built-in security tools, and does much more.
Some more advanced functions, like file encryption, are also available, although not in all versions of Windows.
All the while, Ashampoo asks for around $30 for WinOptimizer (there are a few different versions of WinOptimizer) even though many of its functions are already available for Windows users for free.
Unhelpful features
While some of WinOptimizer's features are redundant but useful, others should be avoided.
Such as the registry cleaner, which, according to Ashampoo.com, needs to be "optimized" and "cleaned". In fact, Microsoft warns to be careful of registry cleaners, as the registry is a very important and sensitive database that, if damaged, could cause some programs to malfunction, and even brick your computer. At best, WinOptimizer will clean your registry and not harm your computer. But do not expect your PC's performance to improve because of it.
The same applies to cache, cookie, and temporary file removers. Removing such files indiscriminately will only cause applications to slow down. Cookies and cache are created by your programs to store relevant information for quick retrieval. For example, a website can load faster if your browser saves some of its information on your computer. WinOptimizer doesn't appear to protect such files.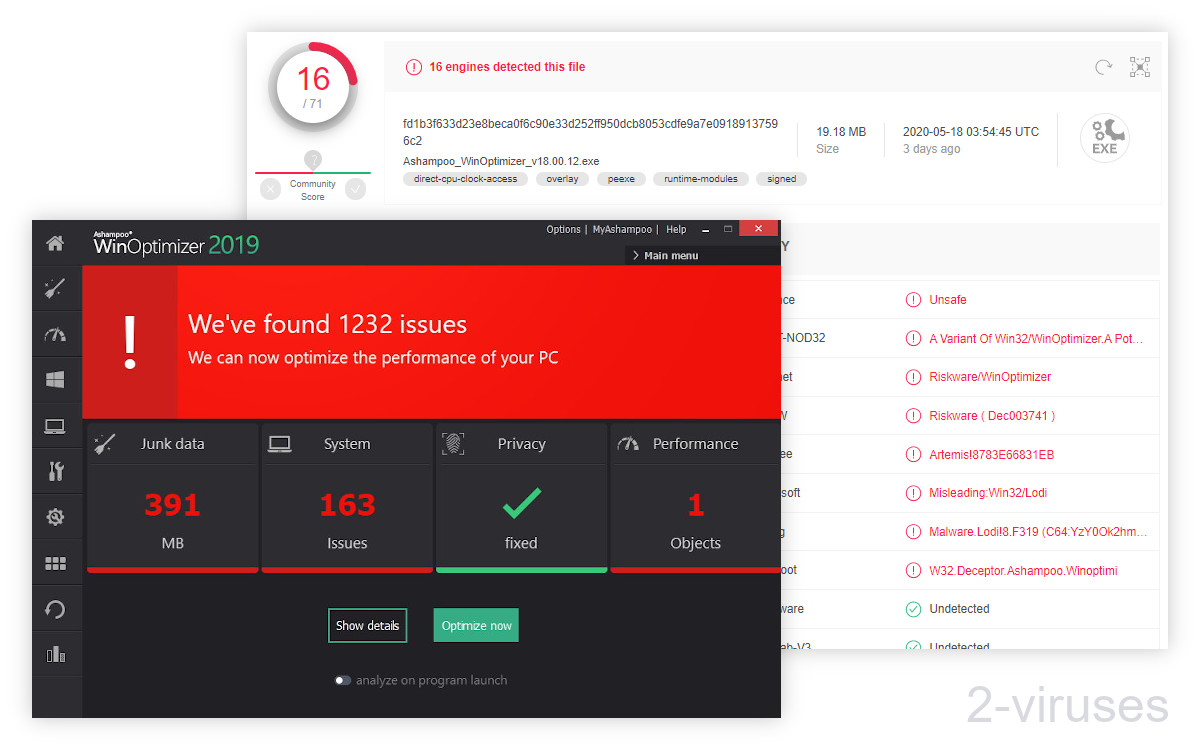 Exaggerated problems
Ashampoo WinOptimizer is an optimizer – a potentially unwanted program that, at best, might improve the performance of your computer. So why does its scan results page look like a giant security warning? Calling unnecessary files "issues", numbering them, and filling the WinOptimizer window with bright red that we generally use for errors and warnings. This makes is appear as if WinOptimizer found actual problems that need to be fixed. It is misrepresenting the situation and could be causing unnecessary stress.
The presentation can make a world of difference. Some optimizers and cleaners present found files very honestly and give you a lot of information and choice in managing them – while not overwhelming you with the visual design. WinOptimizer, on the other hand, displays a big red banner with an exclamation point, which is understood to mean emphasis, negation, or a warning.
This sort of thing is why Appesteem marks WinOptimizer as a deceptor. Because it's a technique used by scareware programs to push people into making unnecessary purchases. It should not be used by cleaners and optimizers. Ashampoo WinOptimizer is not a security program. Cookies, log files, and unnecessary registry entries are not security problems.
How to remove WinOptimizer
To remove Ashampoo WinOptimizer, you can manually uninstall it from your Control Panel. You can also use anti-malware tools, like Spyhunter (https://www.2-viruses.com/downloads/spyhunter2) or Malwarebytes (https://www.2-viruses.com/downloads/mbam.exe), to look for suspicious files and programs on your device.
WinOptimizer offers a 30-day money-back guarantee if that applies to you. You just need to contact their support. As always, be careful of sales offers.
If you're seeing pop-up ads on your screen, check your notification settings. Some sites use notifications to deliver unwanted advertisements.
Automatic Malware removal tools
How to remove Ashampoo WinOptimizer using Windows Control Panel
Many hijackers and adware like
Ashampoo WinOptimizer
install some of their components as regular Windows programs as well as additional software. This part of malware can be uninstalled from the Control Panel. To access it, do the following.
Start→Control Panel (older Windows) or press Windows Key→Search and enter Control Panel and then press Enter (Windows 8, Windows 10).
Choose Uninstall Program (if you don't see it, click in the upper right next to "View by" and select Category).
Go through the list of programs and select entries related to Ashampoo WinOptimizer . You can click on "Name" or "Installed On" to reorder your programs and make Ashampoo WinOptimizer easier to find.
Click the Uninstall button. If you're asked if you really want to remove the program, click Yes.
In many cases anti-malware programs are better at detecting related parasites, thus I recommend installing Spyhunter (https://www.2-viruses.com/downloads/spyhunter2) to identify other programs that might be a part of this infection.