Smartsrch.com virus is another browser hijacker, designed by Airfind Corporation. This company has produced quite a few hijackware parasites like Search.swiftsearch.co and Browserhome.net. All of these cyber threats are created for one purpose only: to occupy browsers' preferences (new tab pages, default search providers and homepages). Furthermore, Airfind has created hijackers that look identical to Smartsrch.com parasite: we are referring to variants like Search.iexplore.co and Websrch.net.
Smartsrch.com malware parasite will show sponsored content and retrieve information from your social accounts
Currently, Smartsrch.com virus is the most active in United States, India, United kingdom, Canada and Pakistan. After analyzing the web traffic to this search engine, we noticed quite a few peculiar notions. First of all, quite a few browser hijackers by Polarity are redirecting people to this website. Search.search101sweets.com virus is one of the platforms, sending traffic to Smartsrch.com parasite. Furthermore, Searchprivacy.co is another hijacker, supporting this product by Airfind.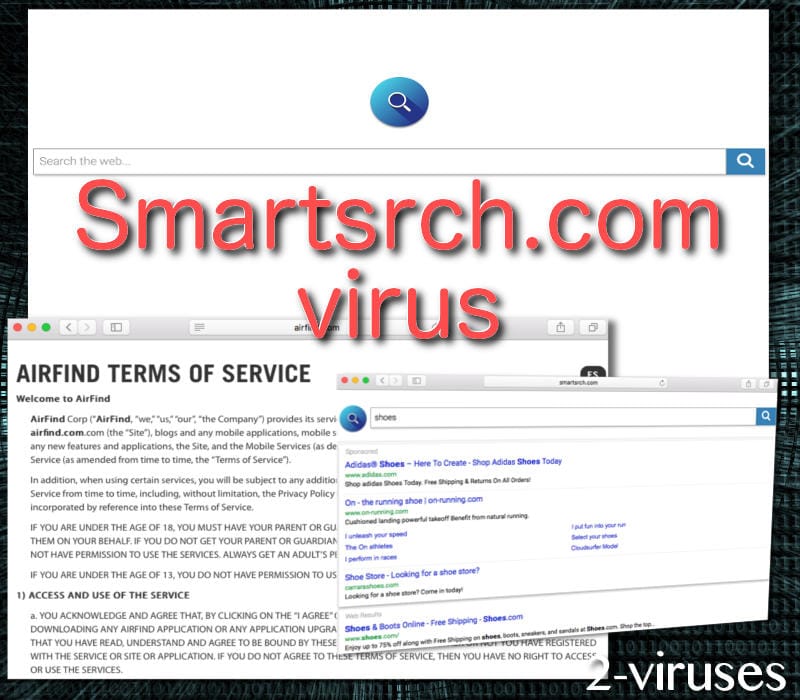 Browser hijackers are not considered very dangerous. They won't encrypt your files, nor will they have features of key-loggers or other sophisticated malware threats. Nevertheless, the Smartsrch.com virus should not be welcomed with open arms. The connection to this website is not properly secured. Therefore, the information you type in might end up in the possession of unreliable third-parties.
If you explore the Internet through the Smartsrch.com hijacker, you will notice that results to search queries feature sponsored links. If you click on the websites from this section, you will be allowing Airfind to profit. It could be that the company is affiliated with various third-parties, and receives pay-per-click payments PPC. While this might seem like a regular thing, in reality, Smartsrch.com hijacker could be promoting dangerous third-party websites.
In the EULA document of Smartsrch.com search platform, we noticed a bizarre statement, explaining that users might log into this website with their Facebook or Twitter accounts. We are unsure how this works. However, it is stated that by logging in or directly integrating these social networking services into the Smartsrch.com website, users' online experiences will be richer and more personalised. As part of the integration, Airfind will be provided with information from social networking platforms. Since details that Facebook stores about you have been handled improperly in the past, we do not think that allowing another third-party reach your personal info is a good idea.
When it comes to third-party ads, Airfind is not afraid to display them to users of Smartscrch.com:
"We may also share Non-Personally Identifiable Information with our business partners to deliver online advertisements ("ads") that may be of interest to you. AirFind may allow third-party ad servers or ad networks to serve advertisements on the Services. These third-party ad servers or ad networks use technology to send, directly to your browser or mobile device, the ads and ad links that appear on the Services, and will automatically receive your IP address when they do so.

They may also use other technologies (such as cookies, web beacons, JavaScript, device identifiers, location data, and clear gifs, see above) to compile information about your browser's or device's visits and usage patterns on the Services (without using any Personally Identifiable Information), and to measure the effectiveness of their ads and to personalize the advertising content".
How is the Smartsrch.com virus distributed over the Internet?
First of all, you might be infected with Smartsrch.com virus after downloading a random browser extension. Many add-ons are capable of changing browsers' preferences to unknown search platforms. Please do not install random browser extensions because they might hide malicious features. For instance, it could be that a seemingly harmless plugin will actually obfuscate activities of crypto-mining or ad-showing. Therefore, be extremely careful when choosing which browser toolbar to install.
If you have already become a victim of a harmful browser extension, we advise you quickly remove it from the list of active plugins. After this, Smartsrch.com virus should no longer be featured as your preferred search engine. In order to detect all malicious files in your computer, we recommend running a scan with Spyhunter. These programs will definitely help you keep your privacy and security preserved.
Automatic Malware removal tools