Smart Driver Care is a program that offers to improve the performance of Windows PCs by updating device drivers. But you should think twice before using it. Smart Driver Care costs some €40 per year, yet it duplicates a functionality provided for free by Windows Update. It also leads people to, possibly unintentionally, install another paid program.
Even though Smart Driver Care is not malware, some antivirus scanners do flag it to warn their users – be careful of this one.
Smart Driver Care quicklinks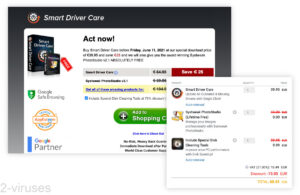 Smart Driver Care in short:
Classification
Potentially unwanted program – PUP.
Problems with Smart Driver Care
It bundles a PUP,

it duplicates free Windows features.

Alternatives
Use Windows Update to install new drivers,

use device manufacturer programs to install new drivers.

How to remove Smart Driver Care
Cancel subscriptions to the programs to be removed,

check your device for PUPs with anti-malware scanners (Malwarebytes, others),

uninstall unwanted programs.
Is Smart Driver Care dangerous?
Smart Driver Care is flagged by antivirus scanners
Smart Driver Care is a driver updating utility for Windows PCs. It promises to detect outdated, missing, incompatible drivers and help users update them. Smart Driver Care is very similar to Super Driver Updater. That's not surprising – they're made by the same company, Systweak.
Smart Driver Care implies on the Smartdrivercare.com site that outdated drivers can cause errors, instability, and suboptimal PC performance. The program thus implies that it can improve the performance and stability of your PC.
Even though the program is presented as a helpful tool for Windows PCs, a few security vendors consider it to be a PUP (potentially unwanted program). Here is the scan: Virustotal.com.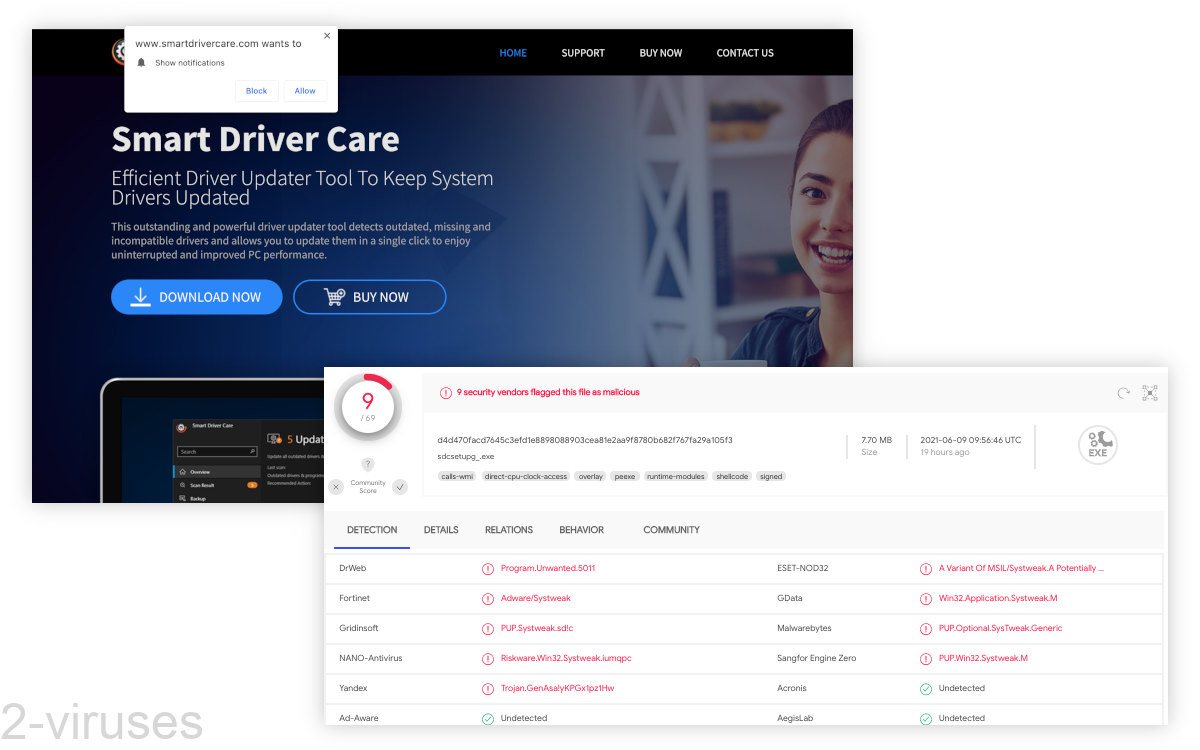 Scanners label Smart Driver Care's installer as Unwanted, PUP, Adware, Riskware, and Systweak.
Smartdrivercare.com has a Norton Safe Web seal on the site, but Norton considers Systweak worthy of "Caution" as it "may have a small number of threats and annoyances".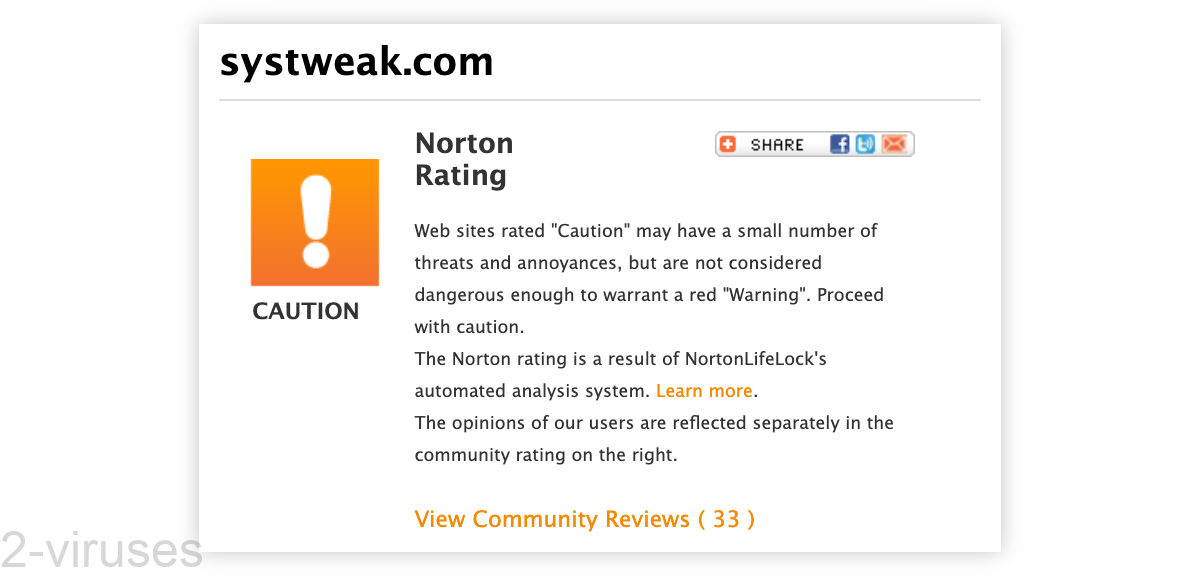 These detections don't mean that Smart Driver Care is dangerous. But they're also not false positives.
Problems with the program
Unexpected add-on
There are a few real problems with Smart Driver Care that cause security vendors to flag it.
One is that Smart Driver Care bundles another program. This is an issue because it can cause users to unintentionally install PUPs.
In my case, the driver updater bundled Special Disk Cleaning Tool – Disk Speedup. This is a paid program that is included without asking and is easy to miss during the shopping process.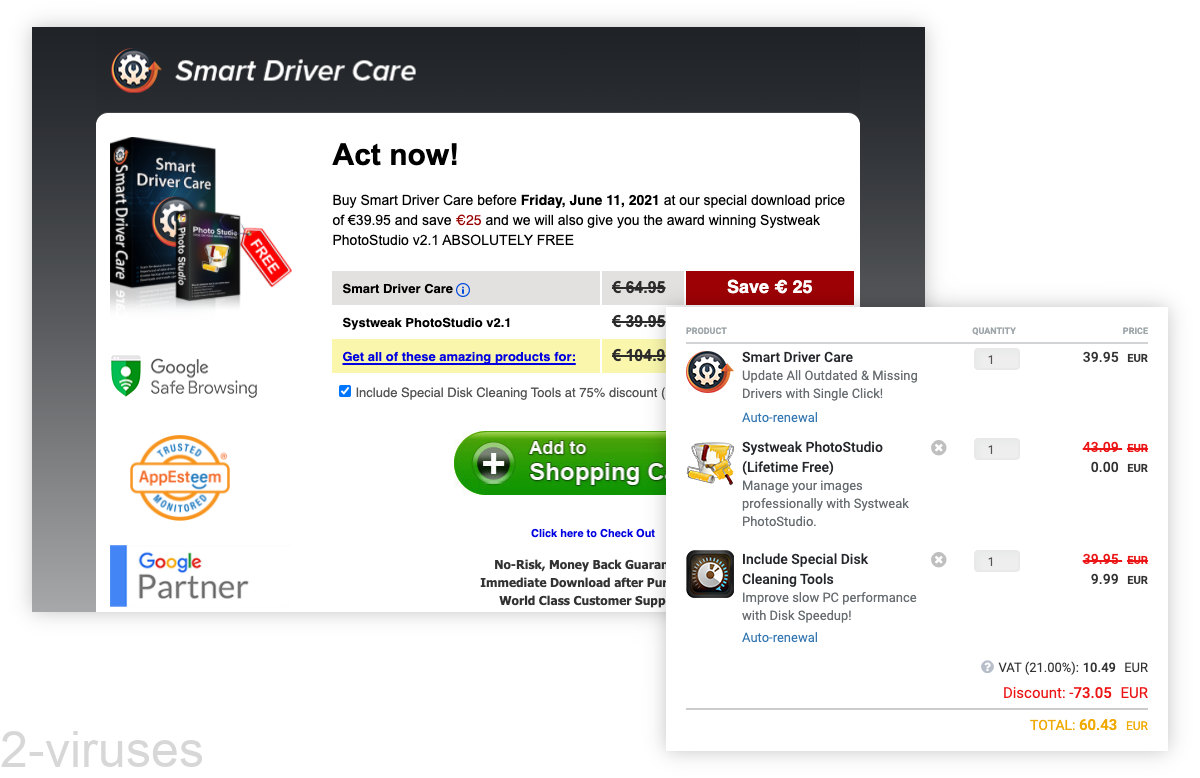 Remember – the "Auto-renewal" label means that these prices are for a 12 month subscription period.
The other bundled program, PhotoStudio, is given for free.
Unnecessary program
In general, PC optimizers, including driver updaters, are viewed with suspicion. They're usually very unnecessary.
You might think that you need a driver updater, a memory optimizer, a junk cleaner, etc. The web is full of articles about how necessary and helpful and convenient such programs supposedly are. Some of the affiliates who advertise Smart Driver Care even claim that, if you don't have a driver updater utility installed, then you need to update drivers manually.
But this is misleading.
First, PC optimizers duplicate many of the free features that come with Windows PCs, such as Storage Sense.
Second, Windows downloads and installs drivers as optional updates. If you allow automatic Windows updates (and you should for the sake of your cybersecurity, as we learned from the recently publicized PuzzleMaker incident), then you do not need a driver updater.
There are caveats, such as that some drivers do need to be installed manually or by a separate program. For instance, graphics card drivers. But for most devices, the drivers installed by Windows are good.
How to uninstall Smart Driver Care
If you like Smart Driver Care, then feel safe using it. But consider that you don't have to pay to keep your drivers up-to-date.
If you decide to remove Smart Driver Care, Disk Special Cleaning Tool, and other unwanted programs, then cancel their subscriptions.
You can find potentially unwanted programs by checking what you have installed, especially what you installed at around the time that Smart Driver Care was added. You can also get an anti-malware app, such as Malwarebytes, to scan your PC and check it for potentially unwanted programs. Anti-malware apps check not only for malicious programs but also for potentially unwanted, low-reputation apps. Don't feel like you have to remove these PUPs, but consider if you really need them and if you truly installed them intentionally.
Automatic Malware removal tools
How to remove Smart Driver Care using Windows Control Panel
Many hijackers and adware like
Smart Driver Care
install some of their components as regular Windows programs as well as additional software. This part of malware can be uninstalled from the Control Panel. To access it, do the following.
Start→Control Panel (older Windows) or press Windows Key→Search and enter Control Panel and then press Enter (Windows 8, Windows 10).
Choose Uninstall Program (if you don't see it, click in the upper right next to "View by" and select Category).
Go through the list of programs and select entries related to Smart Driver Care . You can click on "Name" or "Installed On" to reorder your programs and make Smart Driver Care easier to find.
Click the Uninstall button. If you're asked if you really want to remove the program, click Yes.
In many cases anti-malware programs are better at detecting related parasites, thus I recommend installing Spyhunter to identify other programs that might be a part of this infection.