Disk Speedup by Systweak is a PUP – a potentially unwanted app. It gets bundled with various other programs and, as a result, gets installed without people's knowledge or permission. It's a paid program with a yearly subscription and it can be responsible for unexpected charges.
Disk Speedup quicklinks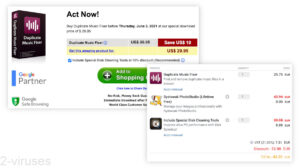 About Disk Speedup:
Threat type
Potentially unwanted program.
How Disk Speedup is installed
It is included with other Systweak programs,

it is promoted online as a tool to optimize your PC.

Problems and issues
Disk Speedup is redundant to Windows,

it is paid while the Windows tools are free,

it may be installed unexpectedly, without permission.

How to remove Disk Speedup
Uninstall Disk Speedup and other unwanted programs,

cancel unneeded subscriptions,

remove other potentially unwanted programs with antivirus scanners (Malwarebytes, others).
What are the problems with Disk Speedup?
Disk Speedup is detected by antivirus scanners
Systweak Disk Speedup is a utility for Windows PCs released by Systweak. Unfortunately, it gets flagged by a few antivirus programs: Virustotal.com. Antivirus vendors label Disk Speedup Riskware, Unwanted, Deceptor, or simply Systweak. I guess the company's name is a warning on its own.
A program being flagged as a PUP doesn't mean that it's dangerous. But it might have been installed without permission, its user interface might be misleading, it might cause unnecessary anxiety to the user.
Disk Speedup is bundled with other programs
I first encountered Disk Speedup when it came bundled with Photos Exif Editor, another Systweak program. Other programs that Disk Speedup is bundled with include Advanced Disk Recovery, Advanced Driver Updater, Advanced PC Cleanup, Advanced System Protector, Duplicate Music Fixer, RegClean Pro, Systweak Antivirus, Systweak Software Updater.
Disk Speedup is bundled with these programs in such a way that it was very easy to overlook, then purchase and install it by accident.
The tool is always at a 75% discount, so it's not very expensive. But still, Disk Speedup is a program that has no uses in modern PCs, so it's a waste of money regardless of how cheap it is.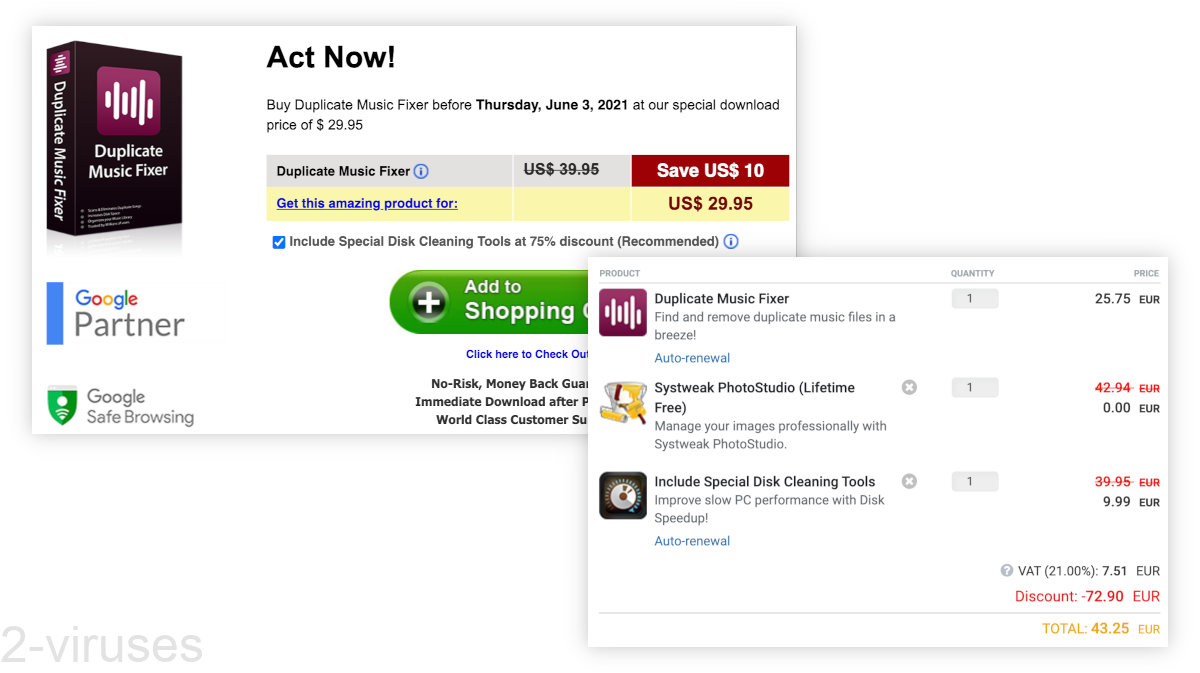 By the way, Systweak shows various badges and seals that are meant to make it look more trustworthy. But while the Trustpilot and Google Safe Browsing links are honest, the other two badges are pretty funny:
The Google Partner seal means that Systweak is good at using Google Ads.
The Norton Secured link says that users should practice caution on Systweak.com, as it "may have a small number of threats and annoyances".
It is redundant on Windows PCs
According to Systweak, Disk Speedup is a Windows maintenance tool:
Disk Speedup wipes out junk, defragments hard drives, repairs file system issues & makes your system run smoother and faster.
The issue here is that Windows already does these things for free:
Windows already helps users delete junk files with Storage Sense and Disk Cleanup, as well as make free space by moving files to the cloud – Free up drive space in Windows 10.
Windows automatically defragments HDDs and maintains SSDs. For regular users, no other defragmenter is needed.
Windows takes care of disk optimization in the background so that users don't have to think about it. Disk Speedup and the blog posts advertising this program conveniently forget to mention this.
Besides, Disk Speedup running in the background unnecessarily is more likely to hurt the PC's performance than improve it.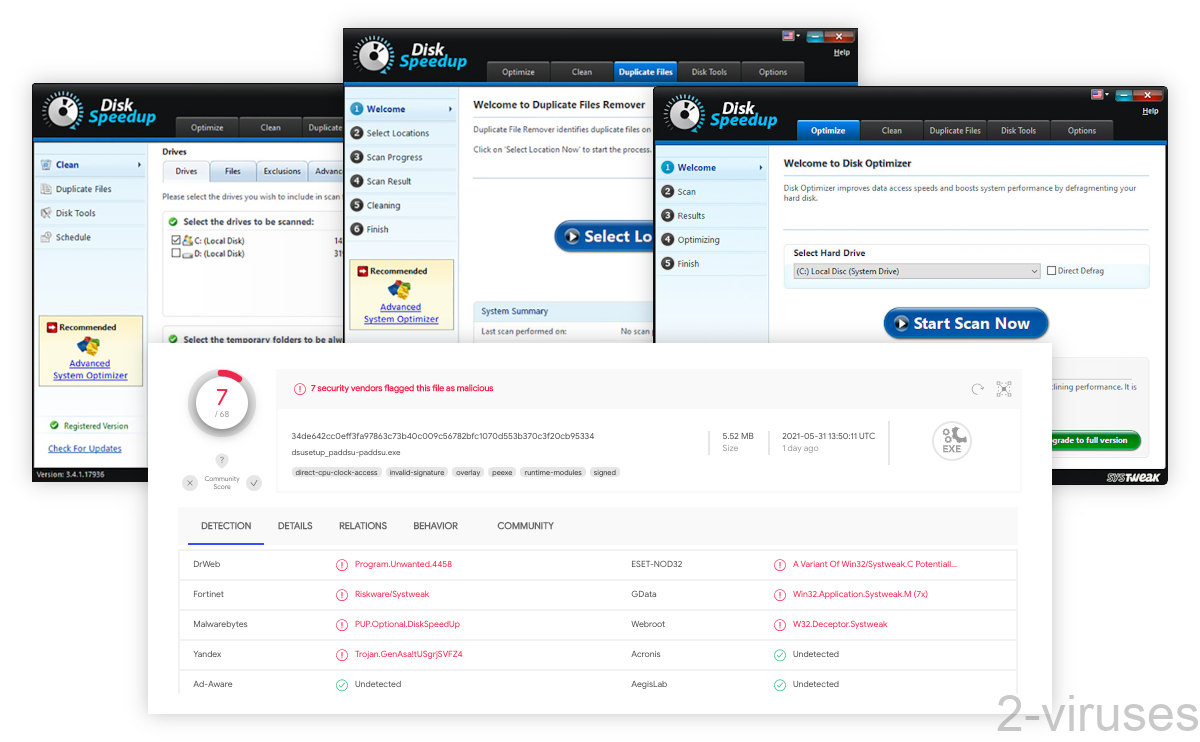 In general, PC optimizers tend to be snake oil. It's good to be suspicious of registry fixers, junk removers, memory optimizers, and other apps that promise to make your computer cleaner, faster, and more stable. Too many of them duplicate Windows features. Others delete potentially useful files, such as browser data, just so they look useful.
How to remove Disk Speedup by Systweak
Uninstall Disk Speedup and other unnecessary programs. The instructions are below.
You can also check their folders for leftover files. Disk Speedup might leave some files behind after it's removed. In some cases, this can cause pop-ups in the corner of the screen.
Check your computer with an anti-malware program, such as Malwarebytes. Anti-malware programs can help you find bundlers, other unwanted files and programs.
If you paid for Disk Speedup and then uninstalled it, you should cancel the subscription so that you aren't charged a year from now.
Automatic Malware removal tools
How to remove Disk Speedup using Windows Control Panel
Many hijackers and adware like
Masstrk.com Spam
install some of their components as regular Windows programs as well as additional software. This part of malware can be uninstalled from the Control Panel. To access it, do the following.
Start→Control Panel (older Windows) or press Windows Key→Search and enter Control Panel and then press Enter (Windows 8, Windows 10).
Choose Uninstall Program (if you don't see it, click in the upper right next to "View by" and select Category).
Go through the list of programs and select entries related to Disk Speedup . You can click on "Name" or "Installed On" to reorder your programs and make Masstrk.com Spam easier to find.
Click the Uninstall button. If you're asked if you really want to remove the program, click Yes.
In many cases anti-malware programs are better at detecting related parasites, thus I recommend installing Spyhunter to identify other programs that might be a part of this infection.