Security Scanner is a rogue anti-spyware that comes from the same family as Security Shield, Security Tool and other extremely dangerous applications that all have been initiating serious problems for PC users. This real-looking but fake application is presented as powerful security program that protects PC on new level. However, Security Scanner is closely connected to Trojans and has an empty virus data base, so it has no capabilities to find and remove computer viruses for you. The only thing it does is displaying annoying system scanners and alerts that all report nonexistent infections. Please, don't fall for Security Scanner or Security Scanner 2012 and remove this misleading program ASAP.
In the beginning, Security Scanner employs trojan viruses to help it with the infiltration on the compromised PC. In most of the cases, they come inside the system without any sign and additionally make some registry modification so that the malware could launch once the PC is rebooted. Sometimes, fake scanner websites are used to convince user to download the installer. In addition, Security Scanner starts triggering its annoying alerts and scanners that all inform the victim that he/she has some problems. Of course, Security Scanner reports only invented problems and harmless viruses in order to make its victims concerned about their machines. If reported by this program, these viruses do not deserve any trust, they should be simply ignored.
In most of the cases, Security Scanner claims:
Security Scanner Warning
Spyware.IEMonster process is found. This is virus that is trying to send your passwords from Internet browser (Explorer, Mozilla Firefox, Outlook & others) for the third-parties.
Click here to protect your data with Security Scanner.
Security Scanner Warning
Harmful software have been detected at your PC.
Click here to deactivate it.
Security Scanner Warning
Security Scanner has found viruses at your system.
We highly recommend to get license for Security Scanner to remove harmful software now.
When browsing, it reports:
Warning message from Internet browser. This page under virus attack. This may crash your system.

This may be caused by:

Virus content founded at this site trying to install its components.
Malicious & unknown network processes are determined.
Your system is under virus attack
Negative references from other citizens concerning this web page.
Your system ports and backdoors have been checked by visited page for external access.

Recommendations:

Obtain a license of "Security Scanner" to protect your PC for the safest browsing Internet pages (desirable)
Launch spyware, virus and malware scanning process.
Keep browsing
As you can see, this malicious tool should never be trusted and you must remove Security Scanner as soon as it starts appearing on your PC. Keep in mind that the only reason why this application lists these scary infections is trying to make you fall for its licensed version. However, though it highly recommends to get this program in order to fix your PC, remember that licensed or full Security Scanner version is useless and has no capabilities to fix your PC. Purchasing Security Scanner means giving your money away, so ignore all its payment pages and remove Security Scanner before it swindles money from you. Security experts recommend using only reputable anti-malware programs, such as , to remove Security Scanners from your computer. However, you may find them disabled when trying to run a full system scan, so try these tips to overcome these problems:
1. Enter this address into the address bar: https://www.2-viruses.com/downloads/spyhunter-i.exe to download Spyhunter anti-malware installer without being disabled. This anti-malware program kills malicious processes on install, thus you might run even in cases when other programs are blocked. Here a video :
2. Use this code for the fake Security Scanner registration: 64C665BE-4DE7-423B-A6B6-BC0172B25DF2. In addition, after disabling the virus, run a full system scan with spyhunter, Spyhunter or Malwarebytes Anti-Malware, as this only disables parasite. The code changes sometimes, though.
3. Download process explorer ( https://www.2-viruses.com/wp-content/uploads/PE/eXplorer.exe ) , then rename it to explorer.exe or iexplore.exe and kill malware processes running in the background. In addition, download Spyhunter,  spyhunter, etc to run a full system scan and find all infected files on your computer.
It is extremely important to upgrade your antivirus or have full version of anti-malware programs like or Spyhunter to prevent infections like the one of Security Scanner in the future.
Automatic Security Scanner removal tools
We might be affiliated with some of these programs. Full information is available in disclosure
Manual removal
Important Note: Although it is possible to manually remove Security Scanner, such activity can permanently damage your system if any mistakes are made in the process, as advanced spyware parasites are able to automatically repair themselves if not completely removed. Thus, manual spyware removal is recommended for experienced users only, such as IT specialists or highly qualified system administrators. For other users, we recommend using Reimage or other tools found on 2-viruses.com.
Processes:
Files:
Registers:
Security Scanner screenshots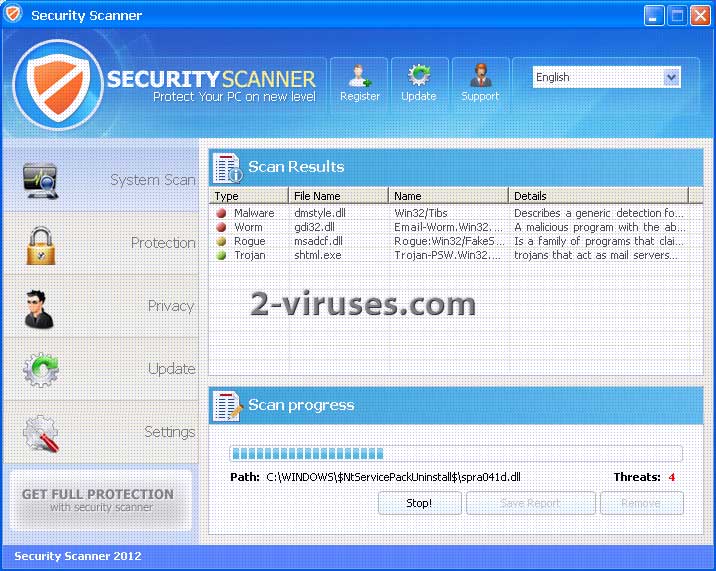 About the author