Security Monitor 2012 is nothing else but rogue anti-spyware which has been trying to fool its victims into believing that their computers are infected with malware. However, you should keep in mind that Security Monitor 2012 is not legitimate and that you must remove it immediately after noticing all those misleading alerts. Keep in mind that its alerts are based on invented viruses that are detected by faked scanning campaigns. Just like for any other rogue anti-spyware, it's recommended using only updated anti-spyware for Security Monitor 2012 removal what guarantees that there will be no virus leftovers left on your PC. Run a full system scan with spyhunter, Malwarebytes Anti-Malware or Hitman Pro.
Similarly to its earlier released versions Security Solution 2011, Antivirus Antispyware 2011 and others, this scam has the same GUI and applies hardly different tactics from its forerunners. This rogue uses identical distribution patterns that are based on unnoticeable Trojan infiltrations that simply find security holes in the system and successfully get inside undetected through them. In addition, Security Monitior 2012 tends to create new startup entries that help to launch every time PC is rebooted. It adds a bunch of harmless files next that additionally reports as malicious ones. Now it's time for Security Monitor 2012 alerts that all report the same misleading information about numerous viruses detected:
System Critical warning!
You have been infected by a proxy-relay Trojan server with new and danger 'SpamBots',
You have a computer with virus that sends spam.
This is a mass-mailing worm with backdoor thus allowing un-authorized access to the infected system.
It spreads by mass-mailing itself to e-mail addresses harvested from the local computer or by querying on-line search engines such as google.com.
The IP 10.0.2.15 address that YOU are getting from Internet Service Provider (ISP) for YOU personal computer is on the same major blacklist.
Your computer has been used to send a huge amount of junk e-mail messages during the last days.
You IP 10.0.2.15 will be marked by Police log file as mass-mailing spam assist.
Upgrading to the full version Security Monitor 2012 it will eliminate the majority of Spam attempts.

Click here to get license key now.
Security Center Alert
To help protect your computer, Security Center has blocked some features of this program.
Name: Win64.BIT.Looker.exe
Risk: High
Insecurity Internet activity. Threat of virus attack
Due to insecure Internet browsing your PC can easily get infected with viruses, worms and trojans without knowledge, and that can lead to system slowdown, freezes and crashes. Also insecure Internet activity can result in revealing your personal information. To get full advanced real-time protection for PC and Internet activity, register your antivirus software.
Please, ignore all those alerts displayed by Security Monitor 2012 because they give no real information about your computer's status. In other words, every ad from this program is deceptive and reports invented viruses that are dropped by the same Security Monitor 2012 once it enters the system. You must ignore them no matter how trustworthy they may look for you. To remove Security Monitor 2012, you should run a full system scan with updated anti-spyware. However, you may also find some difficulties because Security Monitor 2012 tends to disable its victims from internet and it is not listed anywhere a regular program would. To overcome this program, use Security Monitor 2012 registration code which will help you to look like you have purchased the licensed version of Security Monitor 2012: LIC2-00A6-234C-B6A9-38F8-F6E2-0838-F084-E235-6051-18B3.  Additionally, run a full system scan with spyhunter, Malwarebytes Anti-Malware or Hitman Pro and get rid of this scam for good. If you are disabled from getting online, type this address in your browser address bar:
https://www.2-viruses.com/downloads/spyhunter-i.exe . This will help you to download the anti-spyware program and additionally launch it for scanning the system.
Video instructions for Security Monitor 2012 removal
Automatic Security Monitor 2012 removal tools
We might be affiliated with some of these programs. Full information is available in disclosure
Manual removal
Important Note: Although it is possible to manually remove Security Monitor 2012, such activity can permanently damage your system if any mistakes are made in the process, as advanced spyware parasites are able to automatically repair themselves if not completely removed. Thus, manual spyware removal is recommended for experienced users only, such as IT specialists or highly qualified system administrators. For other users, we recommend using Reimage or other tools found on 2-viruses.com.
Processes:
Files:
Registers:
Security Monitor 2012 screenshots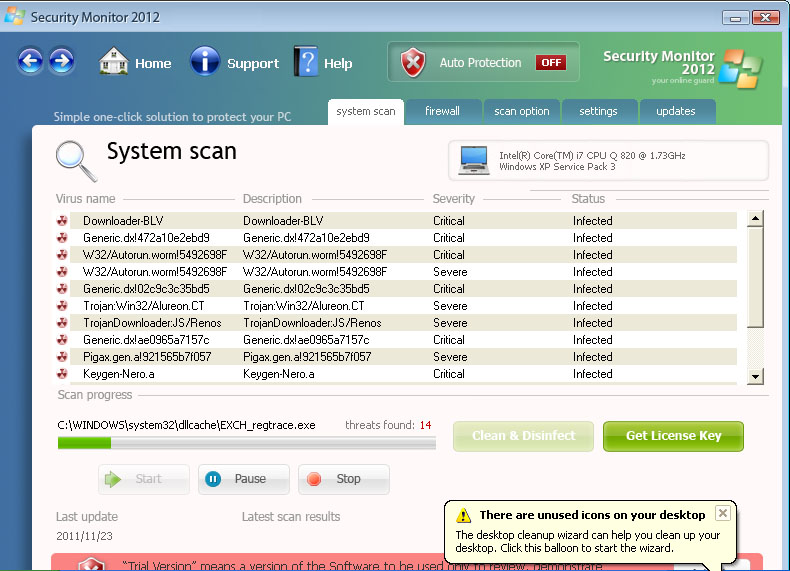 About the author