Antivirus Antispyware 2011 is a fake security application that only pretends being an antivirus but in fact is completely useless. It enters computer systems secretly by employing Trojan viruses which make the infiltration absolutely secret and users authorization is not required while downloading Antivirus Antispyware 2011. It's installed without slightest user's consent. The application is noticed only after it's fully installed and already does its malicious job in the system. It will interrupt with such notifications:
Security Center
Unauthorized remote connection!
Your system is making an unauthorized personal data transfer to a remote computer!
Warning! Unauthorized personal data transfer is detected! It may be your personal credit card  details, logins and passwords, browsing habits or information about files you have downloaded.
To protect your private data, please click "Prevent Connection" button below.
Security Center Alert
To help protect your computer, Security Center has blocked some features of this program.
Name: Win64.BIT.Looker.exe
Risk: High
Insecurity Internet activity. Threat of virus attack
Due to insecure Internet browsing your PC can easily get infected with viruses, worms and trojans without knowledge, and that can lead to system slowdown, freezes and crashes. Also insecure Internet activity can result in revealing your personal information. To get full advanced real-time protection for PC and Internet activity, register your antivirus software.
Antivirus Antispyware 2011 runs system scanner right when you log in to Windows. The scanner pretends to detect a bunch of dangerous files and then states that you first need to pay for a license of Antivirus Antispyware 2011 in order the program could fully perform its job and remove the infections.
Besides, when Antivirus Antispyware 2011 is running in the background it generates tons of security notifications claiming that your system contains tons of infections that are posing risk to your privacy. The messages also offer using a full version of Antivirus Antispyware 2011 in order to get rid of the infections.
AntiVirus AntiSpyware 2011
WARNING! 371 threats detected
Detected malicious programs can damage your computer and compromise your privacy. It's strongly recommended to remove them immediatly!
Potential risks: Infecting other computers on your network
Continue unprotected Remove all threats now
It's strongly recommended ignoring scan results and any notifications by Antivirus Antispyware 2011. It's just a scam created by cyber criminals in order to swindle your money away. Please remove Antivirus Antispyware 2011 from your system as soon as possible.
Automatic AntiVirus AntiSpyware 2011 removal tools
We might be affiliated with some of these programs. Full information is available in disclosure
Manual removal
Important Note: Although it is possible to manually remove AntiVirus AntiSpyware 2011, such activity can permanently damage your system if any mistakes are made in the process, as advanced spyware parasites are able to automatically repair themselves if not completely removed. Thus, manual spyware removal is recommended for experienced users only, such as IT specialists or highly qualified system administrators. For other users, we recommend using Reimage or other tools found on 2-viruses.com.
Processes:
Files:
Registers:
AntiVirus AntiSpyware 2011 screenshots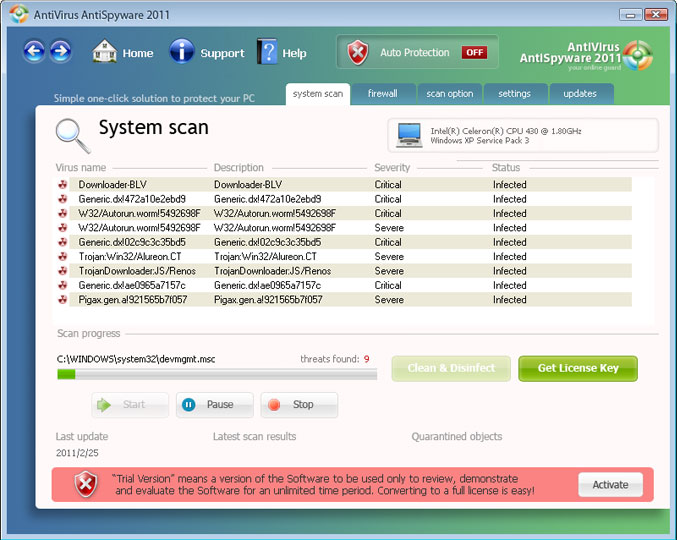 About the author