It is uncommon to hear about Mac OS infections, but once they do emerge, their persistence is overwhelming (like Mac.advancesystemcare.co, Mac Cleanup Pro, Mac Tonic). This is why there are a lot of affected users looking for help online on how to remove Searchitnow.info and goto-searchitnow.global.ssl.fastly.net viruses because no matter what they try, nothing seems to be working. Mind you, the Search It Now malware does not just alter the browser settings for visual reasons, it actively uses these modifications to benefit from Online marketing, therefore surfing online becomes a daunting task rather than pleasure. Fortunately, after analyzing Searchitnow.info virus, we can tell that there is an effective way to get rid of it together with all redirects and other malicious files and to finally enjoy a clean, efficient browser.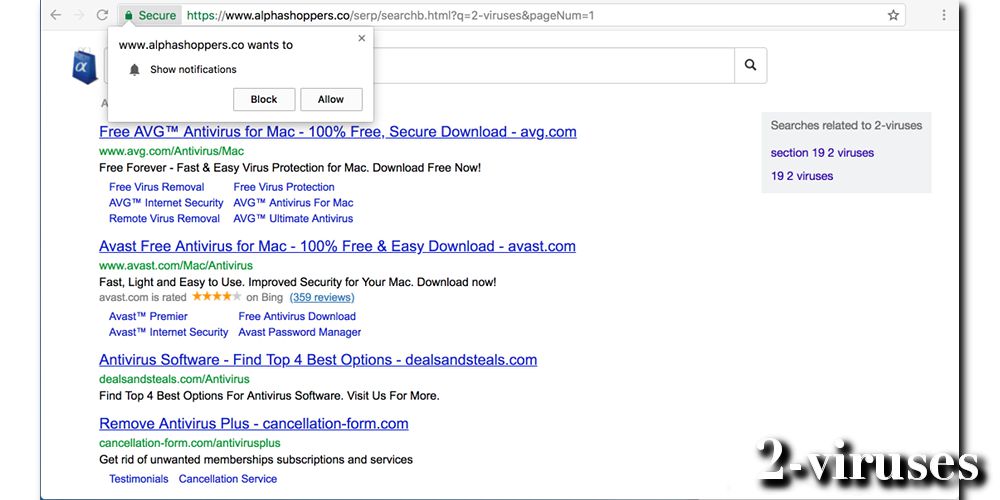 Normally, such browser hijackers manage to infect thousands if not millions of people (right now Searchitnow.info virus gets around 582k visits per month, according to SimilarWeb.com).  While this is part of the goal to have so many affected users, who keep generating profit, hackers have to distribute the heavy traffic evenly, so that the servers and websites would work efficiently without crashing. This is done by using a redirect like goto-searchitnow.global.ssl.fastly.net, which users often see when they browse via Searchitnow.info engine. Often there are additional following reroutes, which come after the first one, e.g. searchroute-1560352588.us-west-2.elb.amazonaws.com. Occasionally, victims noticed that after the third or fourth reroute, the traffic goes not to Alpha Shoppers but my-search.com, searchnewworld.com, and go-search.me.
Such forced tangible browser function changes are meant to be beneficial for crooks and not for you, sadly. Not only Searchitnow.info virus developers and related threats are gaining from you clicking and using their ads filled products, but they also secretly track your online data, that goes through the compromised browser, meaning that every visited website, log in, forum message or any other action is known to threat actors. They even admit that in their Privacy Policy, to that lawfully they could not be charged for the consequences.
We collect non-identifiable aggregated information about your device and your use of Services. Non-Personal Information which is collected includes: technical information transmitted by your device, your aggregated use of the Service, statistics, type of browser and default search preference, operating system type, language and the time and date you access and use the Service, website which you lead you to the Offer, approximate geographical location, Internet Service Provider (ISP), Internet Protocol address (IP), etc. Note that, in some jurisdictions some of this data, such as IP address, might be considered as "Personal Information". We use the Non-Personal Information solely to provide the Service, and to further improve, refine, customize and develop those Services, as well as to perform research, and conduct associated analytical and statistical activities.

The Non-Personal Information we collect may be used or shared for the same purposes as detailed above with respect to Personal Information, as well as for the purpose of providing and improving our Services, internally within the Company to conduct business and marketing analysis. We may share such information with third party service provider partners (i.e., search feed providers, customer service, marketing assistance, ad tracking, service functionality and support, etc.) and other third parties, in order to assist us in analyzing how our Offer and Services are used, and in accordance with the terms of this Policy.
While the majority of applications nowadays collect data to improve their service and advertise, it is hard to trust Searchitnow.info and goto-searchitnow.global.ssl.fastly.net viruses, because they are developed by greedy hackers, which are willing to do anything to gain as much as possible from every victim, so don't be surprised if your sensitive data will be sold to marketing corporations or leaked on darknet. We highly suggest removing SearchItNow virus before the consequences make you worry about the online identity thefts, hacked accounts or damaged computer.
How did Searchitnow.info virus infect the browser
Browser hijackers like Searchitnow.info virus are one of the easiest to notice once they are installed, however, their distribution is often very secretive and cunning. Many users claim that they have no idea why all of a sudden these major changes happened on their computers, especially when they don't remember installing anything even close to SearchItNow malware. That is very understandable knowing that Searchitnow.info and goto-searchitnow.global.ssl.fastly.net redirect are typically proliferating via Bundled software. The most affected regions so far are the United States, Canada, Australia, the United Kingdom, and France.
There are many websites, such as freeware/shareware, torrent distributors that compile several applications into one installer in a manner, that only a very observant person would notice. They do that because software (malware) developers pay well to spread their products and Search It Now virus is not an exception. At the moment it is known that goto-searchitnow.global.ssl.fastly.net and Searchitnow.info get installed with Mac Mechanic, Mac Protector extension, Advanced Mac Cleaner. These programs already have a shady reputation, that's why there is no surprise them being the part of this infection. Additionally, be aware of fake Adobe Flash update websites, which pop-up during your browsing sessions and by pretending to be a legitimate service, install all these dangerous programs. Also always run all Setup Wizards in Advanced/Custom mode to deselect unwanted apps.
How to remove 
goto-searchitnow.global.ssl.fastly.net redirect
Changing the search engine and replacing Searchitnow.info homepage with your old one is not the hardest thing to achieve and can be managed by making manual alterations in the browser settings as we show in our instructions below, however, getting rid of the goto-searchitnow.global.ssl.fastly.net redirect is the real struggle. Since the reroute doesn't have any graphical user interface (GUI) it makes it hard to interact with the malicious link and simply delete it. For this reason, we suggest getting an anti-spyware software which would use the technical advantages and discover the harmful files including reroutes and browser hijackers based on the data from their virus databases. So far the most success in case of SearchItNow infection we had with Malwarebytes and Combo Cleaner security products. They seem to be one of the best in the market for Mac computer cleanups. On the other hand, you can first try the manual removal with our tips and see if it works for you.
Get rid of Searchitnow.info infection from Mac
In the instructions, we present several elimination techniques regarding Searchitnow.info virus, which mainly targets the browser and typically (yet not always) installs as a plugin. Some users also claimed that they fixed their infected Macs from goto-searchitnow.global.ssl.fastly.net redirects and the related malware by going to System Preferences > Users & Groups > Login items and removing Mac Mechanic, Mac Protector, and Advanced Mac Cleaner. Supposedly, these are the malicious programs behind the SearchItNow infection. Whether it works for you or not, we cannot tell, but it does not hurt to try it, as well refreshing your browser and following this guide on how to reset your DNS settings, proxies and hosts file entries.