Mac.advancesystemcare.co is nothing more than a cheap attempt to scam you. This suspicious domain displays the message that your Mac computer is infected and you are in need of a professional technician or professional software that can solve those problems.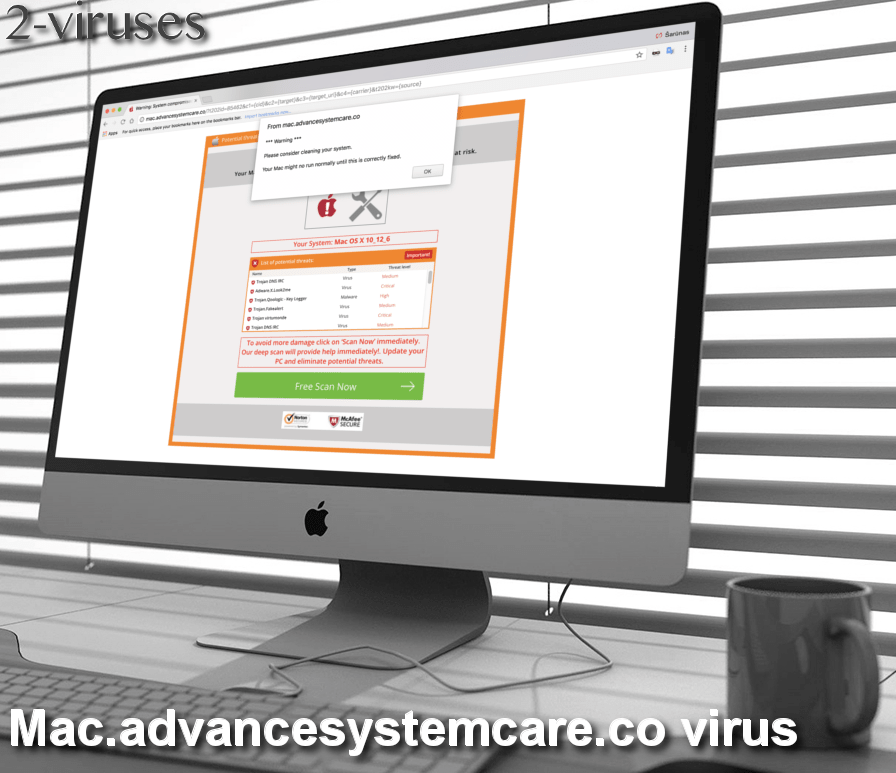 Such messages are a really common thing on the Internet – you can see various alerts about your computer and possible threats online everyday. However, in this case continuous redirects to  Mac.advancesystemcare.co website might indicate that you have some real problems with the security of your computer.
If you have seen this alert message more than once, your computer might be infected with a virus. That being said, you should immediately take care of that and remove all suspicious programs operating on your computer if you don't want to run into more severe cyber security problems. In this article we will provide you with the information how to diagnose the problem and remove  Mac.advancesystemcare.co infection from your system.
Adware might be operating on your computer
As we have already mentioned, there are two case scenarios why you are seeing this notification about problems with your mac:
You accidentally visited a malicious website;
Your computer is infected with adware infection.
How to tell the difference between those two cases? Well, if your computer is not infected, you should see this warning only when visiting certain websites. Some websites might be hacked, while others might display this message on their will to make profits. That means, the problem should be solved if you simply stop visiting those websites.
However, if you are seeing this notification more than ofter, regardless of websites that you are visiting, it's a sign of more serious problem. Some kind of infection (most probably adware) might be operating on your system and you should get it cleaned out.
This message is only displayed to Mac users, therefore you should get anti-malware tool for Mac and scan your system. You can check our reviews section and pick the one that you like the best. We suggest to use either Malwarebytes Anti-Malware for Mac or Adwaremedic for Mac – both of those programs should successfully detect all malicious files on your system and remove them automatically.
How it infected your computer?
There are various ways how malware like this can reach your computer.  Mac.advancesystemcare.co reminds of scam campaign, such as "Browser Blocked Based On Your Security Preferences", therefore it might be that adware was installed on your computer previously, when you clicked on scam message and followed misleading instructions.
Adware like this can also come as a bundle to free software or as an attachment to an e-mail letter. As you can see, there are a whole bunch of different methods how viruses can enter your computer, so you have to be extremely careful all the time. Or, you can leave this job for professional software. Keep anti-malware with real-time protection feature installed on your computer and no malware will be able to infect your computer again.
Automatic Malware removal tools