Search.searchgetstt.com is malware infection from Polarity Technologies LTD that can infect your Google Chrome web browser. It is operating as browser add-on and is only compatible with Google Chrome web browser, thus if you are using other web browser this virus can't affect your daily browsing.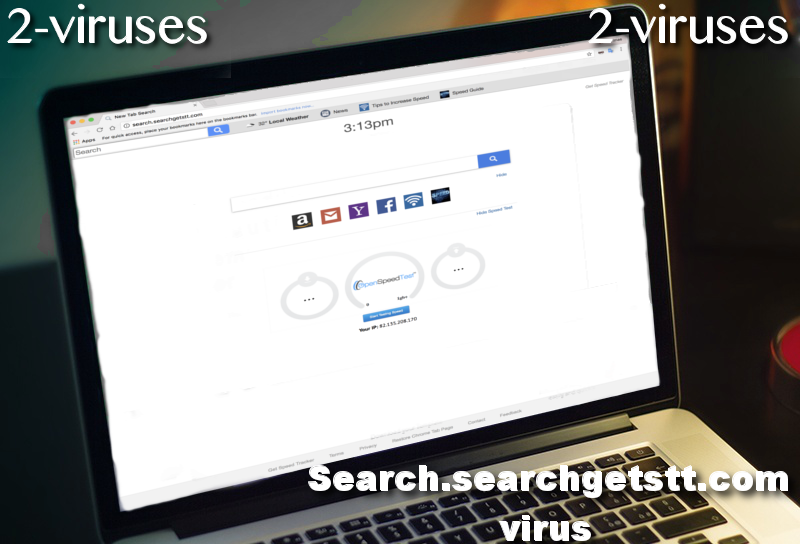 However, if you are a user of Google Chrome and you were unlucky enough to install this add-on on your web browser, it will automatically make some changes that will affect the way you browser the web. In case you are unhappy with these changes but can't delete the infection, please proceed reading the article and we will provide you with detailed instructions how to eliminate Search.searchgetstt.com from your computer and protect it from similar infections in the future.
Get Speed Tracker – malicious add-on for Google Chrome
We already told you that this infection is operating as browser add-on for Google Chrome web browser and it is called "Get Speed Tracked". As suggested by the name itself, it should provide you with the ability to track your Internet speed really easily. However, what's the point of installing such tool if you can check the speed of your Internet connection using one of dozens of websites dedicated to this task? That's right – no point. And that's why this add-on is being distributed as a bundle to free software and gets installed on computers without even warning users about that.
This distribution methods is pretty common for malicious add-ons from Polarity Technologies LTD. The company is known for delivering malware infections that specialises in Google Chrome web browsers.
So once installed on your Google Chrome web browser Get Speed Tracker will automatically set your new tab page to www.search.searchgetstt.com – you will see this website every time you open a new tab. Even though it kind of looks like a regular search engine like Google or Yahoo, you should not be using it.
First of all, all your searches will be redirected to Yahoo search engine, so there is no point to use it as a middleman. In addition to that, your personal searches will be definitely tracked. That means if you reveal some of your personal data in there, it might be leaked to third parties and that is extremely dangerous.
Besides of providing you with Yahoo search and tracking you online, Search.searchgetstt.com will also present you with Internet speed test tool. Again, those tools are easily accessible online, why would you need to have it on your new tab page?
It is a common feature for browser hijackers from Polarity Technologies LTD to have an additional toolbar on a landing page – Search.searchlef.com, search.searchyrs.com virus and many others also feature this trait.
As you can see, there are links to various legitimate and useful websites. However, the main reason why this toolbar is where it is – to promote sites that are affiliated with this malware. Unfortunately, those tools and websites are also malicious or useless, therefore we do not recommend to click on it.
It can be frustrating not to be able to get rid of this malicious add-on by simply disabling it on extensions list. Users are complaining that this infection just keeps coming back. That's because it might store some malicious files on your computer that are used to restore removed add-on.
Removing Search.searchgetstt.com browser hijacker
So first thing you have to do is to navigate to the extensions menu on Google Chrome web browser, identify Search.searchgetstt.com add-on and disable it.
Then, you have to make sure that it won't be restored – locate all files associated to this virus and remove them from your computer. It might be very difficult to do that manually and thus we suggest to get yourself trustworthy anti-malware tool, such as Spyhunter. Use either one of them to scan your computer and it will detect and remove those malicious files automatically.
If you have done that and the virus still appears on your web browser, please feel free to contact us in the comments section below and we will do our best to help you.
Automatic Malware removal tools