It seems like Search.searchlef.com hijacker is an alternate, update version of a well known Search.searchlf.com virus.  Both of these malicious add-ons came from the same developer -Polarity Technologies LTD.
In case you are following latest malware news, you should be aware of the fact that Polarity is the main player in the market right now – it is constantly releasing new browser hijackers almost on a daily basis, so overall audience of infected computers is simply huge. In this week only we have reviewed search.searchyrs.com and Search.searchtmpn4.com viruses – both of them were produced by Polarity.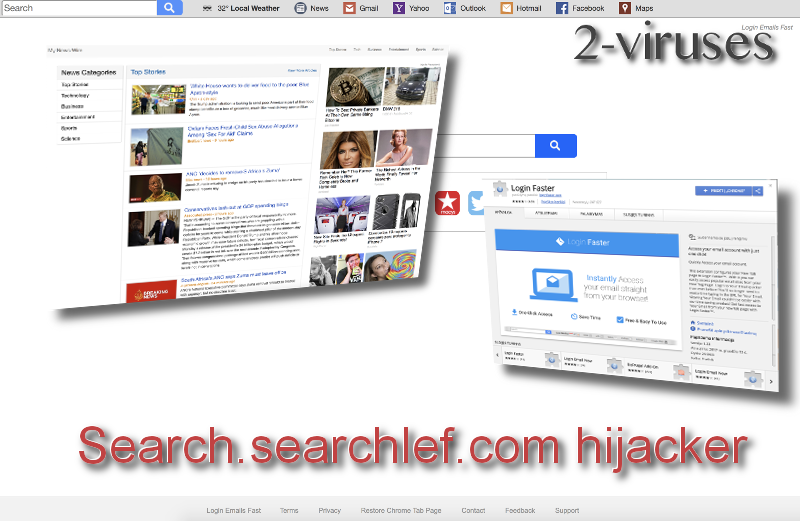 It's safe to say that we have a decent knowledge regarding infections that came from this company, thus we will be able to help you and provide  correct information about Search.searchlef.com virus.
New tab hijacker Search.searchlef.com
First of all, it should be mentioned that this website itself is not a hijacker – it is just a consequence of malicious add-on which is added to your web browser. It is designed specifically to fit Google Chrome web browser only – if you are using any other internet web browser, this virus is definitely not relevant to you.
Search.searchlef.com is promoted as a free tool that will let you to log in to your email provider account faster and easier. However, we found that not to be true and we will soon explain why.
Once installed on a Chrome browser this add-on will automatically set Search.searchlef.com as a new tab page and default search engine. This website features icons which will lead you to Gmail, Yahoo mail and other popular service providers – that's all functionality regarding fast email login you are going to get. So basically there is no point in using this tool as it will only take you longer to actually login to your accounts.
Besides that, Search.searchlef.com brings some certainly unwanted qualities. First of all, it will make those changes on your browser without even asking you and it might be difficult to restore them. Also, if you use search provided by Search.searchlef.com, all information you fill in there will be tracked and can be used for marketing purposes.
It is also common for malware like this to implement other malicious assets to your computer or web browser, therefore as long as Search.searchlef.com is operating on your computer, you can expect additional viruses trying to sneak into your computer, not to mention other unwanted features, such as pop-up ad, redirects or slower work of Google Chrome.
Where did it came from and how to remove Search.searchlef.com?
There are two ways to add this extension to the web browser – it can come as a bundle to other software or you can install it yourself if you fall for the lies told by the developers Search.searchlef.com. Either way, you should not hesitate to remove it.
Removal of this add-on is rather not complicated. Firstly, you have to take care of your web browser. Simply click on the Search.searchlef.com icon placed in the toolbar with the right button of your mouse and select option "Restore Chrome Tab". After that, changes that were made automatically should be no longer active.
Then, you have to make sure that no other malicious files are installed on your computer. The best way to do that is to perform a full scan with Spyhunter or other similar program.
TopHow To remove Search.searchlef.com hijacker from Google Chrome:
Click on the 3 horizontal lines icon on a browser toolbar and Select More Tools→Extensions

Select all malicious extensions and delete them.

Click on the 3 horizontal lines icon on a browser toolbar and Select Settings

Select Manage Search engines

Remove unnecessary search engines from the list

Go back to settings. On Startup choose Open blank page (you can remove undesired pages from the set pages link too).
If your homepage was changed, click on Chrome menu on the top right corner, select Settings. Select Open a specific page or set of pages and click on Set pages.

Delete malicious search websites at a new Startup pages window by clicking "X" next to them.

(Optional) Reset your browser's settings
If you are still experiencing any issues related to Search.searchlef.com hijacker, reset the settings of your browser to its default settings.
Click on a Chrome's menu button (three horizontal lines) and select Settings.
Scroll to the end of the page and click on theReset browser settings button.

Click on the Reset button on the confirmation box.

If you cannot reset your browser settings and the problem persists, scan your system with an anti-malware program.
Automatic Malware removal tools