Have you been experiencing some sort of trouble regarding search.searchyrs.com lately? Does this website appear on your web browser more than often? It's safe to say that your computer (web browser, to be more exact) has been hit with a browser hijacker infection delivered by Polarity Technologies LTD.
This is a common malware distributor, which has delivered Search.searchcl.com, Search.searchtmpn4.com and numerous other similar infections lately.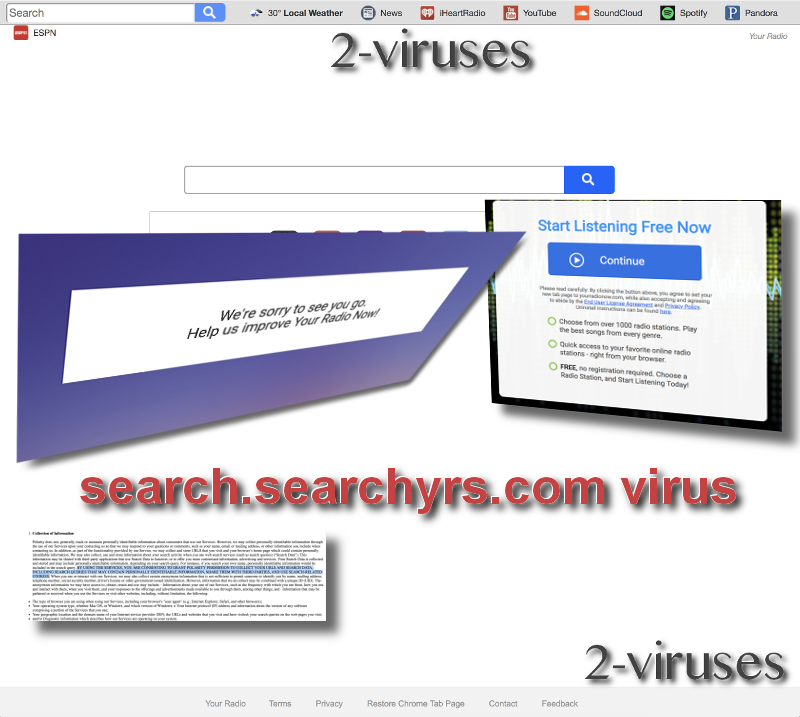 The post you are reading right now is dedicated to provide you with essential information about this infection and tips how to remove it. In case you know that your browser is infected with it or if you have are suspicious that something wrong regarding this infection is going on on your computer, please proceed reading
Browser extension targeting Google Chrome
As most of browser hijackers from polarity, search.searchyrs.com is targeted to Google Chrome web browsers only. That's because it is operating as browser add-ons and they only create it to fit this particular web browser.
In fact, this hijacker is just a newer, updated version of Search.yourradionow.com virus which has been around since 2015. It is operating using the same browser add-on called "Your Radio" and it is publicly available on Google Chrome extensions store with almost 20,000 active installs: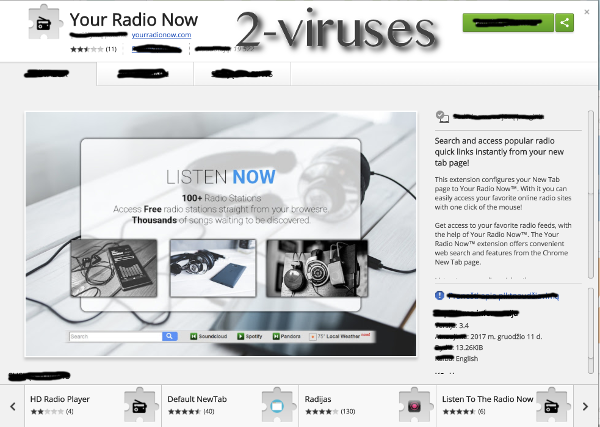 However, this Google Chrome extensions store is not the main point of distribution for this malware. They do it by redirecting users to yourradionow.com website where users are offered to listed to radio on internet for free. By accepting this offer, you will accept a new extension to be installed on your web browser.
Immediately after that, another website will appear – you will be offered to additionally install SearchEncrypt tool, which is supposed to secure your searches and overall web browsing. Unfortunately, this tool is also categorised as browser hijacker. That means most of the users will get two malicious add-ons instead of just one.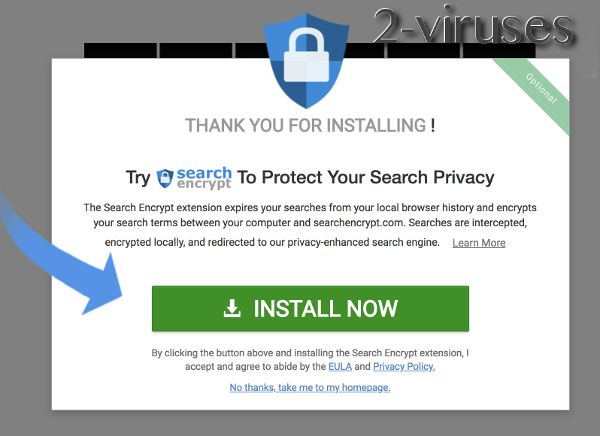 Just so you know – it's a common practice for malware to try to install other malicious applications.
Now, let's talk about search.searchyrs.com more and discuss why exactly it is malicious. First of all, it will automatically make changes on your web browser that you may not like. New tab page as well as default search provided will be set to be www.search.searchyrs.com or www.home.searchyrs.com (which is the same website). Eventually, you will be visiting this website on a daily basis.
The website itself is more annoying than dangerous. Firstly, it features a lot of icons that will lead you to other websites. Some of them are legitimate, while other can be possibly dangerous, so you should not click on any of them.
Next, it will redirect all your searches to Yahoo search engine. Even though it looks like a normal feature, you should know that search queries are collected, so they can collect a lot of information about you. It's even mentioned in their Privacy Policy:
BY USING THE SERVICES, YOU ARE CONSENTING TO GRANT POLARITY PERMISSION TO COLLECT YOUR URLS AND SEARCH DATA, INCLUDING SEARCH QUERIES THAT MAY CONTAIN PERSONALLY IDENTIFIABLE INFORMATION, SHARE THEM WITH THIRD PARTIES, AND USE SEARCH-RELATED COOKIES
That is a feature that actually can cause some damage to your privacy, as some of your private information can be leaked.
Lastly, search.searchyrs.com will definitely try to implement other malicious applications to your computer, so longer you keep it installed, higher the chances that other viruses will be inserted.
Restoring Chrome and removing search.searchyrs.com from it
If you want to remove this infection from Google Chrome web browser and restore it back to normal order, please scroll down below this article and follow instructions. After completing step-by-step instructions, your web browser should be as it was due to the infection.
Unfortunately, add-ons delivered by Polarity can upload some malicious files to your computer. Sometimes they are used to restore disabled add-on, while sometimes they use them for tracking. It can be difficult to detect them manually, so the best you can do is a scan with anti-malware application, such as Spyhunter. Scan your computer with either one of these programs and you will be 100 percent sure that your computer is clean and protected.
TopHow To remove search.searchyrs.com virus from Google Chrome:
Click on the 3 horizontal lines icon on a browser toolbar and Select More Tools→Extensions

Select all malicious extensions and delete them.

Click on the 3 horizontal lines icon on a browser toolbar and Select Settings

Select Manage Search engines

Remove unnecessary search engines from the list

Go back to settings. On Startup choose Open blank page (you can remove undesired pages from the set pages link too).
If your homepage was changed, click on Chrome menu on the top right corner, select Settings. Select Open a specific page or set of pages and click on Set pages.

Delete malicious search websites at a new Startup pages window by clicking "X" next to them.

(Optional) Reset your browser's settings
If you are still experiencing any issues related to search.searchyrs.com virus, reset the settings of your browser to its default settings.
Click on a Chrome's menu button (three horizontal lines) and select Settings.
Scroll to the end of the page and click on theReset browser settings button.

Click on the Reset button on the confirmation box.

If you cannot reset your browser settings and the problem persists, scan your system with an anti-malware program.
Automatic Malware removal tools