SearchBox (as well as feed.searchboxlive.com or Search Box) is claimed by its description to be "The best way to search". It's a single purpose extension that sets your default search engine to Yahoo, but reroutes your search queries through feed.searchboxlive.com. It's a typical search hijacker that is monetized by ads and provides no functions that would be useful to most users.
Searchbox Redirect quicklinks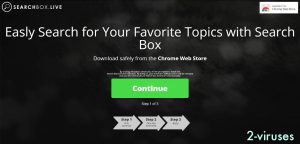 SearchBox is simple and does not replace your new tab page or offer any interesting functions that might make it valuable on its own. Rather, this add-on is a pure search engine replacer that has the ability to track your search queries. This type of potentially unwanted software is often installed like other unwanted software, which means that SearchBox often travels together with other potentially unsafe programs.
What is SearchBox
SearchBox is an extension that you will recognize by the text "Search SearchBox or type a URL" in Google Chrome's omnibox. You should also see the icon of this extension next to the omnibox. If you search for something using the address bar in your Chrome browser, you can see the "feed.searchboxlive.com" URL briefly before it forwards you to the Yahoo results page.
The SearchBox extension is developed for the Google Chrome browser, which has Google set as the default search engine. You can change that in the settings — it is simple to do and Chrome provides the interface for it. So, if you liked Yahoo a lot, you could set it as your default search.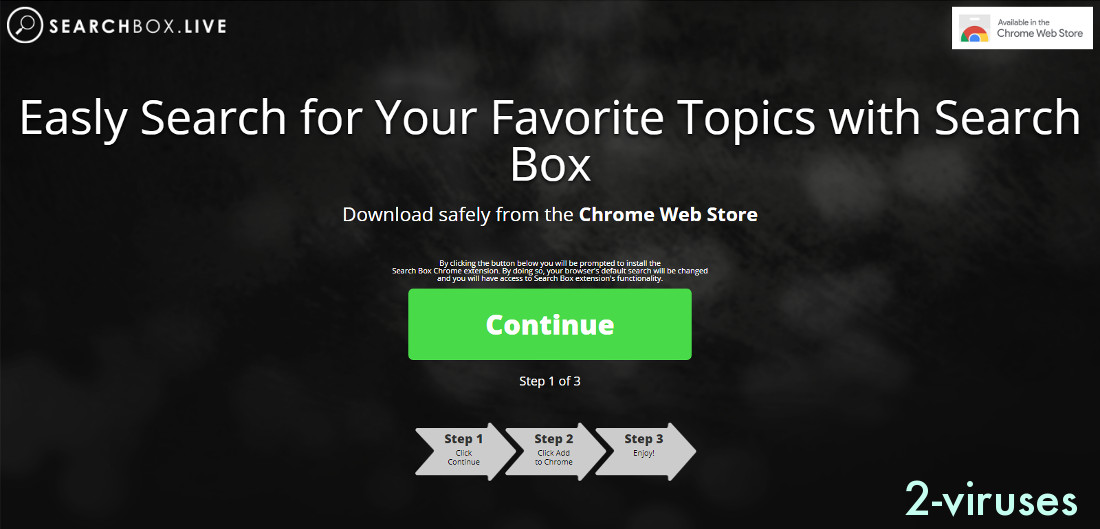 SearchBox is one of many search hijackers (like StreamingTime, Websearch.search-mania.info, or Traveldealscenter.co) that develop a browser extension for this purpose. This isn't beneficial to the user, to you. But there are good reasons for why search engines are promoted in this way:
Easy to distribute. You can accidentally or unknowingly install an extension without meaning to. On the other hand, changing your settings is deliberate and you can't do it by accident.
Not everyone cares which engine they use or what a browser add-on even is, so a lot of people won't remove SearchBox once it's installed.
SearchBox can monitor your search queries and your browsing history.
When your search queries are redirected through SearchBox, additional ads are displayed to you in the results, and SearchBox collects some of the advertising revenue.
How to avoid any more browser hijackings?
There are many, many misleading and dishonest browser add-ons, desktop programs, and mobile apps that offer nothing to the user and are creating just to display ads to you. They're often available in official app stores and aren't detected by the less aggressive antimalware programs, despite being potentially unsafe or harmful for the user experience. Removing a program like SearchBox is simple, but some PUPs can be very difficult to get rid of, so it's best to avoid installing them at all.
Before installing any program, research it. SearchBox, for example, doesn't have reviews. Its developer, Webcoapps, is already responsible for a few extensions that some consider unwanted. Just because of that SearchBox is already suspicious.
Remember to scan everything that you install. SearchBox might not be easily scannable, as it's a Chrome extension, but before you install a desktop program, make sure to use a reliable security tool on it.
Be aware of bundlers that install unwanted programs in the background. If the distributor that you download stuff from bundles offers in the downloads, you might already have a few programs on your device that you don't even know about. A lot of browser hijackers come as a surprise to a lot of their victims this way.
Be suspicious of ads online and of any program that uses misleading ads to advertise.
How to remove SearchBox Redirect
The only way to get back your control over the settings that SearchBox hijacked, as well as the control of your browser, is to remove the extension. You can do it manually and follow the guide below. It's also advisable to scan your computer with an antivirus program, such as Combo-Cleaner (Mac), or Spyhunter (PC) that could detect potentially unwanted programs. PUPs are usually labeled that for a reason, whether that's the bad reputation of the developer or suspicious behavior, so you're almost certainly better off removing them and using a safer alternative.
Automatic Malware removal tools
TopRemoving SearchBox Redirect from Chrome
Click on the menu button on the top right corner of a Google Chrome window. Select "Settings".

Click "Extensions" on the left menu bar.
Go through the extensions list and remove programs you do not need, especially similar to SearchBox Redirect. Click on the trash bin icon next to SearchBox Redirect or other add-ons you want to remove.

Press on the "Remove" button on the Confirmation window.

If unsure, you can disable them temporarily.

Restart Chrome.
(Optional) Reset your browser's settings
If you are still experiencing any issues related to SearchBox Redirect, reset the settings of your browser to its default settings.
Click on Chrome's menu button (three horizontal lines) and select Settings.

Scroll to the end of the page and click on the Reset settings button.

Click on the Reset button on the confirmation box.

If you cannot reset your browser settings and the problem persists, scan your system with an anti-malware program.