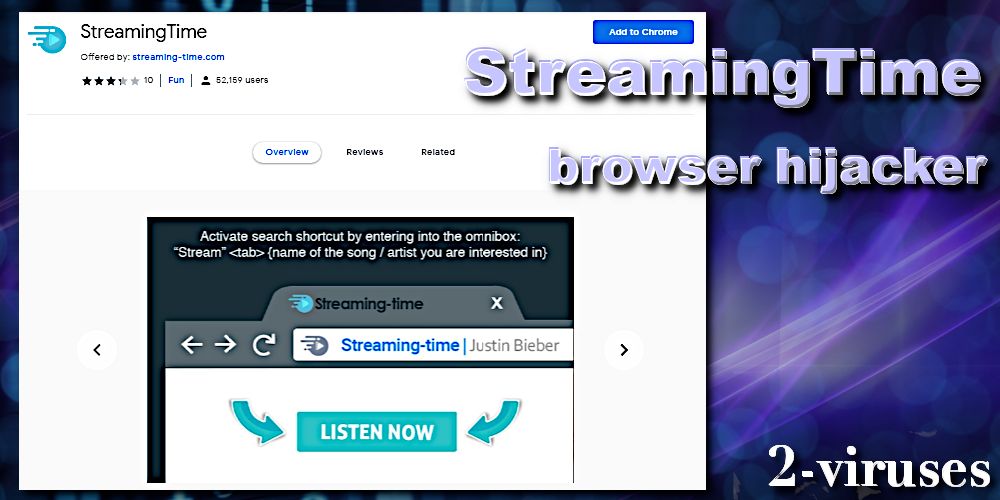 Streaming Time is a shady Chrome's plugin, which appears as a tool which supposedly helps users to 'listen to thousands of free live radio stations' but in reality, it hijacks your browser, modifies default settings and tries to earn revenue for the crooks by showing content full of advertisements. On top of that, StreamingTime extension gains the authority to track your online activity.
Streamingtime Hijacker quicklinks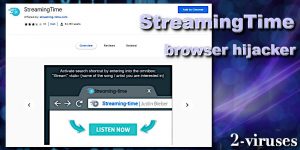 Even though Streaming Time hijacker has an official spot on Chrome's Web Store where people can download this plugin voluntarily, it has been reported that this malware in some cases installed without the proper user's consent, making all the unwanted changes. This and other features, which will be discussed in this article, lead us to believe that StreamingTime application is actually a browser hijacker, which computer owners should avoid as much as possible.
Knowing the persevering qualities of that type of virus, 2-viruses.com team came up with manual and automatic Streaming Time browser hijacker removal tips, which should be helpful to all readers, despite their technical skills, which are dealing with this browser issue.
What is StreamingTime hijacker
StreamingTime plugin looks like a typical Browser extension, however, it is a common trick of browser hijackers, which allows hackers to compromise the search engine and control the content user is exposed to. Getting authorization to alter the browser settings gives freedom for StreamingTime hijacker to place various sponsored promotions, links, products direct to the victim and generate huge revenue from online marketing. Pay-per-click/view/install, affiliate purchases, increased traffic to other web pages are just a few techniques which StreamingTime abuses to profit, just like other similar malware, e.g. Severe Weather Check, Search.terraarcade.com, mp3andvideoconverter.com, and Search-me.club.
As the VirusTotal.com report shows the extension itself is not marked by security tools as dangerous yet and says that it helps to stream radio online, on the other hand, right before installation, it raises red flags with the authorization rights it will get after being added to Chrome. For example, managing other apps, extensions, and themes,  reading and changing all data on the websites you visit and also changing the main search engine to feed.streaming-time.com. This seems like too much power for a musical app, but you can be sure, that it surely will do all these mentioned things if you allow.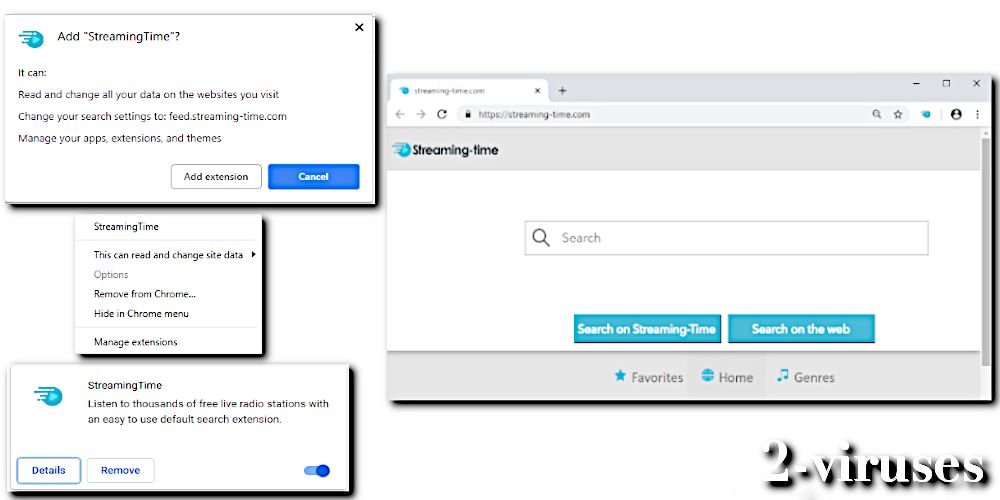 After getting the StreamingTime hijacker we noticed that instantly our search provider was changed to the virus one, which was using Yahoo Search to provide the answers to the given queries. What is interesting, despite the displayed results coming from Yahoo engine, they were infused with Third-party ads, which seemed to be affiliate links that benefit StreamingTime extension. Although online marketing nowadays is expected on every site, these promotions are extremely dangerous, because they come directly from unknown sources, which are not monitored by StreamingTime hijacker, therefore can lead to other viruses. (Malvertising)
Another worrisome characteristic is that this threat can see your every step online, including visited websites, search queries, logins, credentials and etc. Although in the StreamingTime's Privacy Policy the developers claim that they are not sharing any information with third parties, there is a possibility that all users data is being gathered, analyzed and made into statistics and then shared with marketing companies for a fee, just so they could improve Targeted advertising and sell more.
We collect Personal Information for the following purposes:
The legitimate interest of operating the service.
Recommend content based on your preferences.
To respond to users' requests and feedbacks.
To respond to claims that any content available through the Service violates rights of third-parties, to resolve disputes and enforce our policies, including investigation of potential violations thereof, for the purpose of law enforcement or in accordance with any applicable law or regulation.

We collect Non-Personal Information for the following purposes"
The legitimate interest of operating the service.
To perform research, analytics or for statistical purposes.
To detect, prevent, or otherwise address fraud, security or technical issues.
Mind you, all of these changes and actions are done without direct permission, therefore without your knowledge, the StreamingTime hijacker can be easily making money off of you at the same time putting in a risky situation where your online safety and system's well-being comes in danger. If StreamingTime virus is already in your Chrome, please remove it immediately before the consequences escalate.
How did StreamingTime virus get into your browser
StreamingTime hijacker's developers made sure to create a false safety feeling for its victims and put up an official page on Chrome's Web Store where other users can fall into browser virus' trap without crooks even trying. Nice design, the professional description can really trick less experienced people. But that masks other, way more malicious ways that StreamingTime virus uses to disseminate and generate more than several million visitors each month to its page. According to the SimilarWeb.com report at the moment the most StreamingTime browser hijacker's victims are from Egypt, the US, India, Turkey, and the UK.
Talking about the dubious spreading methods, redirects and bundling are the main ones. Our researchers found out that there are numbers of ad networks and rerouting malware developers (like Usbing.club, Secure.calcch.com) which have been paid by the crooks behind StreamingTime virus to spread it online on various websites and place it masked as a hyperlink or an ad. You probably know, that sometimes after clicking on an eye-catching banner or underlined words, it can very easily divert you to a questionable site, and this is what StreamingTime hijacker uses to bring users to its install.streaming-time.com installation or Chrome Store page.
As for bundling, StreamingTime virus can be compiled in the same installer as some well-known program and install as a recommended app, if the user does not opt out. The problem is that in order to pick not to get this malicious browser hijacker, you have to run Setup Wizard in an advanced mode or get the software only from trustworthy sources, not Freeware distributors or torrents. Typically this StreamingTime extension installation surprises the victim because the changes are made without any notice.
How to eliminate StreamingTime browser hijacker
There are two options which you can choose in order to clean your PC/Mac from StreamingTime browser hijacker. Some of our readers claim that they achieved the best results by applying both of them, but it is only up to you which way you want to go. For the users who feel confident about their computers skills we recommend starting with the manual removal, and for those who either don't have time, patience, nor experience we highly suggest choosing helpful anti-spyware software like Spyhunter or Malwarebytes to assist with StreamingTime virus removal.
With the above-mentioned malware removal tools, you can run a free full system scan and see all harmful files that are installed on your computer. The sophisticated and reputable techniques allow these products to discover all the viruses, StreamingTime hijacker included, and remove it if the user decides. Therefore, this is very beneficial if the extension was sitting in your browser for a long time, which might have lead to further infections or it came in a bundle with other malicious programs.
Automatic Malware removal tools
How to remove Streaming Time extension manually
StreamingTime hijacker typically can be removed like any other Chrome's plugin. All that needs to be done is navigating to 'chrome://extensions' via URL bar, and then clicking Remove button on the unwanted StreamingTime add-on box. The more detailed instructions are below. Even though this manual method is as effective as the automatic one, it is highly suggested to combine both of the elimination techniques to ensure the complete safety of the system. The reason behind it is the exposed computer's security vulnerabilities and other potential threats that might have invaded the system together with StreamingTime virus or after its set up.
We have a full page of Reviews of various security programs, which you will find helpful in this case and in the future preventing other malware from compromising your system. Also, don't forget to stay safe online and always Read Privacy Policy before allowing any program into your computer.
TopHow To remove StreamingTime hijacker from Google Chrome:
Click on the 3 horizontal lines icon on a browser toolbar and Select More Tools→Extensions

Select all malicious extensions and delete them.

Click on the 3 horizontal lines icon on a browser toolbar and Select Settings

Select Manage Search engines

Remove unnecessary search engines from the list

Go back to settings. On Startup choose Open blank page (you can remove undesired pages from the set pages link too).
If your homepage was changed, click on Chrome menu on the top right corner, select Settings. Select Open a specific page or set of pages and click on Set pages.

Delete malicious search websites at a new Startup pages window by clicking "X" next to them.

(Optional) Reset your browser's settings
If you are still experiencing any issues related to StreamingTime hijacker, reset the settings of your browser to its default settings.
Click on a Chrome's menu button (three horizontal lines) and select Settings.
Scroll to the end of the page and click on theReset browser settings button.

Click on the Reset button on the confirmation box.

If you cannot reset your browser settings and the problem persists, scan your system with an anti-malware program.
TopHow to remove StreamingTime hijacker from Google Chrome on Mac:
Open Chrome browser.
Enter in the url field "chrome://extensions" address and hit Enter.
Find StreamingTime hijacker on the extensions list and click on the recycle bin icon next to it.
Click on 'Chrome' button at the top left corner. Select 'Preferences' on a drop-down menu box.
Find 'Search' options on Settings tab. If your search engine is changed, click 'Manage Search Engines' and set your preferred search engine.
On the same page find 'Show home button' checkbox and change your homepage.
(Optional) Reset your browser's settings
If you are still experiencing any issues related to
StreamingTime hijacker
, reset the settings of your browser to its default settings.
On the 'Preferences' menu window, scroll down to the bottom and find 'Reset settings' button. Click it.
Confirm your selection and click 'Reset' on the following window.
If you cannot reset your browser settings and the problem persists, scan your system with an anti-malware program.