If you use Apple's products, you might have been targeted by a warning that says "Hackers are watching you!" and threatens that your photos and your browsing history will be sent to all of your contacts. This warning also claims that the only way to save your data from being exposed is to download and install a particular app.
Luckily, the "Hackers are watching you!" alerts are just fake ads – or mean pranks. They're made to scare people and to promote apps. The goal of the "Hackers are watching you!" alert is to get users to install an app.
Scam Hackers Are Watching You quicklinks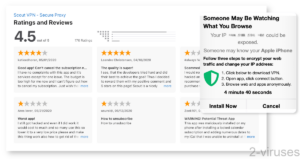 About the "Hackers are watching you!" alerts:
Threat type
Scam,

trojan.

What the fake alerts look like
They impersonate Apple,

they threaten that your private data will be leaked,

they tell you to install an app to fix everything.

Dangers posed by the "Hackers are watching you!" alerts
Unwanted and even malicious apps being installed on your device.
How to avoid fake ads
Block ads and malicious websites,

avoid websites that show aggressive ads,

protect your device with anti-malware apps, such as Combo Cleaner, Malwarebytes, others.
Scaring users into installing apps
The "Hackers are watching you!" alert is a webpage. Whoever designed it was definitely trying to make it look like an Apple site – it uses the same color scheme and includes an Apple logo. However, it's not related to Apple in any way.
The people behind the "Hackers are watching you!" warning are not just pranksters; they are trying to make money with these fake ads.
First, the "Hackers are watching you!" alert threatens people that their personal data is about to be exposed publically. Then, it offers a "fix" to this nonexistent problem: download the app that's linked at the bottom!
Hackers are watching you!

Your iPhone connection has been hacked and someone is watching on you! Please do not close this page. If you don't fix this in two minutes, the hacker will reveal your identity and send your browsing history and front-facing camera photos to everyone in your contacts!

[time]

Recovery method:

Step 1: Click the "Connection Protection" button below.

Step 2: You will be redirected to the App Store.

Step 3: Install and run the recommended protection app to recover your iPhone.

Protect your connection
That app is the true danger of the "Hackers are watching you!" scam. It could be almost anything, from somewhat useful tools to free-to-play games to fleeceware (apps that do nothing but charge expensive subscription fees).
Potentially unwanted apps
The "Hackers are watching you!" alert is not dangerous on its own. It wastes your time and causes stress, but it doesn't infect your device with malware. It's the app that it advertises that's the real problem. It might inject ads into your browser, charge you high amounts of money for no reason, or steal information.
If you click on the button at the bottom of the "Hackers are watching you!" alert page, you'll see another website promoting an application. If you click the Install button, it'll open an App Store page. The app, such as a random VPN, might look professionally designed and have good ratings. However, if you check its reviews, you might see a few interesting ones.
Apps advertised with fake security warnings often end up with reviews of people saying that they had to install the app because they were being hacked. Some are positive, saying that the app saved them from having their info stolen. Others are negative, saying that they can't seem to cancel their subscription for this expensive app.
Always check the reviews of the apps that you're considering installing.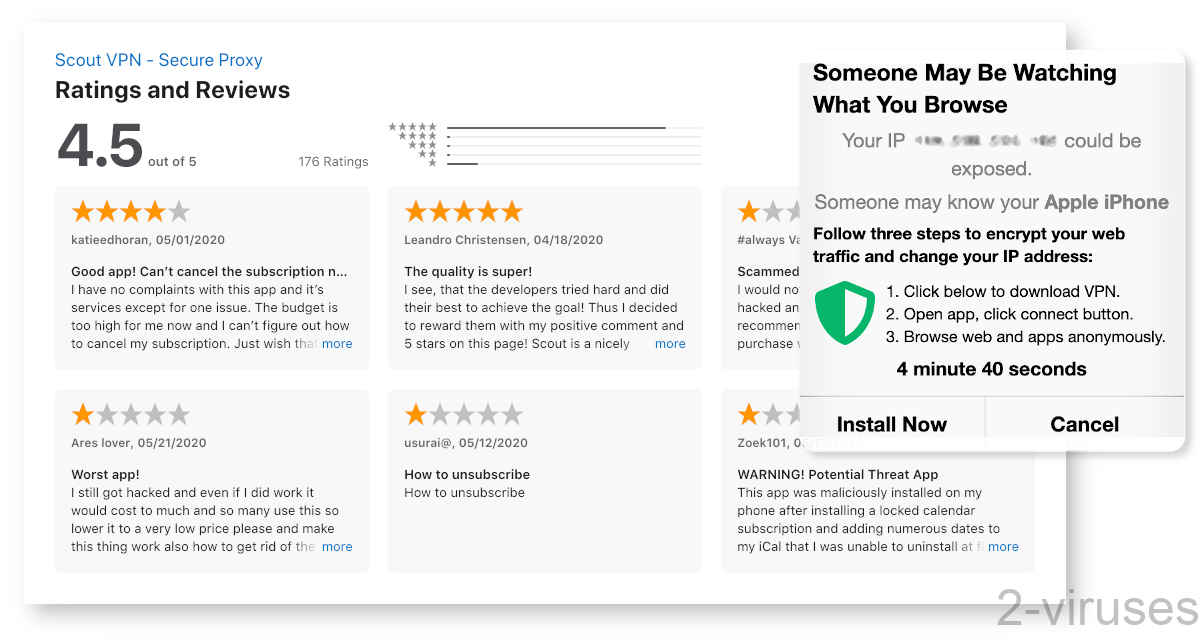 Not that I think about it, "Hackers are watching you!" is a call used to advertise some VPN services. As far as I know, legitimate VPNs are not connected to this scam.
What causes deceptive alerts
The "Hackers are watching you!" warnings are malicious ads, but not every site shows them. In fact, most mainstream websites won't display such harmful advertisements. They have security standards.
Sites that don't have such standards, such as pirating websites, are more likely to show malicious ads. If you regularly visit websites that show aggressive pop-up ads, then you might be exposed to malicious websites. For example, other fake warnings, like the 27 viruses scam or the Apple Security Alert scam, also tend to spread as advertisements.
It's strongly recommended to use an ad blocker when visiting sites with unsafe ads.
How to protect yourself from fake ads
Since the "Hackers are watching you!" pages show up like advertisements, you might be able to block them by blocking pop-ups and other ads in your browser (How to block ads on iPhone & iPad).
You can block ads and malicious websites by using ad blockers and anti-malware tools. If you encounter fake virus alerts, fake giveaways, and other predatory ads often, then it might really be worth it to use such protection.
If you did install the app that was being promoted by the "Hackers are watching you!" alert, remove it.
Check if you've got any unwanted subscriptions and cancel them (Manage App Store purchases, subscriptions, settings, and restrictions on iPad).
And check your device with an anti-malware application, such as Combo Cleaner, Malwarebytes, or others. If they detect malware, remove it immediately. If they detect some suspicious or potentially unwanted items, consider removing them also.
Automatic Malware removal tools
Remove unwanted apps
How to remove Scam - "Hackers Are Watching You!" from macOS
Delete
Scam - "Hackers Are Watching You!"
from your applications.
Open Finder.
In the menu bar, click Go.
Select Applications from the dropdown.
Find the Scam - "Hackers Are Watching You!" app.
Select it and right-click it (or hold the Ctrl and click the left mouse button).
In the dropdown, click Move to Bin/Trash. You might be asked to provide your login password.