Have you recently noticed that your browser is running slower, crashing and freezing at times, and whenever you try to visit a page, for a second it shows s9kkremkr0.com and only then opens the site or redirects you to some online promotion or a scam page? If this sounds familiar to you then you might have the s9kkremkr0.com redirect virus, which is using your compromised browser to generate revenue from all that Online marketing. This redirect is not an actual virus but more of a consequence from the adware or PUP that you installed on purpose or accidentally.
S9kkremkr0 Com Redirect quicklinks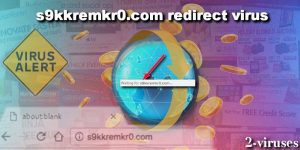 If you have spent the last couple months or are currently located in Brazil, India, the United States, Japan or the United Kingdom you have a bigger chance to come across s9kkremkr0.com redirect, which was and is the most prevalent in these regions ever since it got released in June. Right now we recommend following Online safety tips to prevent s9kkremkr0.com redirect from infecting your PC, but if you already got it, please scroll down below to find out how to get rid of this annoying malware, or else the Consequences will be harsh. 
What does 
s9kkremkr0.com redirect virus do
The main reason why s9kkremkr0.com redirect even exists is easy money from online promotions, Malvertising and payments from sponsoring companies from an increase in web traffic. The more popular is the redirect virus, the more companies want to collaborate and pay it to promote them, which means that s9kkremkr0.com developers need to work with other malicious programs to infect larger amounts of systems in all possible ways, therefore when you install some adware program s9kkremkr0.com redirect will show up too. Install.pdf-maker.com, NetOffersonline.info, Cobalten.com, Linkonclick.com are other similar redirect viruses that are just like s9kkremkr0.com parasite.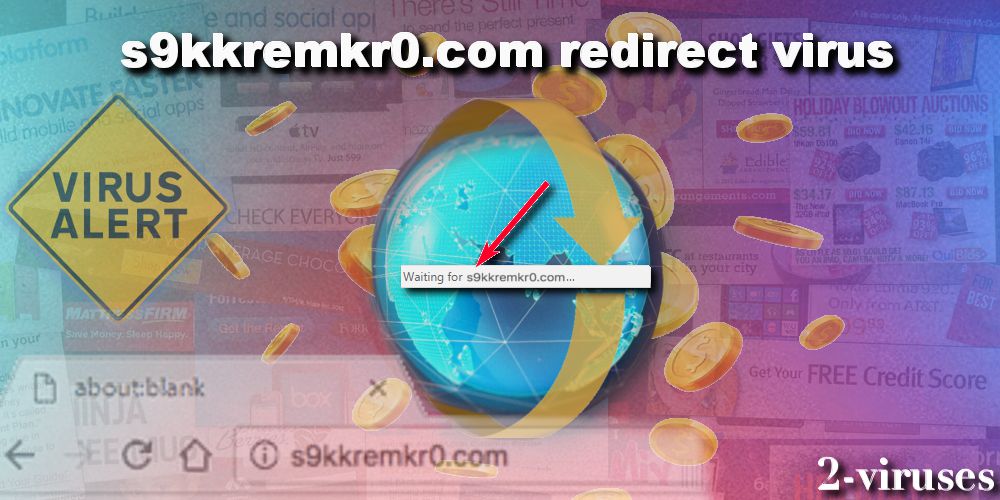 Even though you see the s9kkremkr0.com redirect for a brief second, or not at all, it does not mean that it's not dangerous. Look at the Virus Total scan that proves this. Actually, in a couple months s9kkremkr0.com virus has infected so many users that its website is guessed to be worth around $300k, having a fairly popular spot (632) on Alexa rankings. Moreover, last month the total amount of visits went over 116.49 million. As for a page that does not have any unique content and just mediates between sites these numbers are very impressive and much more profitable than other threats such as ransomware, browser hijackers, trojans and etc. 
S9kkremkr0.com redirect virus gets most ads from PopAds, PopMyAds, exoClick, RevenueHits, AdSupply advertising networks that post whatever they like on the site you end up, taking promotional money from the original website creators because Malicious Javascript codes allow them to replace anything on the website with some online deals or catchy news, which can end up installing more malicious software (Coinhive miner for example) into your already vulnerable system. On top of that, these scripts allow crooks to track your online activity and data about you, like visited sites, search queries, banking and logins details, credit card numbers, location, email, phone number, and even personal conversations. That is why you need to stop S9kkremkr0.com redirect from interrupting your browsing sessions, harming PC and finally protect your privacy.
How does 
s9kkremkr0.com redirect spread 
There are many ways how you can end up with a s9kkremkr0.com redirect virus. Most believable is another advertising malware that was installed onto your Windows because you either was tricked by it thinking that it is going to be a legitimate program (but it was a virus) or it sneaked when you were pirating some software illegally from P2P networks or simply used a Freeware distribution site.
s9kkremkr0.com redirect causing program was compiled in the Setup Wizard of another software that you wanted to get in the first place. Although it could be any adware which was paid by s9kkremkr0.com redirect developers, you can avoid it by always installing software from legitimate official sites and choosing Custom installation over Recommended and deselecting all the unwanted additional applications which are made to set up together by the default.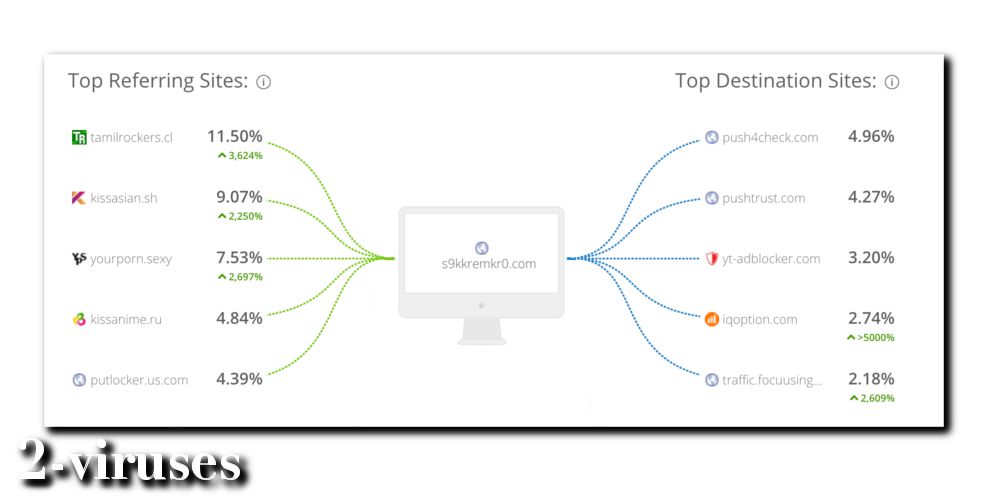 Additionally, some websites were noticed by the SimilarWeb analysts to be bringing a lot of traffic toS9kkremkr0.com URL. It's tamilrockers.cl, kissasian.sh, kissanime.ru, putlocker.us.com. You should really be careful when visiting them and clicking on ads and links that are posted on them. Maybe these websites have no interest in infecting you with any malware, yet most of the vendors make money by displaying online ads, that can come from third-parties and you never know what is hiding behind their flashy appearance. So before you go and blame some website, take a look at this article about How publishers are affected by malicious ads and adblocks. 
How to remove 
s9kkremkr0.com virus fast
You constantly see S9kkremkr0.com link whenever you browse on the net, for a reason. A malicious and undefined reason that is making your online surfing experience more miserable each time. You should have no remorse for s9kkremkr0.com redirect and terminate it in the most effective way possible, which is removal with a professional security tool. There are plenty of such programs, but we have tested and liked SpyHunter, Plumbytes and Malwarebytes the most. 
Anti-spyware programs are very useful to have because they save you lots of time and provide a rather sufficient cleaning, after which you don't need to worry anymore if the virus is gone or not. Malware removal tools have very sensitive detectors, therefore even when you don't know which potentially unwanted program exactly is causing the issue with s9kkremkr0.com threat, the malicious root cause will still be found and removed even if it got into System files or registry. All you will have to do is to get a security tool, run a full system scan and watch SpyHunter do the job. 
Automatic Malware removal tools
How to stop 
s9kkremkr0.com redirects manually
The recurrent appearance of s9kkremkr0.com reroutes indicates that there is a spyware installed in your system which you need to get rid of immediately because it also can be initiating other malicious features, which go beyond just your search engine. In order to do so, you need to figure out which program is causing the s9kkremkr0.com virus and then use our removal guide to uninstall it. After that don't forget to reset your browser settings, just as it is shown on Googles support page. You may also want to take a look at how to alter your DNS settings and clean Hosts files. If you are not successful with manual removal, then we advise using a proper security tool mentioned above. 
How to remove s9kkremkr0.com redirect using Windows Control Panel
Many hijackers and adware like
s9kkremkr0.com
install some of their components as regular Windows programs as well as additional software. This part of malware can be uninstalled from the Control Panel. To access it, do the following.
Start→Control Panel (older Windows) or press Windows Key→Search and enter Control Panel and then press Enter (Windows 8, Windows 10).
Choose Uninstall Program (if you don't see it, click in the upper right next to "View by" and select Category).
Go through the list of programs and select entries related to s9kkremkr0.com redirect . You can click on "Name" or "Installed On" to reorder your programs and make s9kkremkr0.com easier to find.
Click the Uninstall button. If you're asked if you really want to remove the program, click Yes.
In many cases anti-malware programs are better at detecting related parasites, thus I recommend installing Spyhunter to identify other programs that might be a part of this infection.