Linkonclick.com redirect virus has been active since 2015 and regularly receives visitors from Indonesia, United States, India, Venezuela and Brazil. Adserv.site and Touch.peak-serving.com have the same characteristics as the Linkonclick.com redirect. For the most part, the latter ad-server is associated with a variety of different adult-oriented websites. Therefore, people will be introduced with pornographic content, inappropriate offers and services, and a lot of other mature content. We hope that you will not allow a minor to use a computer which has been affected by an adware parasite.
Linkonclick.com redirect will lead users into deceptive adult websites
There is a variety of domains that Linkonclick.com pop-ups will display. We noticed that the majority of domains, sending the most traffic to this domain, are related with content that can be viewed only by people over 18 years old. In addition to this, our security team noticed that the redirect is also initiated by a pop-under ad network called PopEarn. A few other ad-networks are related with this Linkonclick.com redirect. It will promote ads from services like PopCash, PopMyAds and Propeller Ads Media.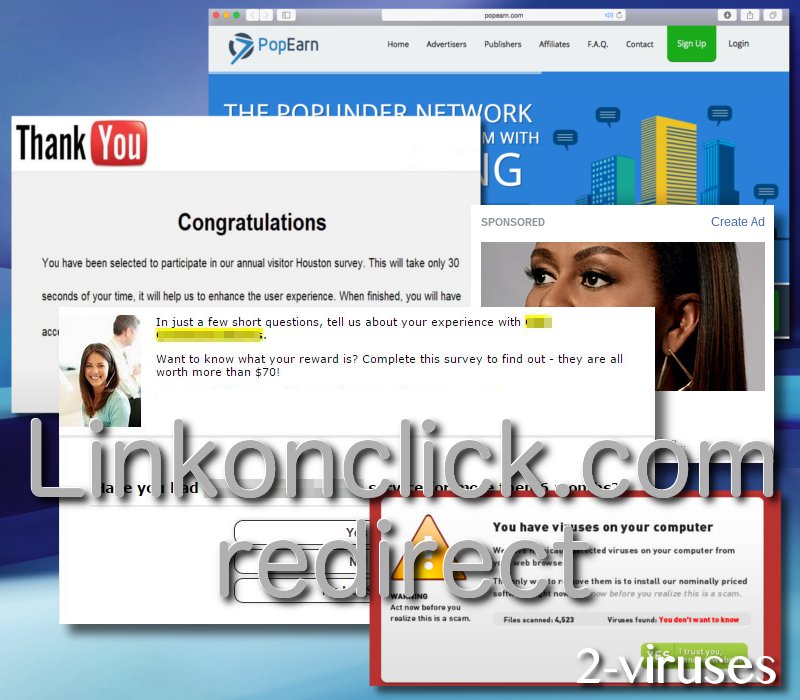 It is presumed that people infected with Euro-search.net browser hijacker are more likely to be bothered by Linkonclick.com pop-ups. Looking at the traffic rank of the site, it is extremely popular in Indonesia (#5,636) and has earned an impressive position in the global rank (#49,904). Therefore, there could be a lot of people that have their computer devices compromised by adware/browser hijacker parasite.
The Linkonclick.com redirect will tempt you with deceptive offers, sales, low-priced goods, surveys, lotteries and different content. It is important that you do not click on the displayed third-party adverts. However, it could be that through a third party service, hackers are distributing malicious content to perform drive-by attacks.
With the usage of exploit packs, containing vulnerabilities needed implement drive-by download tactics, the amount of malware-laden ads has significantly grown. In some cases, users do not even have to click on a malicious ad to become infected. Therefore, even viewing an online advert is a relatively dangerous activity (The drive-by download explained - and what you can do about it).
Since the repetitive appearance of Linkonclick.com pop-ups means that you are infected by malware/spyware, your online activities and personally-identifiable information is also compromised. Malware meant for spying can collect information about users' computing, surfing habits, user logins, bank or credit account information, email addresses, and a bunch of different details (How Spyware Works).
If you do not want to have your identity stolen, we advise you to clean your operating system as soon as possible. Also, remember that your online activities should not include reacting to online adverts. If out of the sudden, your operating system begins showing online ads on a regular basis, act quick to determine the actual reason behind this curious change.
Protect yourself and your computer from the unwanted Linkonclick.com pop-up
The best thing is to completely ignore Linkonclick.com redirection and close the websites it launches. Of course, there is no reason why you should hesitate to remove the malicious parasite from your operating system. Hurry to run a scan with Spyhunter to make sure that your computer would not become a host of multiple malware infections. This tool will definitely protect your computer system from malware invasion. If you worry about your passwords, change passwords to all accounts you logged into during the infection.
To avoid any similar incidents, we hope that you will continue on running regular scans with the recommended anti-malware tool. In addition to this, stop randomly installing programs and clicking on online advertisements. During installation processes, make sure that the program would not include any suspicious features: like, regular displays of third party advertisements. If you notice this condition, avoid installing such a program.
How to remove Linkonclick.com redirect using Windows Control Panel
Many hijackers and adware like
Linkonclick.com redirect
install some of their components as regular Windows programs as well as additional software. This part of malware can be uninstalled from the Control Panel. To access it, do the following.
Start→Control Panel (older Windows) or press Windows Key→Search and enter Control Panel and then press Enter (Windows 8, Windows 10).
Choose Uninstall Program (if you don't see it, click in the upper right next to "View by" and select Category).
Go through the list of programs and select entries related to Linkonclick.com redirect . You can click on "Name" or "Installed On" to reorder your programs and make Linkonclick.com redirect  easier to find.
Click the Uninstall button. If you're asked if you really want to remove the program, click Yes.
In many cases anti-malware programs are better at detecting related parasites, thus I recommend installing Spyhunter to identify other programs that might be a part of this infection.
Automatic Malware removal tools