Routgveriprt.com is a website that delivers ads to other websites and spams web browsers with pop-up ads. Routgveriprt.com is an adware site that works with advertisers who spread dangerous and misleading content. It's responsible for many of the redirects on online streaming sites and it promotes other adware websites.
Routgveriprt Com Pop Up Ads quicklinks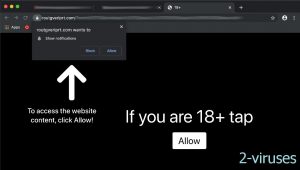 Pop-up ads in the browser
Routgveriprt.com pop-up ads affect tablets, phones, computers – any device that has a working browser. A browser is a program that displays websites and most browsers implement notifications – a way for a website to notify you immediately even if you don't have the site open. For example, your email site might show you a pop-up when you get a new letter or your social media sites can tell you when you get a direct message. And sites like Routgveriprt.com abuse notifications to flood people with a tsunami of ads.
Routgveriprt.com is basically adware and can make a browser nearly unusable:
Classification
Dangerous ads spread by Routgveriprt.com

Spyware, malware, adware apps and programs
Scams, fraud, phishing sites
Misinformation-filled pages

How the pop-ups start

Users are tricked to allow notifications
Routgveriprt.com looks like it's a page on the previous site

Stop Routgveriprt.com pop-up ads

Block Routgveriprt.com's notifications
Remove malware from your device (Combo Cleaner for Mac, SpyHunter for PC)
Get tools to block dangerous websites
This site can spam ads to any browser that accepted notifications from it. The ads pop up on the side or at the top of the browser and they appear at least every few minutes. They continue showing up as long as the browser is on. If you don't dismiss them, they might pile up – a stack of dozens of Routgveriprt.com ads. and these ads are full of scams, malicious programs, misinformation, data stealers, and other genuinely dangerous content.
The notifications from Routgveriprt.com isn't the only effect that Routgveriprt.com has on your browsing, even if it's the most visible one. Any time you encounter Routgveriprt.com online, the site will immediately redirect you to some website that paid it for promotion. You might be able to make out "routgveriprt.com" in the address bar before the site forwards to another site.
How Routgveriprt.com tricks people
The Routgveriprt.com site is not like a normal website. You can't go on it and read articles or find any content. Routgveriprt.com is made up of redirecting scripts and a few template designs for getting people to subscribe to its pop-up ads. The illustration for this article is a screenshot of one of the templates. It says:
If you are 18+ tap "Allow"
and
To access the website content, click Allow!
The browser is showing a box that says:
routgveriprt.com wants to
Show notifications
Block Allow
And tapping "Allow" gives Routgveriprt.com permission to send notifications to the browser which was used.
Other examples include a fake video loading animation that says "Press Allow to watch the video", an adult site that says "Better than Tinder", a fake robot check, a fake error warning, and one that says "Press Allow to close site".
These templates have nothing to do with reality. Routgveriprt.com appears unexpectedly while browsing other sites, so it's likely that the person subjected to it thinks that Routgveriprt.com requiring them to tap the Allow button is business as usual. If they click on a video and Routgveriprt.com shows the loading video template, people are likely to follow the instructions on the screen. But Routgveriprt.com has nothing to do with those sites. After agreeing to Routgveriprt.com's notifications, it opens either an ad or another adware site.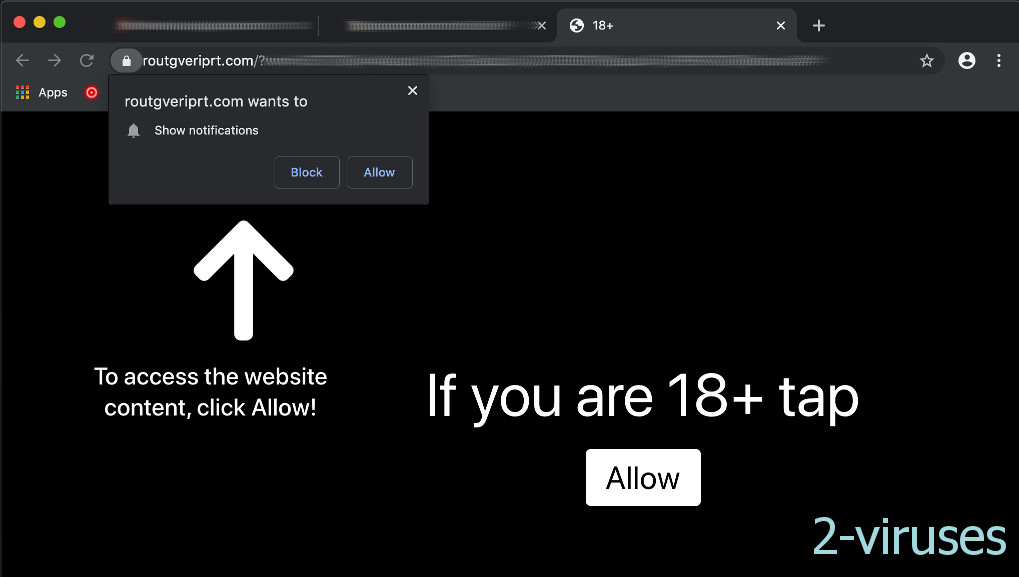 Dangerous ads by Routgveriprt.com
As if being subjected to a constant stream of ads by Routgveriprt.com wasn't enough, the ads are often dangerous. Many of the ads shown by Routgveriprt.com are more or less shady and concerning. There's a reason normal websites avoid showing them – they don't want to be responsible for their visitors being scammed.
An example of an ad by Routgveriprt.com – schemes that promise to make people rich if they invest. They always just result in a loss. Cryptocurrency scams that use celebrity images are especially popular with Routgveriprt.com and other adware. These sites might appear on a Routgveriprt.com ad with a heading like "this celebrity reveals their secret…" or "this person was homeless a year ago…". The ads are full of fake testimonies, scammers even go through the trouble of setting up fake news articles on fake news sites.
Besides investment scams, there are a bunch of other shady sites that Routgveriprt.com promotes:
Browser extensions that seek to spy on your browsing habits for advertising reasons.
Fake software updates that push malware.
Fake giveaways, lotteries, and surveys that try to get people to pay shipping and other fees for nonexistent prizes.
How to stop pop-up ads by Routgveriprt.com
Routgveriprt.com, Get-search.info, Install.notify-service.com, Putlocker sites, and all the other sites that hijack notifications can be stopped from sending them by simply revoking the permission:
Chrome: type "chrome://settings/content/notifications" in the address box.
Safari: in the Safari menu, choose Preferences, Websites, Notifications.
Edge: open Settings, Advanced settings, Notifications, Manage.
Firefox: type "about:preferences#content" in the address bar, find the Notifications section.
All the Routgveriprt.com sites (there might be more than one) that are listed in your list of sites that send you pop-ups – you need to set each of them to block their notifications. You can also configure your browser to not accept notifications at all.
Considering that Routgveriprt.com exposes you to a lot of low-quality ads, you might benefit from scanning your computer with SpyHunter for PC, Combo Cleaner for Mac, or another antivirus scanner that you trust. Also, consider setting up an ad-blocker or a web filter that blocks malicious websites. You can use it to block Routgveriprt.com and other dangerous websites. And be careful online – pages like Routgveriprt.com should be ignored and closed as soon as they open (use Alt+F4 on Windows, Cmd+W on Mac OS to close a window immediately).
Automatic Malware removal tools