RocketTab, or Rocket Tab, is an Adware virus that displays tons of messages on users' Internet Explorer, Mozilla Firefox, and Google Chrome. Even though it is advertised online as a helpful tool to make your search results more accurate, instead RocketTab mainly pops up suggesting intrusive never-ending advertisements depending on your browsing history, offering coupons and discounts to purchase certain items cheaper and etc. When all the ads become unbearable and the victim tries to delete this program, it can seem like an impossible task to do without a proper malware removal knowledge. But 2-viruses.com team are here to help.
Rockettab quicklinks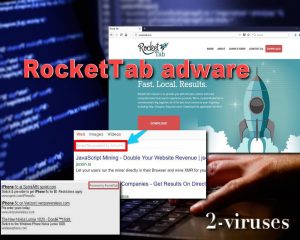 This program is a dangerous infection, based on the evaluation of many trusted anti-malware programs. However, RocketTab claims to be a useful application.
It says that it can enhance web search results with relevant local content, especially discounts, at the top of each search results page. This is the same behavior as any browser hijacker that forces people to use an ad-filled search engine, however, RocketTab is more powerful and can hijack all of your browsers. Resetting the browser or using an alternative one does not help. This is also more difficult than normal hijackers to remove which becomes an issue when it makes web browsing very difficult.
When suddenly you start seeing more ads than usual which interrupt your work while browsing the Internet, when you randomly get redirected to suspicious system optimization tool ads or other shady, virus-infested sites, you probably are dealing with the RocketTab adware, which you should remove from your computer instantly:
What is RocketTab browser virus

Browser hijacker — modifies browser settings and controls the browsers
Adware — displays ads using the browsers
Potentially unwanted program — installs without consent, does not offer valuable functions

How

the virus spreads

Is included in modified installers of various free programs
Is pushed by malicious ads by adware
Is advertised on shady websites

Possible harm

RocketTab can collect data about the user's browsing habits

Private data can be used for targeting ads and spear phishing
Scams, fraudulent content can eventually cost money

How to remove

RocketTab virus

Manually remove

RocketTab

 using the Control Panel
Scan the computer to remove malicious components (SpyHunter)
Install anti-malware with real-time protection or cut out dangerous activities from your browsing
What is RocketTab virus and how did you get it?
If you are not new to web browsing and computers, you probably know that viruses can basically distribute through malicious programs and websites. RocketTab adware is no exception. Because most internet users would not willingly install unnecessary advertisement-generating applications, adware must get into the computer without asking for direct permission from the user. And the most preferred way RocketTab distributes is with freeware (bundling), bad ads that other adware programs display, and torrents you download from shady websites. You can be installing the adware yourself without even noticing.
The virus, like Sashoff.com, DisplayUpdate, or FreeCodecPack, benefit from posting sponsored ads generating pay-per-click or from redirects increasing traffic to all those sponsoring pages. You can spot which advertisements are building revenue to the creators of the adware, by seeing a text under the pop-up: "Ads powered by RocketTab", "Powered by RocketTab", "Brought to you by RocketTab", "Ads by RocketTab" or "RocketTab powered by RocketTab". The other virus-infected system's symptoms include: slow browser/computer performance and crashing, random pop-ups and redirects, suggestions to update your software and install the new one you don't actually need, in-text hyperlinks and new banners on sites where you have not seen them before, automatic program installs without permission request.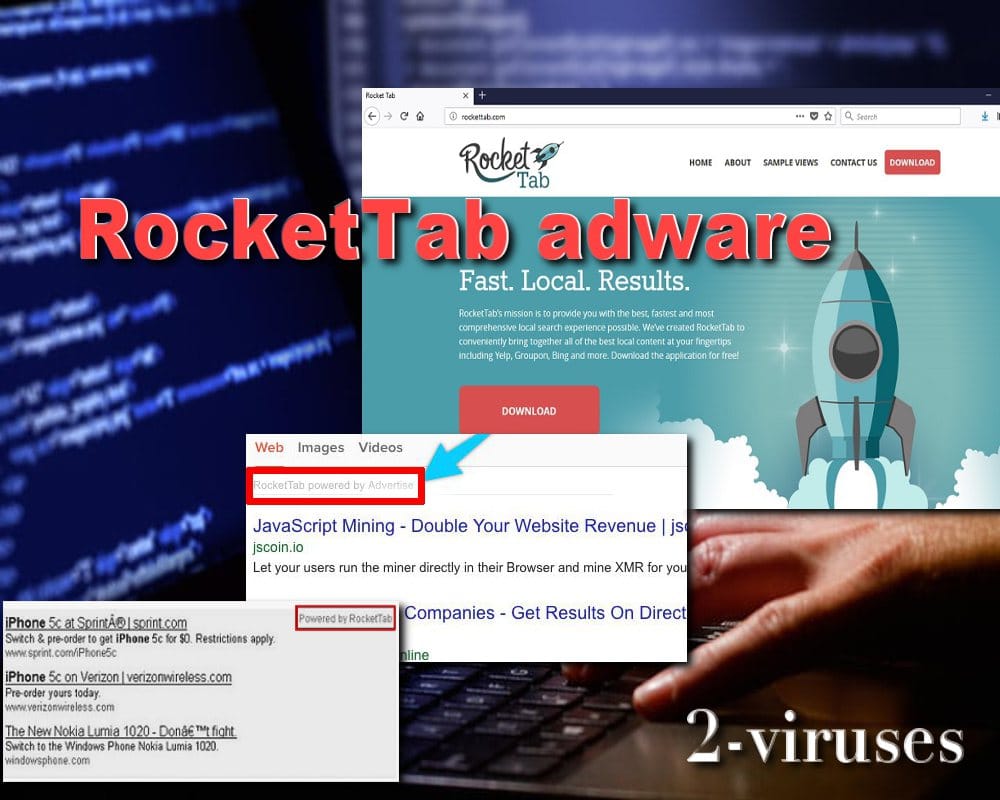 These adware-powered suggestions from at the first look can seem like the random ads, but actually, they show specifically victim-targeted content, which can potentially result in a monetized referral if the user buys the product. Question is: how do the RocketTab crooks know what do I like/need/want? That is the darkest side of this malicious software. The virus can access your all browsing activity history and modify its ads depending on your searched keywords. Additionally what makes it a high-risk plug-in is that not only does it tracks your online activity but has an ability to access all the login information including passwords, online banking data, credentials, location and do with it whatever it wants – use it or sell it to the third parties.
These all RocketTab qualities, beginning with the PUP type of installation (How-To geeks explanation what PUPs are) and ending with sensitive data tracking and sharing with God-knows-who, makes this adware moderately dangerous causing multiple vulnerabilities in infected system's security, opening the path for more severe threat infections. This is why you should remove the RocketTab virus at the earliest stage.
How to delete RocketTab virus?
RocketTab's name can give a clue that this malicious virus works only in the browser, so removing malware's Extension/Add-on from your Mozilla, Chrome or Explorer should be enough to stop all the adware, however almost all the time the infection is working from a much deeper level of your computer than you think. Even if you will remove the extension it might reinstall same day back again. To eliminate RocketTab we advise finding 'the root cause' of the malicious software.
Firstly, you can try catching this parasitic adware virus in your PC's Control Panel installed applications list. Go and simply search in the section 'Remove/Uninstall Program' for the 'RocketTab' or a similarly named item. If you find it there – great! Simply follow the uninstall instructions and remove it from your operating system.
Sometimes malware tends to hide from the user under a different name to make the manual removal difficult. In this case, our recommendation would be to install a reputable anti-spyware program like Spyhunter and run the full system scan. They should allow you to easily detect and delete the RocketTab adware completely, together with other malicious threats from your computer.
Automatic Malware removal tools
How to remove RocketTab virus using Windows Control Panel
Many hijackers and adware like
RocketTab
install some of their components as regular Windows programs as well as additional software. This part of malware can be uninstalled from the Control Panel. To access it, do the following.
Start→Control Panel (older Windows) or press Windows Key→Search and enter Control Panel and then press Enter (Windows 8, Windows 10).
Choose Uninstall Program (if you don't see it, click in the upper right next to "View by" and select Category).
Go through the list of programs and select entries related to RocketTab virus . You can click on "Name" or "Installed On" to reorder your programs and make RocketTab  easier to find.
Click the Uninstall button. If you're asked if you really want to remove the program, click Yes.
In many cases anti-malware programs are better at detecting related parasites, thus I recommend installing Spyhunter to identify other programs that might be a part of this infection.
Manual removal