Sashoff.com redirect virus leads people to a deceptive website, featuring various types of click-bait articles. It is extremely similar to Traffic-media.co pop-up: both of them present useless content. You will notice headlines in the Russian language, but the Sashoff.com virus will also retrieve your IP address in order to generate a few adverts in your native language.
If you are familiar with phishing, malvertising and other online scamming strategies, you should understand the dangers of interacting with random advertisements. To sum up all of these concepts, we can simply state that some online ads can be transmitting malware, aiming to steal your personally-identifiable information, or to trick you into falling for a scam (Ads).
Sashoff.com redirect virus introduces people to deceptive content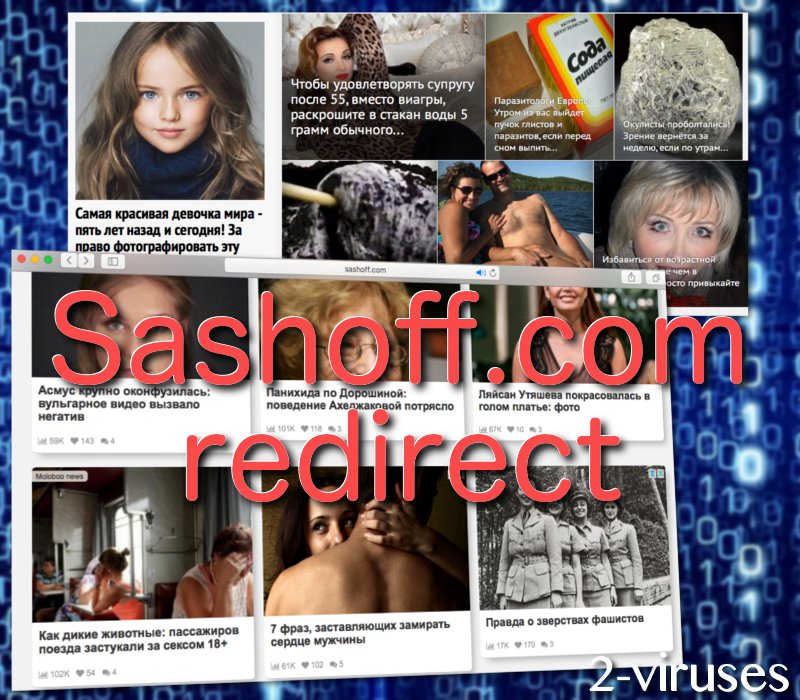 Sashoff.com redirect is the most active in Brazil, Turkey, India, Indonesia and Thailand. Some of the articles, featured in this website, are labeled as "Moloboo news". You should not click on the displayed articles because they are going to transfer you to third-party websites. Some of them could be malware-laden, or they could offer fake, but very pricy products. If you do not want to be deceived by cyber criminals and scammers, we hope that you will not interact with the Sashoff.com pop-up.
If Sashoff.com pop-up is shown on your screen regularly, it could be that your computer device is infected with malware. Since your browsing experience is being disturbed by online advertisements, we suspect that the malware, hiding in your computer, is an adware parasite (How). These malicious programs can track your online activity, and display personalized advertisements. However, the Sashoff.com website won't introduce you to useful content. Instead, the click-bait articles are going to lead you into other fraudulent websites.
Our analysis revealed that Sashoff.com website features ads that are from PopAds, exoClick, AdsTerra, sh.st and PopCash. Noticing that this redirect is regularly being shown on your screen should be interpreted as a sign of a malware infection. Besides this pop-up, you could also notice that random text is automatically turned into hyperlinks. Furthermore, you could be exposed to a variety of technical support scams, claiming that your device is severely infected with viruses.
We hope that you will choose to ignore websites that are similar to Sashoff.com pop-up. The tactic of presenting users to click-bait articles is not new. Most of the news articles are considered fake news. With shocking or intriguing headlines, scammers attempt to generate more web traffic (The). You should get news only from reliable sources that won't try to deceive you.
How can I become infected with adware, generating the Sashoff.com pop-up?
As we have mentioned, the Sashoff.com virus is very likely to be caused by an adware parasite. You can confirm or deny this theory by running a scan with Spyhunter anti-malware tools. Both of these programs are capable of detecting and removing malicious files from computer devices. If you notice that your computer is not reaching the same levels of efficiency, you should run a scan. It could be that a malicious program is initiating various malicious commands.
Random programs from the Internet very frequently turn out to be malicious. Be careful during installations of freeware. Read the Terms and Conditions document. Additionally, do not forget to opt out of receiving recommended software applications. Many unwanted, poor-quality, rogue and malicious applications might be distributed via bundling. If you remember installing an unknown tool from the Internet, open Control Panel and uninstall the program you no longer see fit for your computer. If you notice any suspicious applications (that you did not install yourself), it could be that the malware installed some programs without your consent.
Automatic Malware removal tools