FreeCodecPack is an adware, like PC Codec Pack and Video Box, developed by Digital Wave. It has been known for its malicious adware and PUP activities since 2015 and now has been noticed vigorously roaming the web again. It aims to sneak into victim's computer as a useful tool that allows users to watch all kinds of videos but instead fills the system with intrusive ads, threats, affects overall protection.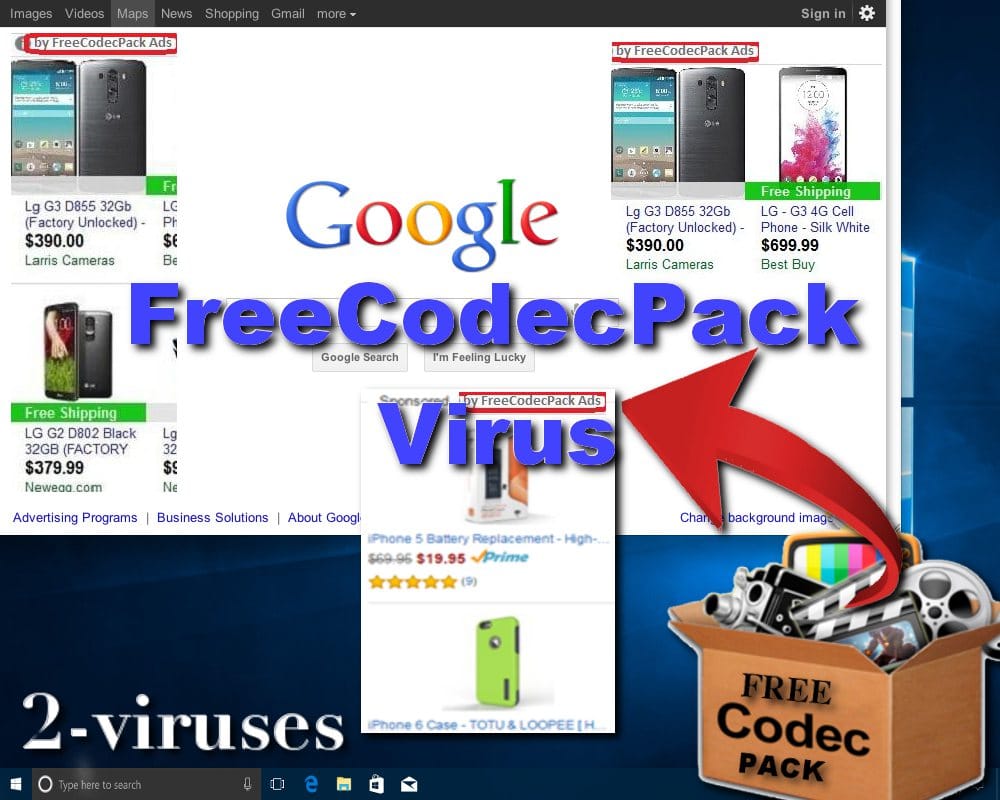 There is no denial that FreeCodecPack virus is not a useful tool as it advertises, but actually a dangerous program that modifies users' computers. You can come across the FreeCodecPack virus as an advertisement in usually unauthorised website's bars and toolbars, spam email attachments, torrents, but mostly it spreads together with freeware bundles and software products.
How does FreeCodecPack affect your system?
Obviously, regardless program's design this PUP doesn't even work as a codec pack. Even though FreeCodecPack adware itself is not the most dangerous virus, yet if you let it run freely in your PC it can lead to pretty serious issues. Originally FreeCodecPack works as an adware. It gets installed into your computer through methods mentioned above (usually without your permission or awareness) and starts showing intrusive malicious advertisements whenever you open your Mozilla Firefox, Google Chrome, Internet explorer or Safari browser.
FreeCodecPack virus generates custom ads targeted towards each user uniquely depending on the browsing history. If you have search for certain services, for example taxi, you will end up seeing taxi ad banners with a little side note saying "Sponsored by FreeCodecPack/ Ad by FreeCodecPack" from companies that pay FreeCodecPack for advertising, even on pages that are not related. FreeCodecPack build their main revenue by advertising and references hackers get once the victim clicks and buys something form the intrusive ad. Besides that FreeCodecPack virus has some other risky features. 
Internet user privacy on these days are constantly threatened by many harmful viruses. FreeCodecPack is not an exception for such behaviour. It does not only track your browsing activity but also most likely collect personal information and log-in details. What is more, FreeCodecPack virus modifies some parts of your operating system so firewall and other protection software would not identify this adware as malicious and it could work in a full power. This allows other, more dangerous viruses infect your computer because its security is vulnerable and cause more damage than you imagine. Some of these ads FreeCodecPack shows can be infected by another virus.
If you already are seeing FreeCodecPack virus generated ads or simply want to learn what to do when it finally slithers in, then keep reading to find out how to eliminate this persistent PUP and clean your system virus free.
How to delete FreeCodecPack virus?
The first step towards the safe and FreeCodecPack free operating system is knowing how a current threat spreads, which you have read at the beginning of this article. NOT pressing on suspicious ads, pop-ups, NOT visiting shady websites, NOT downloading programs/music/videos from unauthorized websites can save you a lot of time and money, because then you will have less chance to infect your system with malicious malware. If you do notice that your system and browser is experiencing some problems like strange pop-ups and offers constantly appear that on the screen, persistent ads and software which crashes constantly and works only after the restart of computer, then it means that you may probably have FreeCodecPack virus which you can try removing in two ways.
First way is a manual removal from your operating system's control panel. To do this you simply have to go to the Start Menu and select Control Panel. There you can find the 'Uninstall a Program' section. In this section search for Free Codec Pack and click Uninstall/Remove once you spot it. This should get rid of the adware manually.
If you can't find FreeCodecPack virus in the Control panel, are confused or simply want to take more serious approach you can do that via automatic malware removal tools like Spyhunter or . Through simple directions these anti-spyware programs help you scan, detect and remove not only FreeCodecPack adware but also other viruses that have been slowing down your PC, interfered with browsing, caused vulnerability issues.
Always be aware of what gets into your computer and remove any suspicious software as soon as you see it not to fall into a bigger trap.
Automatic Malware removal tools