Reimage is repair software that can help fix an operating system after it's been damaged it can fix system files and settings. However, some consider it to be a potentially unwanted program and antivirus programs even detect the Windows version of Reimage, as you can see in this VirusTotal page.
What Reimage does and doesn't do
Type of program
Windows repair tool

Emergency scanner

Useful features
Scans and removes some malware

Can remove junk files

Reports on unstable programs

Problems and issues
Unnecessary automatic scans

Confusing marketing

Bad user experiences

Remove Reimage
Uninstall Reimage manually

Use Malwarebytes to remove it
Reimage is a repair tool meant for dealing with system damage – it can download and replace missing files automatically. It also included Avira's antivirus database so it can remove some of the infections.. We have a review of it and a guide on how to use it. It can help users avoid having to reinstall their operating system and get rid of some annoying errors. It is supposed to remove errors by finding corrupted Windows settings and files and replacing them with safe ones, similarly to Windows' own file fixing tools. Thus, Reimage can make a system more stable.
One important note is that Reimage shouldn't really be used as any sort of performance booster. It can help stability if you're seeing errors, but it won't make a computer run faster after it's already removed malware damage. Reimage is good at what it does – get rid of malware and errors – but it's not a miracle cure.
The problems with Reimage
Reimage is not malware, but it's also far from perfect. The PUP (potentially unwanted program) label that it received is not always wrong.
For example, Reimage is a registry scanner, which is a category that attracts a lot of malware and rogue applications. For example, Registry Doctor and Webmoka Cleaner really are outright malware. Others, like Max Registry Cleaner and Tweakerbit Registry Optimizer, mislead users by claiming that PC performance can be improved by messing with its registry. Because of all the junkware out there that use false claims that they'll make your PC run faster by "optimizing the registry", any registry fixer is now viewed with suspicion. That is good, as most of them really are just scams. But then legitimate programs like Reimage get caught up and labeled malware. Malware messing with the registry really does sometimes cause stability issues and makes some programs malfunction, so editing registry keys is, occasionally, necessary.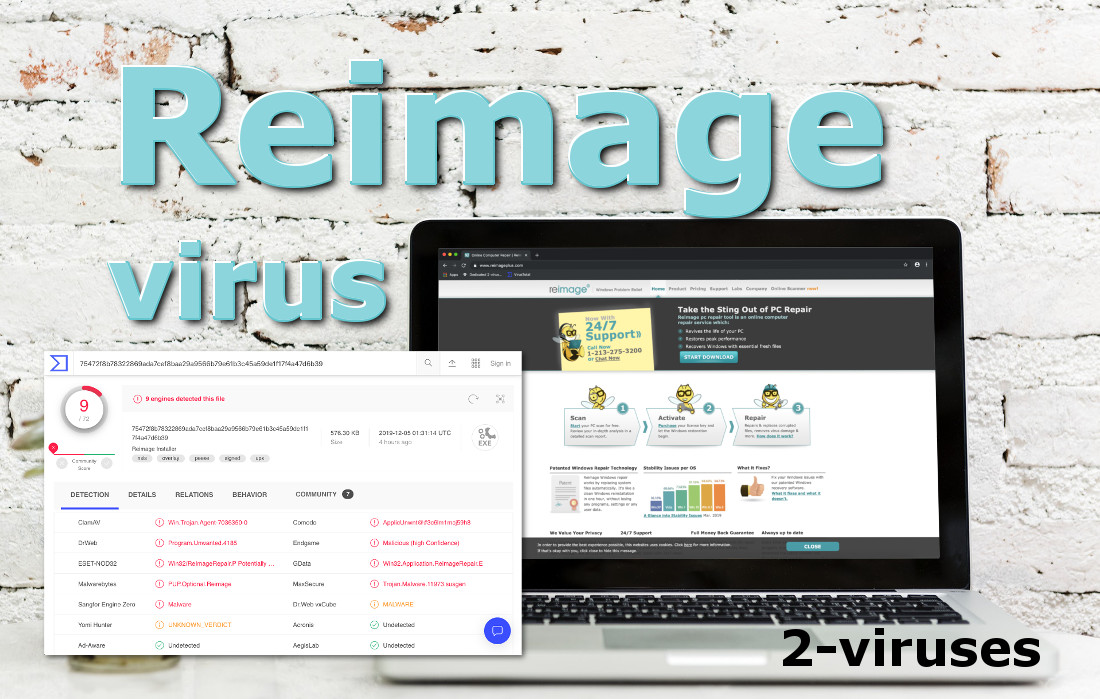 One problem with Reimage is that the company had partnered with some unfortunate affiliates and allowed them to promote the program dishonestly. Thus, users were misled and suffered. You see, if your computer is already fine, Reimage is completely unneeded. Some users are understandably upset by it running at startup and using its real-time protection when it might not be wanted. Additionally, some consider Reimage to be scareware for finding and showing minor issues after its scans. And there's an argument to be made that Reimage is not as user-friendly as it could be. We still think it's a well-meaning program that has its uses, but negative user experiences can't be ignored. Reimage should do better.
Another version of Reimage scams is not related with Reimage itself, but advertising it together with anti-malware programs that detect it as malicious. So you are both "infected" and cured by programs that are suggested by the same person. Typically, Malwarebytes is used, as it is quite eager to detect easy to remove PUPs. While this is kind of allowed by Malwarebytes, I think this is scammy behavior close to Rogue Antivirus. Personally, I do not recommend and have not recommended both programs at the same time.
Reimage Virus Trojan and more serious issues
In late 2019 Reimage was detected as Trojan by some of the antivirus vendors, namely ClamAV. This detection is very concerning, as Reimage itself is not an infection. Either the software was promoted by bad affiliates or ClamAV gives this label according to different criteria.
The ClamAV database is used by many server-side tools though, and thus it makes Reimage Repair unusable: Such programs are deleted without warning by AVs using such databases (differently from PUP). Thus we no longer recommend using reimage and if you plan on changing your antivirus, make sure it is compatible with it or remove Reimage completely. Mac Reimage repair is not affected mostly.
How to remove Reimage Virus
We have instructions for how to remove Reimage from your Mac or your PC in this article. You can do it manually, by stopping the Reimage process if it's running and uninstalling the application from the Control Panel. You can also delete Reimage automatically with the help of some anti-malware programs, like Malwarebytes. Malwarebytes has high requirements for what it considers to be safe programs, so it sometimes labels arguably safe applications as PUPs. That's handy when you want to quickly and automatically get rid of an annoying program.
If you paid for Reimage, remember that they do offer refunds within the first 60 days of buying it, so you don't have to lose your money. And if you're getting rid of Reimage after buying a subscription, make sure to set it so that it won't be automatically renewed.
How to remove Reimage Virus using Windows Control Panel
Many hijackers and adware like
Reimage Trojan
install some of their components as regular Windows programs as well as additional software. This part of malware can be uninstalled from the Control Panel. To access it, do the following.
Start→Control Panel (older Windows) or press Windows Key→Search and enter Control Panel and then press Enter (Windows 8, Windows 10).
Choose Uninstall Program (if you don't see it, click in the upper right next to "View by" and select Category).
Go through the list of programs and select entries related to Reimage Virus . You can click on "Name" or "Installed On" to reorder your programs and make Reimage Trojan easier to find.
Click the Uninstall button. If you're asked if you really want to remove the program, click Yes.
In many cases anti-malware programs are better at detecting related parasites, thus I recommend installing Spyhunter to identify other programs that might be a part of this infection.