Quick Mac Booster is a Mac optimizer and a potentially unwanted program. It detects unnecessary files as issues and offers to delete them to free up storage space. It's a paid subscription-based program but it barely offers anything that's not available on Macs for free already. And the way that Quick Mac Booster presents the "problems" that it finds makes them look way more serious than they are. Overall, Quick Mac Booster looks like most other optimizers, more likely to hurt the performance of a Mac than improve it.
Quick Mac Booster quicklinks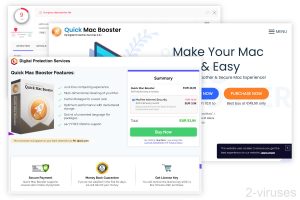 About Quick Mac Booster:
Type of threat
Potentially unwanted program.
Problems with Quick Mac Booster
Its developer has a bad reputation,

paid program whose features that mirror what's already available on Macs for free,

misleading presentation of the "issues" that Quick Mac Booster finds that causes unnecessary stress to the user.

How it gets installed
Promoted by ads online,

bundled with free apps as an optional offer.

How to remove Quick Mac Booster
Delete the app,

manage your subscriptions,

scan your computer for unwanted files (with Combo Cleaner, Malwarebytes, and others).
Problems with Quick Mac Booster
Bad reputation
If you downloaded Quick Mac Booster and then scanned it with an anti-malware app, you might have noticed that something's not right.
Quick Mac Booster is being labeled Malware and Misleading by antivirus programs, as you can see on this VirusTotal page. There are good reasons for this.
Online, Quick Mac Booster's home is Quickmacbooster.com. According to it, Quick Mac Booster's developer is Digital Protection Services S.R.L. – the company that made Easy Mac Care. Quickmacbooster.com opens the Dpsro.com site, too, so I'm confident they're closely related. I looked in Trustpilot for people's reactions to Dpsro.com and they look pretty bad:
Complaints about pushy sales tactics and users being encouraged to call support over the phone.
Complaints that software was installed by accident, without asking for consent.
Some say that junkware is installed alongside the program.
A few desperate calls asking how to stop the software.
These complaints don't always identify which of Dpsro.com's programs they're talking about but still, this doesn't bode well for Quick Mac Booster.
Also, just looking at Quick Mac Booster's user interface, it is incredibly similar to the older PCVARK creations like Smart Mac Booster. Even the website and the purchasing options are similar. Maybe Quick Mac Booster is just a new reincarnation of Smart Mac Booster.
Other similarly named macOS "optimizers" include Auto Mac Booster, Quick Mac Fixer, and Quick Mac Care.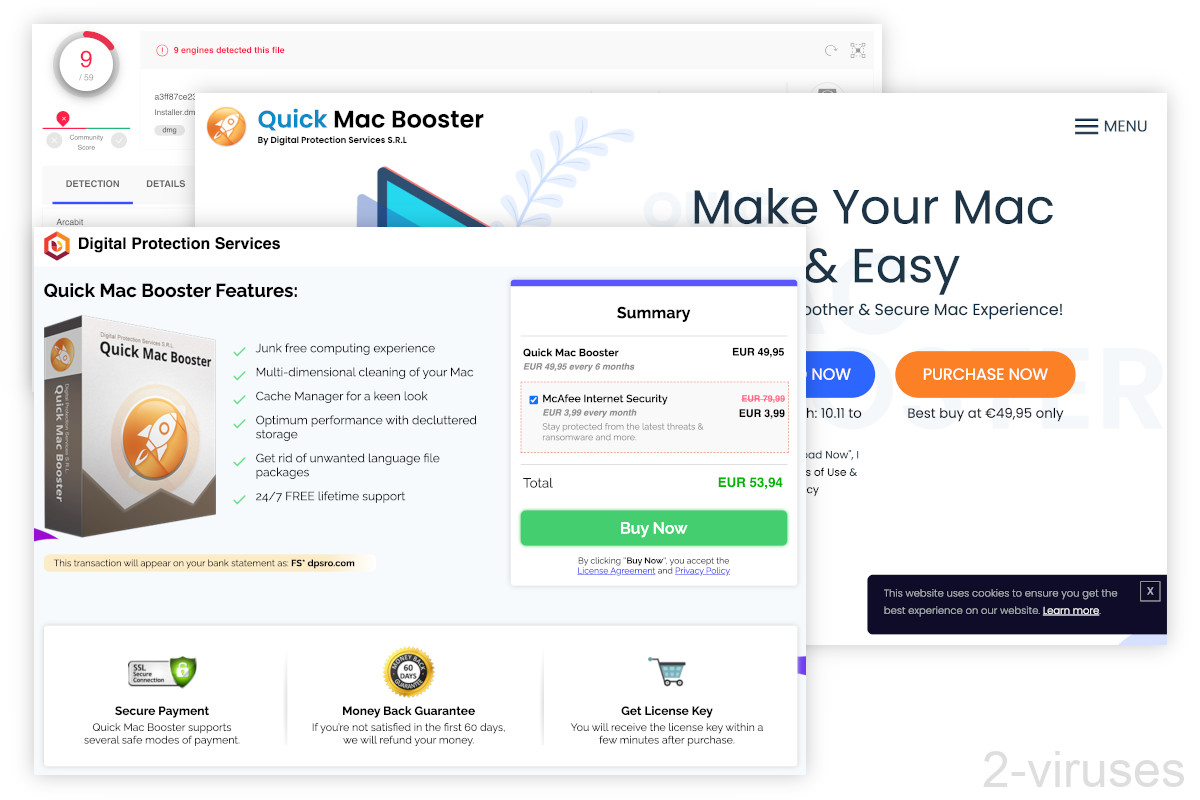 Suspicious behavior
Getting around Gatekeeper
Once Quick Mac Booster is downloaded, it instructs you to open it by right-clicking the app and clicking Open. This allows it to get around Gatekeeper, Apple's built-in security against unknown and unchecked apps.
Misrepresenting how serious the "issues" are
Then, Quick Mac Booster starts scanning the Mac. No doubt, it finds a lot of "problems". On its website, Quick Mac Booster promises to clean up the Mac and delete clutter. In reality, it finds some logs, language files, and cache storage, sometimes less than a Megabyte of data, and marks it as an "Issue".
Now, I understand that sometimes, enough unnecessary data and cache builds up that you can get a few Gigabytes of data by deleting it. But for a typical user, that's only relevant once in a few months or a year.
On the other hand, cache is used by apps like web browsers to speed up website loading times. A little bit of data is saved all the time (unless you specify otherwise in your browser settings). This means that Quick Mac Booster can scan your Mac every day and still find something to complain about. That's not helpful (a Megabyte is like a quarter of a photo) but it helps Quick Mac Booster keep up the illusion that it's doing something. And justify the subscription price of a bit under $50 every six months.
Effect on the Mac
And that's the sort of behavior that's typical of unwanted junkware apps like Quick Mac Booster. Constant scans and pop-ups harassing you to buy the app and to keep it in top shape, even though Quick Mac Booster's regular scans probably cost more resources than it saves.
To reduce clutter on your Mac, I recommend using Apple's built-in tools as described on this Support.apple.com page. They are safe, they don't cost anything, and they're already right there on your Mac.
How to remove Quick Mac Booster
Delete the App
Quick Mac Booster can be removed like a normal app, by dragging it from the Finder -> Applications folder to Trash. That's the process that Quickmacbooster.com recommends. But I recommend also letting an anti-malware app like Combo Cleaner, Malwarebytes, and others to check your computer in case any bad files were left behind. It happens – leftovers in the Library folders (Application Support, LaunchAgents, LaunchDaemons, and others) allow some malicious apps and components to hide. Depends on how Quick Mac Booster was downloaded, though.
Manage subscriptions
There might have been an app that was bundled with Quick Mac Booster (McAfee Internet Security, for example) and that needs to be managed separately. If you have active subscriptions for these apps, keep in mind that they will get renewed automatically if you don't stop them.
Also, if you paid for Quick Mac Booster and weren't satisfied, you should look into getting a refund. According to Quickmacbooster.com, you don't need to give a reason – just write an email.
If something goes wrong, if it doesn't work, you can also contest credit card charges or even contact your bank and ask for help.
Automatic Malware removal tools