Quick Mac Fixer is a potentially unwanted application that should be avoided. It's just another cleaner and optimizer. Quick Mac Fixer promises to instantly make your Mac run faster and to protect your private data from being exposed online. In reality, all that Quick Mac Fixer does is delete some optional files, which may actually slow some of your apps down. And although Quick Mac Fixer offers no features that aren't already available for free to each Mac owner, it's a paid app.
Quick Mac Fixer Malware quicklinks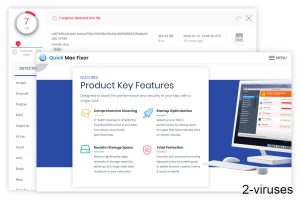 Details on Quick Mac Fixer:
Type of threat
Potentially unwanted program,

scareware.

How Quick Mac Fixer harms a Mac
Scares and stresses the user unnecessarily by presenting harmless files as potential problems,

regularly scans the Mac and runs in the background,

shows annoying pop-ups.

Alternatives to Mac cleaners
MacOS System Preferences to manage login items,

storage settings to manage memory and free up space.

How to remove Quick Mac Fixer
Delete the Quick Mac Fixer app,

check your Mac for other malware with a scanner like Combo Cleaner, Malwarebytes, and others,

end the subscription.
Problems with Quick Mac Fixer
Flagged by scanners
Multiple anti-malware scanners flag Quick Mac Fixer. This isn't a case of a false positive or of jealous antivirus vendors; there are very good reasons why Quick Mac Fixer is being detected.
Quick Mac Fixer is a macOS app that has a lot of similarities to Smart Mac Booster. Its defining features include a lack of useful features, dishonest presentation and misleading advertisements, and a predatory subscription monetization model. Quick Mac Fixer is mild malware but it's malware nonetheless. It should be removed as soon as it's discovered. Quick Mac Fixer is also very close to Total Mac Fixer, Quick Mac Booster, and Easy Mac Care.
Misrepresents the state of your Mac
When Quick Mac Fixer is installed, it looks much like any other optimizer. But once it scans your Mac, you can see that it is very aggressive. Whenever Quick Mac Fixer finds a few Megabytes (a photograph's worth of data) that it can delete, it fills up a red bar as if to indicate a serious problem. It also is quick to declare your system status as critical based on this. Despite the fact that the files that Quick Mac Fixer detects are harmless and might even be needed by your other apps to improve their speed.
Overall, running Quick Mac Fixer causes unnecessary stress. This app tries to make its users think that there's something wrong with their Mac.
Using Quick Mac Fixer to "fix" that provides temporary relief. The alarming red bars turn into a nice green, no more issues. But apps keep creating temporary files, logs, and other data. So, by the time Quick Mac Fixer runs next time, it will find plenty of problems once again. And Quick Mac Fixer won't let you forget about it – it displays little pop-ups regularly.
To provide these "features", Quick Mac Fixer costs a bit under $15 a month. There's a 2-day free trial. This is very expensive for such a basic app, especially one that doesn't even offer any real security features. At least there's a 60-day refund available.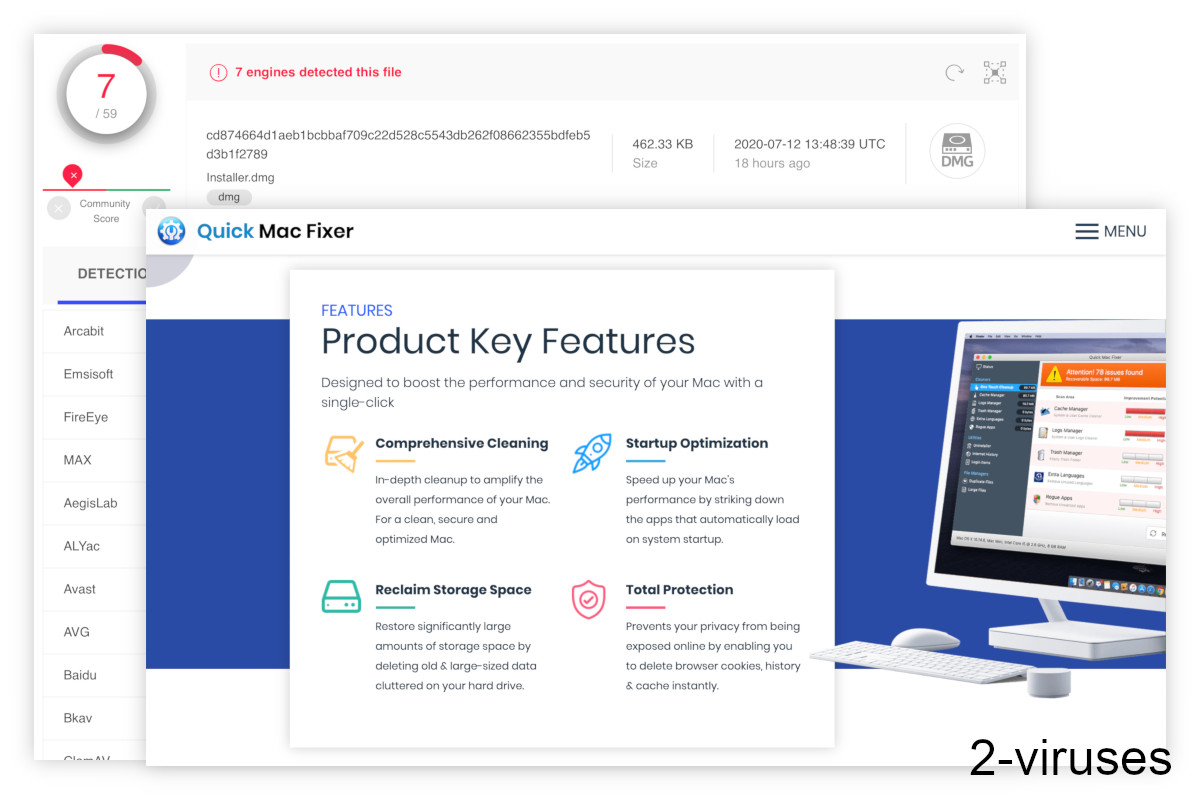 Alternatives
Built-in MacOS features
Quick Mac Fixer cand find and delete big, old, duplicate, and unnecessary files. It also helps you manage startup settings on your Mac.
MacOS can do all that and more for free. MacOS users are given tools to manage their storage, accessible from the main menu. And startup items can be managed in System Preferences -> Users & Groups -> Login Items.
Be careful and skeptical
Sure, Quick Mac Fixer can delete unnecessary files for you. But it doesn't free up much space and probably doesn't make up for the slowdown and the distraction that Quick Mac Fixer creates. Besides, unnecessary files aren't always bad. For example, your browser cache is good for speeding up site loading time. But when an app like Quick Mac Fixer wants to appear useful, it detects such data and shows is as a potential issue or problem.
Quick Mac Fixer behaves like scareware, almost like a scam. If you really want to use a cleaner program on your Mac, look for one that has a good reputation and doesn't use warning signs and bright red text to scare users.
How to remove Quick Mac Fixer
Quick Mac Fixer could be called mild malware. It's not very technically sophisticated. It relies on tricking and misleading users. Macs do get this kind of malware. They also get infected with adware, some of which really is quite technically complex and can be really hard to delete.
Luckily, removing Quick Mac Fixer is simple: just open Finder, go to Applications, find Quick Mac Fixer, and drag it to Trash. That's even the official removal method advised on Quickmacfixer.com.
You might need to quit Quick Mac Fixer first. You can do that by forcing Quick Mac Fixer to quit: press Cmd, Alt, and Esc at the same time, see the dialog that pops up, select Quick Mac Fixer, and quit it.
Don't forget to cancel your subscription if you did buy Quick Mac Fixer. Even if it said that it's free, the trial period is only 2 days, so if you did put your payment information in, you do need to cancel the subscription.
It's also advisable to scan your Mac with an anti-malware app, like Combo Cleaner, Malwarebytes, or others. This helps see if there are any other potentially dangerous apps or files. Apps like Quick Mac Fixer spread by using dangerous advertisements, so there's a possibility that there's more malware on your Mac.
Automatic Malware removal tools