Privacy Protection is fake anti-malware program that simulates activity of legitimate programs capable to solve your computer's protection issues. Keep in mind that Privacy Protection is not one of them because it has been released by scammers only to swindle the money. For making victims pay for Privacy Protection license, this rogue anti-spyware starts showing faked system scanners and alerts that announce about numerous viruses detected. In reality, this scam has no legitimate virus data base, so you should simply ignore Privacy Protection and never pay the money for its license. It has been found to belong to the same family as Malware Protection or Security Protection malwares, so make sure you run a full system scan with a reputable anti-spyware and uninstall Privacy Protection.
Based on fake alerts about malware detected, Privacy Protection scam is designed for stealing users' money. However, it may not seem like any sort of a fake anti-spyware first – it seems to act just like any other regular application designed to protect the system. The fact is that all its scanners and alerts are faked and Privacy Protection only pretends to be a helper. Just think if you have ever installed in on your computer. This scamware has been researched to use Trojans for its infiltration that get inside straight through security vulnerabilities found.
In order to trick its victims, this scamware reports:
Security Warning
Malicious program has been detected. Click here to protect your computer.
taskmgr.exe can not start
File taskmgr.exe is infected by W32/Blaster.worm. Please activate Spyware Protection to protect your computer.
So, you should have understood that once Privacy Protection is inside it will keep making things worse by dropping Registry keys of it own and modifying the system to make it launch its processes once you reboot your PC. Having this advantage, Privacy Protection gets ability to affect computer and make it follow its commands. You should never let this scamware stay on your computer, so, as soon as you notice it operating, remove Privacy Protection. Otherwise there is a huge chance you will get brainwashed into wasting your money and getting more malware installed.
Always get security tools that are time-proven and will stand as reliable partners in your browsing and general usage of computer. Installing programs from windows that open without any clear reason is not a decision, worthy of consideration. There are always risks that are faced if people interact with online advertisements. They might be malware-laden and lead to domains, uploaded with malicious executables. At some cases, advertisements are waiting for an opportunity to implant tracking cookies into users' hard drives and find out about their browsing habits and other helpful information. Privacy Protection is not one of those programs that you can blindly trust. Utilize appropriate tools for elimination for this rogue anti-spyware. You can try Reimage or Spyhunter.
Automatic Privacy Protection removal tools
We might be affiliated with some of these programs. Full information is available in disclosure
Manual removal
Important Note: Although it is possible to manually remove Privacy Protection, such activity can permanently damage your system if any mistakes are made in the process, as advanced spyware parasites are able to automatically repair themselves if not completely removed. Thus, manual spyware removal is recommended for experienced users only, such as IT specialists or highly qualified system administrators. For other users, we recommend using Reimage or other tools found on 2-viruses.com.
Processes:
Files:
Registers:
Privacy Protection screenshots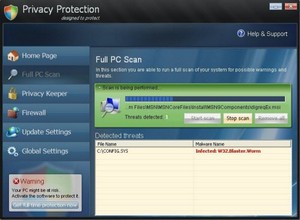 About the author