Pokki is a desktop organizer and an application store that uses shady tactics for promotion. It claims to provide access to various applications and an easy way to organize them from your status bar. However in most of the cases Pokki is installed by bundle installers without a full confirmation (in my case there was NO confirmation for it, just for software that was using the app store) and thus it is not a harmless and useful program. In fact it comes with various browser hijackers including Privitize VPN and Delta which conflict and thus show lots of popups.
Update of Pokki
Pokki application might trigger some unpleasant memories for people that installed it via deceptive software bundles. While this desktop manager was praised by security researchers at one point, it soon was condemned for being delivered without users' knowledge (Lenovo to ship all new PCs with start menu replacement). In addition to this, people insisted that they struggled to remove Pokki from their Windows 8 operating systems. At the time that this questionable piece of software was active, SuperFish adware was also a very relevant problem which also had recently resurfaced.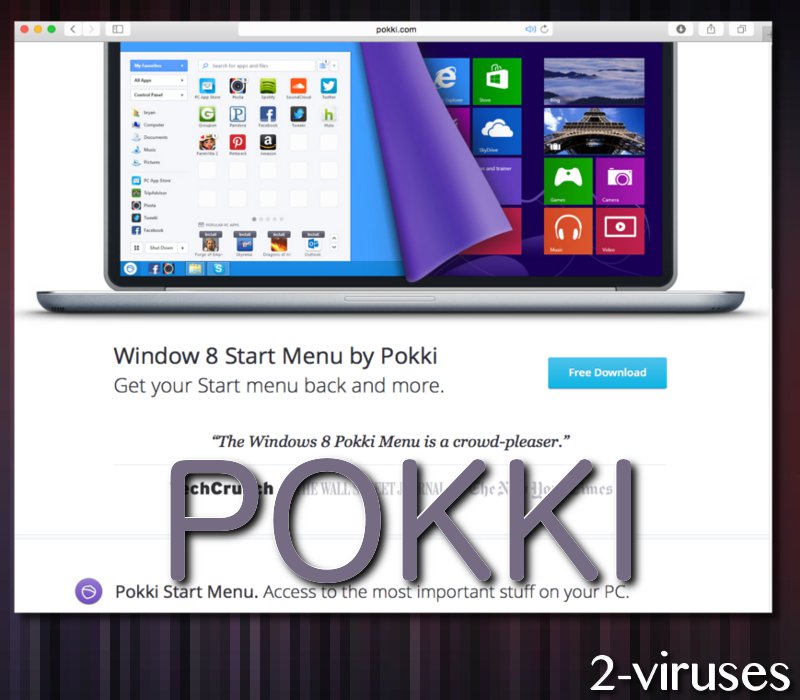 In September of 20017, Pokki potentially unwanted program was detected to be delivered to users through deceptive marketing strategies. However, please remember that if you voluntarily download Pokki software from its official website, the tool is legitimate and should not cause problems.
Pokki start menu is a product by a developing company called SweetLabs and their product has receives a lot of attention from people in United States, Iran, India, Brazil and Indonesia. There has been some controversies about this program: some of them found it rather fascinating, and other blamed Lenovo for selling computer that had Pokki software pre-installed (Cmon, Lenovo. Pokki still roams free). Users expressed that they suffered inconveniences while trying to connect to corporate systems and feared that it was a malicious application, trying to infect them with more software.
Actually, in 2013, Lenovo developers were the ones that assigned SweetLabs a task of producing Pokki suite which at first was seen as convenient software. Later on, one of the most popular labels for Pokki was bloatware (What is bloatware?) which is basically a redundant software which was included into new computer or mobile devices by the manufacturer and without users' permission.
You will see Pokki icon in the Windows status bar when the application is running. If you right-click on it, you will get a link to "About Pokki" which tries to explain what it is:
Search and access your apps, files, control panel, and power options with Pokki's Windows 8 Start Menu. Pin and organize your favorite apps and websites just like you would on your smartphone.
Avoid potentially unwanted programs
Bloatware is quite difficult to avert since you receive it together with the purchased computer, but potentially unwanted programs are a different story. They are usually installed together with other freeware applications. In most cases, this happens because people do not pay attention to the installation processes (Setup Wizards). In order to outwit hackers or developers that wish to promote their products in inappropriate ways, we hope you will select advanced/custom modes for installers. Read Eula and Privacy Policies. Also, always make sure that the software you decided to download would be respectable. If you detect any inappropriate conditions, like, displays of online advertisements, please cancel the installation.
We do not recommend keeping this application organizer on your PC if you feel like it is bothering you. You should uninstall it completely together with malware coming from the same bundle instead. You will need anti-malware programs like Reimage, SpyHunter for hijackers even if you can uninstall Pokki from Control Panel. You will also have to reset search engine settings as well.
Automatic Pokki removal tools
We might be affiliated with some of these programs. Full information is available in disclosure
Manual removal
Important Note: Although it is possible to manually remove Pokki, such activity can permanently damage your system if any mistakes are made in the process, as advanced spyware parasites are able to automatically repair themselves if not completely removed. Thus, manual spyware removal is recommended for experienced users only, such as IT specialists or highly qualified system administrators. For other users, we recommend using Reimage or other tools found on 2-viruses.com.
Processes:
Files:
External decryptor:
About the author