Privitize VPN or virtual private network is an application that allows you to protect your privacy while browsing the Internet. It creates a Virtual Private Network between your computer and company's servers. Due to this reason one's computer is supposed to be protected from viewing web browsing activities, instant messages, downloads, credit card information or anything else sent over the network. Although the application is legitimate some call it Privitize VPN virus because of the unwanted changes it causes and a complicated removal procedure.
As Privitize VPN is free of charge, it has to generate revenue to pay for the service. One of the issues related to having it is advertisements. Terms of Service clearly state that by using the service you agree upon receiving newsletters and commercials by e-mail. Privitize also allows third-party ad servers or ad networks to display advertisements within Privitize VPN. Moreover, by downloading and installing Privitize VPN you are forced to have other toolbars, for example Babylon, Turbo tuning and optimization tool or other. These are categorized as adware or browser hijackers and change your default search engine, home page and new tab page to those promoted by them.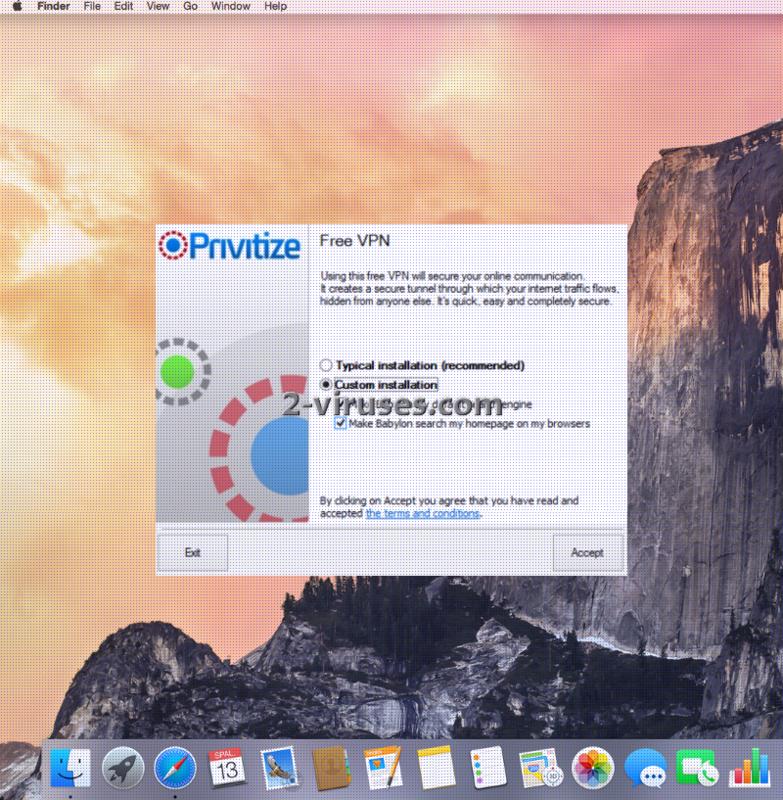 Searching facilities that are labeled as browser hijackers might not be malicious, but their existence is not a unique and positive feature. Infected users, at times, are unable to change their browsers' preferences or enter other search networks that they used to. Furthermore, unknown companies might be associated with shady or double-dealing partners that are not only interested in genuinely promoting their goods or services. At some cases, pages like Search.babylon.com sponsor links and advertisements that are not suitable for actual visitation or viewing. If you notice this network for searching as your homepage, default search provider or new tab page, please do not take it lightly. it might be that you have involuntarily downloaded Privatize VPN virus or another program that changed your browsers' settings.
As you can see in the screenshot above, users have to be advanced/custom mode to see that Privatize VPN is going to make changes to browsers. As you can also spot is the checkbox which implies that you can make changes to this offer. We advise you to do this every single time you install free applications and be certain that no additional content is getting free pass to your device.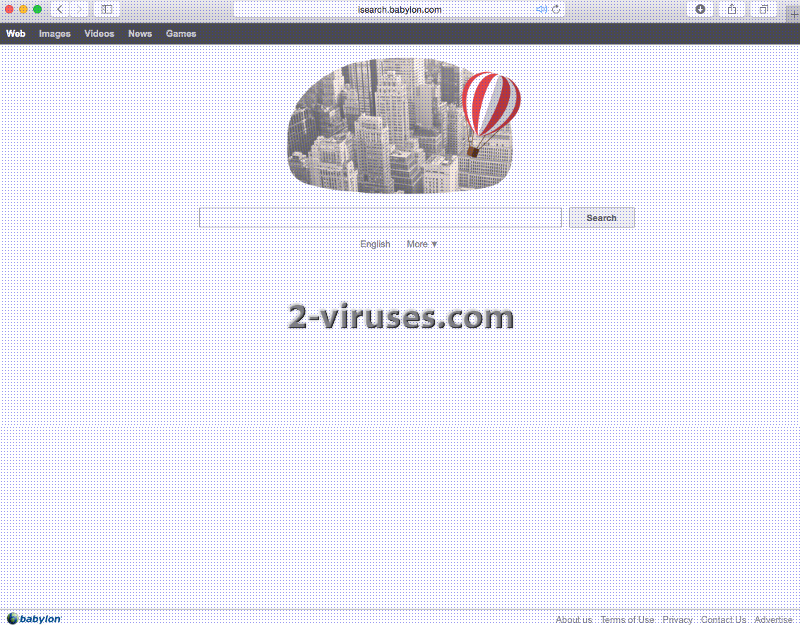 Usually Privitize VPN virus is downloaded accidentally, for example instead of a torrent or bundled with freeware. Once installed it is very difficult to remove. Even if one uninstalls it from Control Panel Add and Remove programs list, unwanted changes are not eliminated. If you did not want to use the services or think that the unwanted changes it caused are too inconvenient for you, you should follow Privitize VPN virus removal guide:
Scan your computer using legitimate antimalware tool that is known to be used for adware and browser hijackers' removal. We recommend using Spyhunter. It will detect and remove PrivitizeVPN virus and any other unwanted applications installed with it.
Check Control Panel Add and Remove programs list if you see anything related to PrivitizeVPN, Babylon or any other unfamiliar entries installed recently. Remove them.
Check if there are no toolbars causing redirections and displaying of advertisements left:

For Internet Explorer: Go to "Tools" (or gear icon in Internet Explorer 9), -> "Manage Add-ons". If you see any unfamiliar entries, such as Privitize VPN or Babylon, disable them.
For Google Chrome: Click on the wrench or bars icon on the top right of the screen; go to "Tools"-> "Extensions". If you see any extensions related to Privitize VPN or Babylon, click on a trash can icon next to them.
For Mozilla Firefox: Go to "Tools" -> "Add-ons" ->; "Extensions". If you see any extensions related to Privitize VPN or Babylon, disable them.

Make sure your home page, default search engine and new tab page are reset to those you always use.
It is recommended to do a full system scan one more time to ensure no threats are left. Please note, clicking on the advertisements displayed might have infected your computer with viruses as some of the ads could have been malicious and lead to websites containing malware.
Automatic Malware removal tools
Manual removal