PC Win Booster is a PC optimizer program and is one of many utility programs released by Soft4Boost. PC Win Booster is one of the more contentious ones. It promises to help you "scan, clean and fix your PC", but that promise should be taken with a handful of salt. All the time, programs like PC Win Booster prey on people desperate to get more life out of their computers. PC Win Booster has earned a bit of a negative reputation for showing misleading scan results and promising more than it can deliver.
Pc Win Booster quicklinks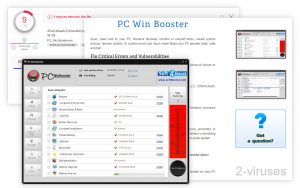 In short about PC Win Booster:
Classification
PC optimizer,

potentially unwanted program.

PC Win Booster's promised features
Fix PC errors,

make the computer run better,

free up some space,

help remove unwanted toolbars.

Reasons why it's detected by anti-malware programs
Exaggerated and dishonestly presented scan results,

features that don't help improve PC performance.

PC Win Booster's removal
Uninstall it manually,

or use an anti-malware program (Spyhunter, Malwarebytes, others).
Problems with PC Win Booster
Potentially unwanted program
PC Win Booster is detected by antivirus programs as an unwanted program and a deceptor (VirusTotal, VirusTotal). Not all of its versions are, but there's enough to be concerning.
PC Win Booster got this bad reputation for behaving the way that most PC optimizers behave: making you think that there are a bunch of issues with your computer and encouraging you to buy the paid version of the program in hopes of fixing those "issues". Nowadays, Windows is optimized pretty well and optimizers like PC Win Booster have trouble justifying their own existence. So they exaggerate and mislead.
PC Win Booster is a PUP – a potentially unwanted program. PUP is a category for software that's not quite malicious, but that you probably want to stay away from. That's because, while some of PC Win Booster's features are nice, a lot are suspicious and contentious. Some are presented in a dishonest way. And there's no proper free trial for you to even test them.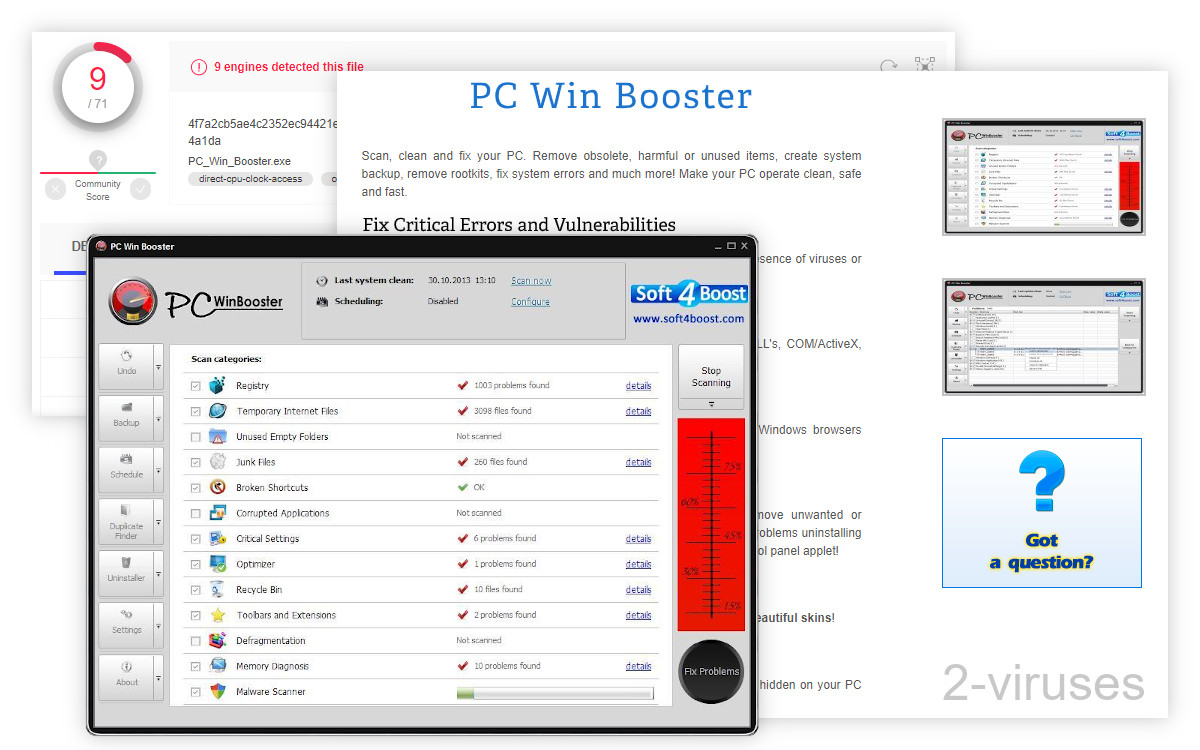 Dubious features and presentation
PC Win Booster's promised features include:
"cleaning and fixing" Windows Registry,
fixing critical errors,
removing unwanted toolbars from web browsers,
uninstalling programs,
memory optimization,
deleting unnecessary files.
Some of the features are okay.
Toolbar remover is fine. But it's only a couple of mouse clicks to remove your toolbars manually, so I'm not sure that PC Win Booster is useful at all. The same goes for uninstalling programs. You can do that very easily yourself, so PC Win Booster is very redundant here.
Other features are suspicious.
For example, the memory manager. PC Win Booster promises that it will improve performance by helping you optimize your computer's memory. That's RAM, the memory that your programs use while they're running. RAM is fast but small. If it's all taken, like by too many programs being open at the same time, then your computer slows down substantially. PC Win Booster promises to help solve this problem, but it really won't. The people who developed Windows know better how to manage your computer's memory for best performance than the people who made PC Win Booster. Not to mention, PC Win Booster is also taking precious memory.
Then there's PC Win Booster's registry cleaner. The registry is a list of important settings on your PC. Because the registry is so important and mysterious, shady marketers tout registry cleaners as a panacea. PC Win Booster promises to delete redundant and unnecessary registry entries, as if that will make a difference. While complex, the registry is minuscule and there's no need to optimize it. Besides, messing up registry settings can result in your devices and programs malfunctioning. Making changes to your registry is okay if you know what you're doing, but it's better off left as is.
Also, I have no idea why PC Win Booster promises to fix vulnerabilities. Vulnerabilities are usually a result of you failing to install a software update or using an old program. What is PC Win Booster going to do about it, besides warn you? If anything, PC Win Booster is a vulnerability, what with it managing your registry, RAM, and your other programs.
Overall, PC Win Booster is not worth using. It's hardly any different from Onesafe PC Cleaner Pro, Quick PC Tuneup, and other scareware programs. There are better optimizers out there, more honest ones. Or you could just use the free tools that Windows already provides for free (tips on Microsoft.com). Microsoft, the company behind Windows, is the one that should be most trusted when talking about the performance of Windows PCs.
How to remove PC Win Booster
PC Win Booster has a 30-day refund policy, if you're interested.
You can remove PC Win Booster manually from your control panel. PC Win Booster's site also recommends removing its registry items, but that is honestly completely unnecessary.
What might be useful is to, instead, get an anti-malware program (like Spyhunter, Malwarebytes, and others) that recognizes that a program that you downloaded is potentially unwanted and warns you about it. Plus, some anti-malware programs can block malicious sites for you, and that's guaranteed to make you safer.
Automatic Malware removal tools
How to remove PC Win Booster using Windows Control Panel
Many hijackers and adware like
PC Win Booster
install some of their components as regular Windows programs as well as additional software. This part of malware can be uninstalled from the Control Panel. To access it, do the following.
Start→Control Panel (older Windows) or press Windows Key→Search and enter Control Panel and then press Enter (Windows 8, Windows 10).
Choose Uninstall Program (if you don't see it, click in the upper right next to "View by" and select Category).
Go through the list of programs and select entries related to PC Win Booster . You can click on "Name" or "Installed On" to reorder your programs and make PC Win Booster easier to find.
Click the Uninstall button. If you're asked if you really want to remove the program, click Yes.
In many cases anti-malware programs are better at detecting related parasites, thus I recommend installing Spyhunter to identify other programs that might be a part of this infection.