PC Smart Cleanup is an unreliable tool, promoted as an easy and effective solution to a variety of issues in Windows operating systems. It is categorized as a potentially unwanted program, but also could be referred to as a dubious system optimizer. Features of this tool are very similar to Super PC Cleanup: they fix outdated entries in Windows Registry, boost PC performance, free up disk space by getting rid of junk files and even protect systems from malware. This family of rogue programs is quite popular, with new samples like CleanUp coming out on a regular basis.
Features of PC Smart Cleanup potentially unwanted program
Furthermore, we discovered that PC Smart Cleanup is promoted in unreliable advertisements from Mysystempoint.com. In this fake pop-up (BusinessKnowHow), users are going to be urged to download this utility for the purpose of improving hardware performance, freeing up storage space and finally enjoying a fully functioning PC. In a way, this notification is similar to the fake pop-up of Disk Cleanup. As you will see in this following article, PC Smart Cleanup virus should not be trusted. Advertising tactics that this tool exploits are unacceptable and you should not waste $29.99 to purchase a tool which is not going to improve your operating system.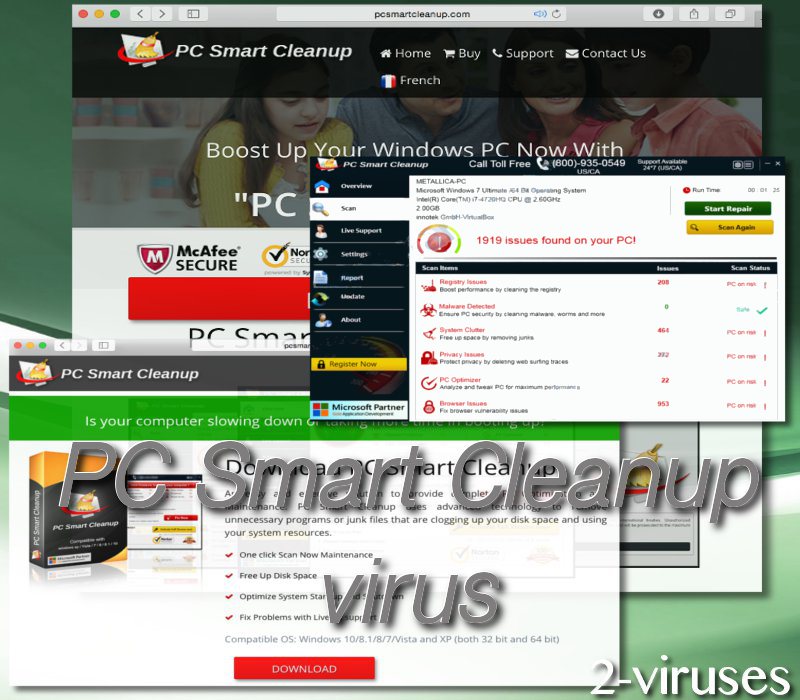 Our security team decided to download pc-smart-cleanup-en.exe file to find out whether legitimate security tools would detect this executable as malicious. First of all, we download this file from the official website. After running installer through a number of anti-virus tools (VirusTotal), we found out that it was labeled as Program.Unwanted.2197, MSIL/Ultraheal.A potentially unwanted, Rogue.PCSmartCleanup and other suspicious names. Furthermore, we downloaded the same file from Mysystempoint.com pop-up. This file turned out (VirusTotal) to be more evasive as fewer security tools detected it as malicious.
The problem with PC Smart Cleanup rogue tool is not that this tool is malicious. It could be indicated as useless, providing no actual benefits and simply taking up space in users' computers. Also, it will constantly attempt to frighten users by stating that their operating systems are severely affected by malware or are influenced by tons of junk files and outdated entries. This strategy of showing false positives is very common. Tools like Advanced File Optimizer and SPC Optimizer all allegedly serve the same purposes of boosting the efficiency of operating systems. Nevertheless, these claims are not fulfilled.
Additionally, the trick that most of the rogue optimizers exploit is free trials (FreeFromBroke). Users are offered to try out applications for a short period of time and then decide whether they are ready to commit to a premium version. However, these free trials constantly urge users to get the paid version of the program. Recommendations are strongly suggested because PC Smart Cleanup malware allegedly found a multitude of security issues, including unneeded files and malware parasites. Do not believe results of scans, provided by fake security software tools like Maxperforma and Speed Optimizer Pro.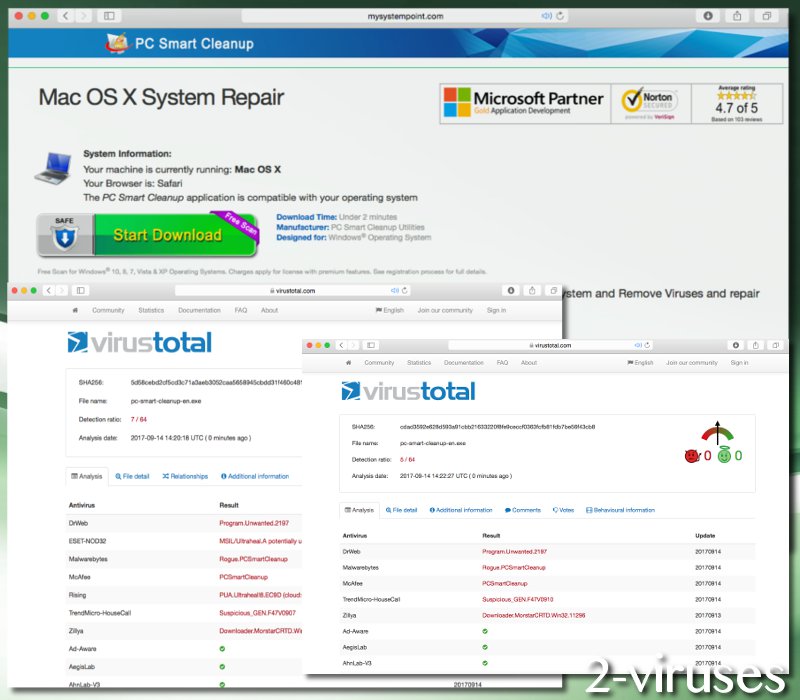 PC Smart Cleanup unwanted software could also display promotions for other software, generated by the same developers from US/Canada. The fact that controllers of this optimizer hide their true identities is another suspicious feature. There are so many untrustworthy system optimizers and anti-viruses like SmartFixer and Driver Reviver that users should be extremely careful not to download them by accident.
If you notice a suspicious pop-up, offering you a chance to install a security tool completely free-of-charge, remember that these promises are not truthful. In fact, they are only looking for clueless people that are willing to pay steep prices for programs that will have very few positive features. PC Smart Cleanup also promises to provide live support that is supposed to solve technical problems, including malware diagnosis and removal. In some cases, shady technical support employees require people to provide remote access to operating systems (Consumer FTC). This privilege should never be provided to unknown parties.
What are the options for removal of this unwanted software?
Unwanted and suspicious tool could be removed from Control Panel. For this purpose, follow guidelines below. In addition to this suggestion, we also give you an opportunity to run a scan with Spyhunter. This security software will provide all of the information you need about your operating system. To keep rogue applications from affecting your browsing and other processes of your device, we hope you will not install little-known applications. In addition to this, select advanced/custom modes for installations of freeware.
How to remove PC Smart Cleanup virus using Windows Control Panel
Many hijackers and adware like
PC Smart Cleanup virus
install some of their components as regular Windows programs as well as additional software. This part of malware can be uninstalled from the Control Panel. To access it, do the following.
Start→Control Panel (older Windows) or press Windows Key→Search and enter Control Panel and then press Enter (Windows 8, Windows 10).
Choose Uninstall Program (if you don't see it, click in the upper right next to "View by" and select Category).
Go through the list of programs and select entries related to PC Smart Cleanup virus . You can click on "Name" or "Installed On" to reorder your programs and make PC Smart Cleanup virus  easier to find.
Click the Uninstall button. If you're asked if you really want to remove the program, click Yes.
In many cases anti-malware programs are better at detecting related parasites, thus I recommend installing Spyhunter to identify other programs that might be a part of this infection.
Automatic Malware removal tools