OnlineWorkSuite is a browser add-on that offers a way to create and edit documents using an online editor. While it might look useful, some consider OnlineWorkSuite to be a browser hijacker because it sends search queries to either the MyWay or the Ask search site without a good justification. While the extension offers some useful features, it does also act like mild malware and is somewhat risky to have installed.
Onlineworksuite Hijacker quicklinks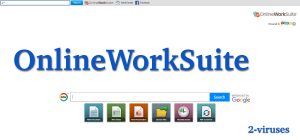 Most browser add-ons are a little bit dangerous. The features that allow an extension too be useful and perform impressive functions are the same ones that could empower them to cause harm. For example, The Ask extension that OnlineWorkSuite bundles with it can read and change all your data on any website you visit, which includes passwords and credit card information — anything you type in. Even though there is no reason to assume that OnlineWorkSuite is malicious enough to abuse its permissions unethically, it's always good to be suspicious and careful online.
Is OnlineWorkSuite helpful?
Nowadays there are many ways to create documents online and offline, using expensive and free products, commercial and open-source. OnlineWorkSuite joins the club by using Zoho, a SaaS (software as a service) company's services to deliver online document editing. Though Zoho has been abused by phishing campaigns before, it's not the only victim, and the office functionality provided by it seems functional enough. Though it's possible that some people find OnlineWorkSuite useful and valuable to their work, it is not the best option when free offline alternatives exist and don't suffer from the lag, the latency, and the privacy concerns that using an online editor introduces.
MyWay and Ask are functional search engines that don't have much wrong with them. There are more ads than there could be, but that's not likely to be a dealbreaker to those who have some reason to like these two search engines.
However, there are some negatives to using OnlineWorkSuite. In fact, they're enough to classify this extension as a browser hijacker — a form of potentially unwanted software. Browser hijackers modify browser settings, usually with the goal of driving traffic to specific websites and delivering ads.
OnlineWorkSuite drives traffic to the Myway and Ask engines, which is not surprising because the extension is developed by Mindspark/Ask, a company responsible for multiple browser hijackers.
The distribution methods that Myway uses, such as bundling, can cause people to install software that they don't want.
The permissions that OnlineWorkSuite needs are excessive, which is a clear sign of a hijacker.
Mindspark constantly releases new extensions in an effort to capture more users. AllInOneDocs, FileShareFanatic, FreePDFCombiner, are just examples of many similar Mindspark extensions — there are dozens and dozens.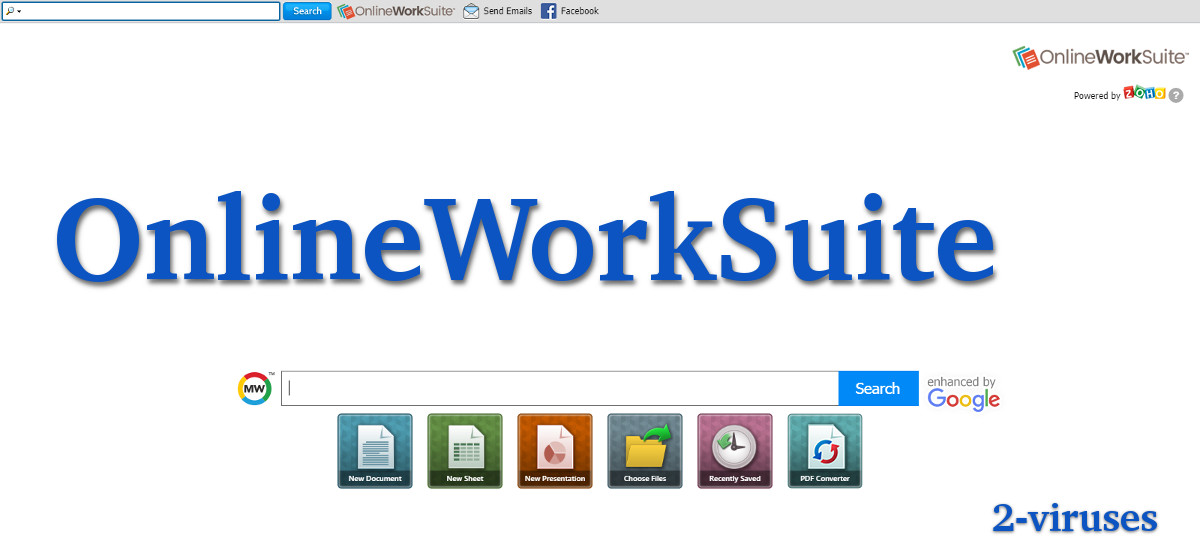 How to remove OnlineWorkSuite
If you decide to uninstall OnlineWorkSuite, it can be done the same way as any normal extension. The instructions for the browsers that OnlineWorkSuite supports are below this article.
If normal removal does not work, for example, if pop-ups are displayed urging you to update or install OnlineWorkSuite, or if you find it reinstalled on its own, then a program on your computer is manipulating your settings and will need to be removed before the extension can be uninstalled. Try using a strong antivirus program, such as Combo-Cleaner (Mac), or Spyhunter (Windows). Safe mode might be needed if the virus is serious enough.
To avoid adware infections, it's good to remember a few things:
Update your browser, operating system, media player, and antivirus program. If you don't, security bugs which will inevitably be discovered in your software will remain unpatched and exploitable by serious online threats, such as Matrix ransomware.
Avoid websites that show a lot of intrusive ads. It's not a reality that should be accepted. Some of those websites deliver malicious ads that can infect your computer with viruses or lead to dishonestly promoted scam services and products. It's safest to avoid such ads as much as possible and find a safer website to use.
Scan your computer regularly for PUPs, review your list of installed browser add-ons. Some malware, such as spyware, wants to be invisible so that you don't try to remove it.
Automatic Malware removal tools
How to remove OnlineWorkSuite Hijacker using Windows Control Panel
Many hijackers and adware like
OnlineWorkSuite
install some of their components as regular Windows programs as well as additional software. This part of malware can be uninstalled from the Control Panel. To access it, do the following.
Start→Control Panel (older Windows) or press Windows Key→Search and enter Control Panel and then press Enter (Windows 8, Windows 10).
Choose Uninstall Program (if you don't see it, click in the upper right next to "View by" and select Category).
Go through the list of programs and select entries related to OnlineWorkSuite Hijacker . You can click on "Name" or "Installed On" to reorder your programs and make OnlineWorkSuite easier to find.
Click the Uninstall button. If you're asked if you really want to remove the program, click Yes.
In many cases anti-malware programs are better at detecting related parasites, thus I recommend installing Spyhunter to identify other programs that might be a part of this infection.
TopRemoving OnlineWorkSuite Hijacker from Chrome
Click on the menu button on the top right corner of a Google Chrome window. Select "Settings".

Click "Extensions" on the left menu bar.
Go through the extensions list and remove programs you do not need, especially similar to OnlineWorkSuite. Click on the trash bin icon next to OnlineWorkSuite Hijacker or other add-ons you want to remove.

Press on the "Remove" button on the Confirmation window.

If unsure, you can disable them temporarily.

Restart Chrome.
(Optional) Reset your browser's settings
If you are still experiencing any issues related to OnlineWorkSuite, reset the settings of your browser to its default settings.
Click on Chrome's menu button (three horizontal lines) and select Settings.

Scroll to the end of the page and click on the Reset settings button.

Click on the Reset button on the confirmation box.

If you cannot reset your browser settings and the problem persists, scan your system with an anti-malware program.
TopRemoving OnlineWorkSuite Hijacker from Firefox
Click on the menu button on the top right corner of a Mozilla window and select the "Add-ons" icon (or press Ctrl+Shift+A on your keyboard).

Go through Extensions and Addons list, remove everything OnlineWorkSuite related and items you do not recognise. If you do not know the extension and it is not made by Mozilla, Google, Microsoft, Oracle or Adobe then you probably do not need it.

(Optional)
Reset your browser's settings
If you are still experiencing any issues related to OnlineWorkSuite Hijacker, reset the settings of your browser to its default settings.
Click on the menu button on the top right corner of a Mozilla Firefox window. Click on the Help button.

Choose Troubleshooting Information on the Help menu.

Click on the Reset Firefox button.

Click on the Reset Firefox button on the confirmation box. Mozilla Firefox will close and change the settings to default.

If you cannot reset your browser settings and the problem persists, scan your system with an anti-malware program.