Olpair.com is a legitimate Openload host website that provides online streams and authorizes network's devices to access desired videos. Olpair.com also forces users to see pop-up ads on their phones, computers, and tablets. A couple of weeks ago we wrote about the free media player Kodi, whose supported add-ons were spreading malware to its users, and even though that issue was taken care of, Kodi's users can't seem to catch a break – pop-up ads from Olpair.com are now bothering them.
Olpair Com Pop Up Ads quicklinks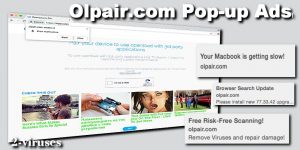 This pairing idea was offered by Kodi when Openlaod decided to disable users from using their service, since the media player was taking all the revenue from online ads. Companies made the deal that in exchange for 4 hours of free streaming Kodi will send its users to Olpair.com where clients will be asked to pair their devices with the streaming host and so Openload will get some traffic and can make revenue from their own promotions. However, after Olpair.com started bringing some coins, Openload got slightly greedy and started injecting more and more ads from third parties to vulnerable systems resulting in annoying, repetitive and dangerous pop-ups, disturbing the browsing sessions for mobile and desktop users. But is there anything you can do about the Olpair.com pop-ups ads?
Olpair.com pop-ups – causes and solutions:
Olpair.com info

Used for streaming TV shows and movies
Shows ads to users
Ads are delivered over notifications

What the pop-ups look like

Fake social media notifications
Fake update pop-ups and virus alerts
Malware and adware
Scams
Counterfeit product store ads

Causes of Olpair.com pop-ups

Pairing your IP with Olpair.com through Kodi
Allowing notifications from the site

How to stop the pop-up ads

Delete adware viruses (SpyHunter for PC, Combo Cleaner for Mac)
Block notifications
Uninstall applications related to Olpair.com
What's the deal with Olpair.com pop-ups ads
Olpair.com Pop-ups are not much different than any other notification viruses, like Putlocker sites and Notification-list.com. They install into a browser unnoticed and without your permission, then start opening new tabs, rerouting or just displaying messages with advertisements, offers to get a 'Free Risk-Free scanning', 'Browser search update', 'Please install new 77.33.42 upgrade' or 'Your Macbook is getting slow!', 'Best diets', 'Your friend is online' notes, requests to show notifications and etc.
Usually, such pop-ups are the consequences of another adware infection, which is generating them while causing other issues like slower browser, data collection, tracking and etc., but Olpair.com pop-ups are mainly caused because of cross-site scripting attacks that were caused by Olpair.com and related websites.
You may have come across the Olpair.com website after trying to stream online videos via Kodi, and decided to enable pairing with your IP, just to see a certain show/movie. It does actually work and Kodi has been using Openload hosting services for a while now (they were taken down recently, leaving Kodi's users with a fraction of the content they used to have access to). But the Pairing idea is definitely shady and truthfully not that worth of engaging with. All the users that were the victims of Olpair.com pop-ups were the ones that paired their networks through the website, which says a lot.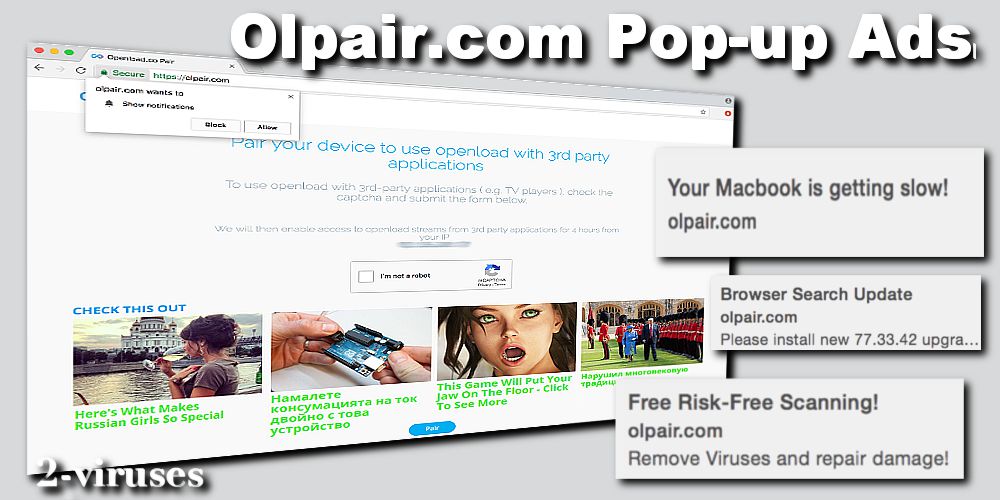 According to the SimilarWeb.com analysis, Olpair.com is prevalent in United States, United Kingdom, Canada, Germany, and Italy,. It used to bring traffic of over 12 million users per month, but that number has been falling steadily. Still, if you are from any of these countries, you might have a bigger chance to be infected by the Olpair.com pop-up virus. The ads you see are from any third-party advertiser that the company has made the deal with, such as Adcash, Popcash, Propeller Ads Media, Taboola, and others. These advertising networks are known for their inappropriate behavior and malvertising, which means their ads are sometimes made by malicious actors. (How to stay away from malware)
Why are you seeing Olpair.com pop-ups ads
As we wrote at the beginning of this article, Openload took advertising slightly overboard and gave access to too many shady third-parties to advertise directly to the victims for some extra cash. It is understandable that the hosts who provide the content want their share of the pie, instead of allowing Kodi to collect all the ad revenue. Despite Kodi bringing some traffic to Olpair.com, Openload does not make much from a few displayed promotions, that is why they had to use other third-party ad networks to make ends meet. Probably, only the shady ad-networks were willing to work with a piracy site and pay enough money.
Now, users had to pair the network's devices with a host through a link:
To play this video, authorization is required. Visit the link below to authorize the devices on your network: http://olpair.com then click Pair.
Some users whose browsers and systems are more vulnerable ended up with excessive pop-ups. Although the Olpair.com site is not dangerous according to VirusTotal.com analysis, its IP was noted to be related to some Android and PC viruses. When you clicked that "Pair" button, malicious Javascript codes were implemented as well, allowing advertisers to reach you with their dubious content, and possibly even to infect their victims further.
How to stop Olpair.com ads fast
Having your browsing session interrupted by continuous promotions and pop-ups like Olpair.com ads is not just irritating, but very dangerous. At any time you can accidentally click on one of the pop-ups, compromising the system even more than it already is. Since the pairing is enabled to your whole network and IP, not only your computer but your smartphone, too, can end up having the same pop-up issues. For that, we recommend getting Malwarebytes, which can have both desktop and mobile versions. If the problem is only on the computer and your Chrome, Safari, Mozilla, or another browser., then you can also try SpyHunter for PC or Combo Cleaner, which are known as some of the most sophisticated anti-spyware tools around.
Automatic malware detection programs will do wonders for your devices and stop Olpair.com pop-up ads immediately after the scan. The good part is that you will not have to do anything yourself, and will save tons of time and headache wondering if you removed the right file or trying to find the cause amongst tons of other data.
Automatic Malware removal tools
How to remove Olpair.com pop-ups manually
If you want to get rid of Olpair.com pop-ups on your Chrome or Mozilla, we advise to first disable pop-ups. You can do it by:
Go to Chrome Settings
At the bottom of the page click Advanced
Then in a Privacy and Security section select Content settings, then click Notifications.
There will be a section to either Allow or Block these annoying notifications. Click "Block".
For the other browsers, here are the instructions to stopping Olpair.com notifications:
Safari: in the Safari menu, choose Preferences, Websites, Notifications.
Edge: open Settings, Advanced settings, Notifications, Manage.
Firefox: type "about:preferences#content" in the address bar, find the Notifications section.
Just remember that after you disable the pop-ups, they won't show up even from the official sites. After that, look for any new suspicious browser extensions or applications that might be related to Olpair.com and remove them. If this Olpair.com virus will not seem to be tamed, then please take a look at our other security products, which will be necessary to get rid of the malicious software.