Mystreamingtab.com is a website address of a browser hijacker, which, if permission is given, changes the default homepage, new tab and search engine. This type of threat is designed to benefit from various forms of excessive online marketing, including promotions for sponsors, redirects, pop-ups and etc. What is more, apart from the annoying placement of dangerous, inappropriate and unfair advertisements, Mystreamingtab.com also tends to share some gathered data about the user with third-party services.
Mystreamingtab Com Hijacker quicklinks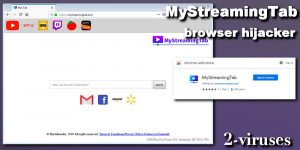 Browser hijackers is a very popular and widespread group of malware, which isn't the most notorious, yet still harmful in the long run, and not just for the computers, but users' personal privacy too. The reason why Mystreamingtab.com hijacker and other browser viruses, such as Weknow.start.me, mixGames Search or Searchsecureprime.co, are so successful, is their deceitful abilities to impersonate real search engines and cause no suspicion, making it seem as their existence benefits the victim. Just like that, MyStreamingTab virus promises easy and fast access to favourite streaming services and video content, as well as convenient web search, if you only agree to some alterations it will make on your Chrome/Mozilla.
Sadly, the changes made by Mystreamingtab.com hijacker are not made to make your online surfing easier, nor they are safe to use. If you fall for this trickery, soon you'll notice that your browser will get much slower, you'll really have to dig for relevant results because online promotions will get too aggressive and irritating, you will have troubles changing your provider settings back to normal, etc. That being said, we highly recommend getting rid of Mystreamingtab.com virus from your computer immediately, because the offered privileges are not worth risking your personal data and system's security.
Features of Mystreamingtab.com hijacker
In order for Mystreamingtab.com to be able to replace your default settings and put itself as the main search provider, it needs to run Malicious script codes, which would not catch the attention of your antivirus or cause any other doubts. Mystreamingtab virus first installs as an extension, which at first does not contain anything out of the ordinary, but then connects to C2 servers to get harmful executing codes at the same time disabling the security not to be discovered. At the end of the process, you see that your usual homepage and the New tab is set to Mystreamingtab.com.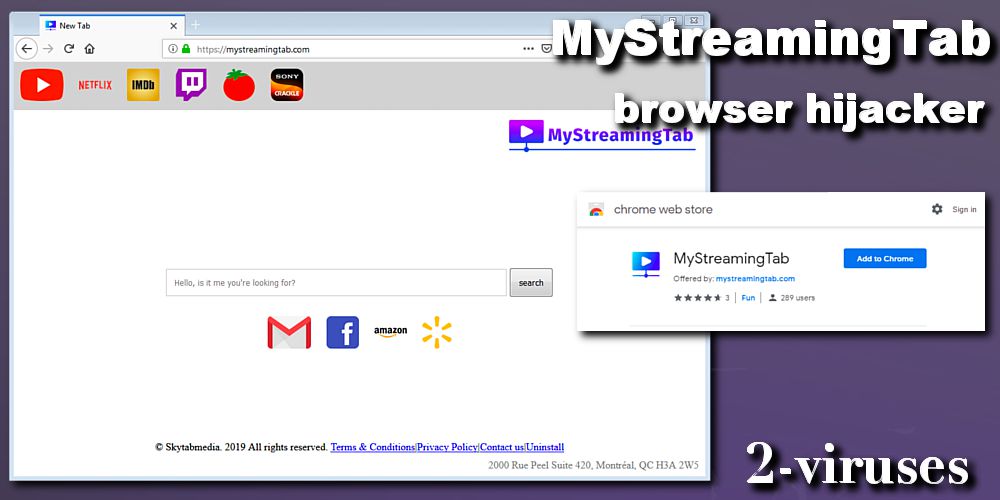 This website supposedly is meant to make videos and streaming easily accessible in one place, yet all it does is place quick links on the plain-looking homepage, instead of offering a more convenient option. This feature can be easily recreated without any special plugin, by simply making bookmarks of your favourite sites. Moreover, the offered search bar seems like a copy of one of the major providers Bing/Google/Yahoo, yet during our research did not work properly and kept redirecting to an inactive 'Yssads.ddc.com' domain.
Controlled browser means uncontrolled content for Mystreamingtab.com hijacker, which it can deliver to the victims, including extra ads, offers and deals which pay commission for views, clicks, installs and traffic. The dangerous thing about it is that the developers are not checking what they are placing directly on users screens as long as these Third-parties pay to be promoted, therefore very easily you can end up being redirected to a virus installer, which will be much more dangerous for your system than just a simple hijacker. Another feature that should be noted, is data tracking. If Mystreamingtab.com virus gets inside the browser then, you can be sure that your search queries, history, entered passwords, logins, credit card data will all be visible for the crooks, which can do God-knows-what with it.
If you want to learn more about the Mystreamingtab.com hijacker, we highly suggest reading the Privacy Policy written by the developers – Skytabmedia, which you should have done before adding the extension to your Chrome in the first place. We also urge you not to wait any longer and stop using your compromised browser and remove the virus before it will have a serious effect on your computer and Online identity/safety.
How does Mystreamingtab.com virus disseminate
Right now the Mystreamingtab.com virus is spreading in couple ways. One of them is self-promotion on Chrome Web Store as an extension that allows to view and access streaming sites and videos effortless in one spot. This may trick some users, but not that much, therefore another technique applied by the crooks is bundling with other software. Mystreamingtab.com hijacker's plugin is added into some programs' installers and gets set up as recommended by the default application when the user skips some steps during the process of installation. In this case, browser virus appears unexpectedly since the victim indirectly agrees to get all the programs that the Setup Assistant offers. To avoid this, it is necessary to get programs only from the trusted sources, also select Advanced/Custom mode and uncheck all the added potentially unwanted programs from the setup.
How to remove Mystreamingtab.com hijacker
Nowadays Chrome extensions are closely monitored by Google, and if some features are missing or it demonstrates rogue behaviour, they can easily be removed by the company. However, that does not stop crooks from distributing their dubious plugins via Chrome Web Store after little alterations to fit the rules, it still makes it easier for the user to get rid of the unwanted add-ons much easier.  Mystreamingtab.com hijacker has a 'Remove' button and can be eliminated just as every usual extension, yet, we remind you, that it actually does have a few dangerous characteristics, which you should be aware of, and take an extra mile to solve.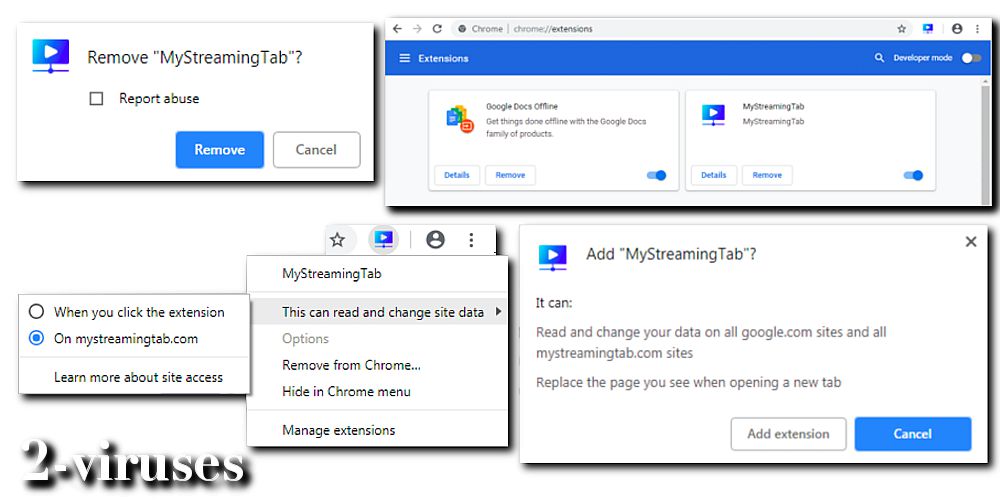 Our best suggestion for Mystreamingtab.com browser virus removal is to combine both manual and automatic spyware termination techniques to fully take care of the infected system. First of all, remove MyStreamingTab hijacker yourself, just as shown in the instructions at the end of this article, then, when there are no interruptions, get an anti-spyware program of your choice (we advise Spyhunter) and run a full system scan to check if there are no other malevolent leftovers or additional programs that could have sneaked into the PC/Mac before, during or after Mystreamingtab infection.
Automatic Malware removal tools
How to uninstall Mystreamingtab.com virus from the browser
Firstly, in order to get rid of Mystreamingtab.com hijacker, you should delete its extension from the browser, which is responsible for the unwanted changes and executing malicious scripts. In order to do so, you simply have to locate the section (e.g. 'chrome://extensions') of all add-ons installed on your compromised search provider and find MyStreamingTab virus there. Below we put together instructions on how to complete malicious extension elimination on both Mozilla and Chrome. Our researchers noticed that there was no direct link where users could voluntarily add the extension on Firefox, yet the site claims that Mystreamingtab.com is for both browsers.
TopHow To remove Mystreamingtab.com hijacker from Google Chrome:
Click on the 3 horizontal lines icon on a browser toolbar and Select More Tools→Extensions

Select all malicious extensions and delete them.

Click on the 3 horizontal lines icon on a browser toolbar and Select Settings

Select Manage Search engines

Remove unnecessary search engines from the list

Go back to settings. On Startup choose Open blank page (you can remove undesired pages from the set pages link too).
If your homepage was changed, click on Chrome menu on the top right corner, select Settings. Select Open a specific page or set of pages and click on Set pages.

Delete malicious search websites at a new Startup pages window by clicking "X" next to them.

(Optional) Reset your browser's settings
If you are still experiencing any issues related to Mystreamingtab.com hijacker, reset the settings of your browser to its default settings.
Click on a Chrome's menu button (three horizontal lines) and select Settings.
Scroll to the end of the page and click on theReset browser settings button.

Click on the Reset button on the confirmation box.

If you cannot reset your browser settings and the problem persists, scan your system with an anti-malware program.
How To remove Mystreamingtab.com hijacker from Firefox:Top
Click on the menu button on the top right corner of a Mozilla window and select the "Add-ons" icon (Or press Ctrl+Shift+A on your keyboard).

Go through Extensions and Addons list, remove everything Mystreamingtab.com hijacker related and items you do not recognise. If you do not know the extension and it is not made by Mozilla, Google, Microsoft, Oracle or Adobe then you probably do not need it.

If your homepage was changed, click on the Firefox menu in the top right corner, select Options → General. Enter a preferable URL to the homepage field and click Restore to Default.

(Optional)
Reset your browser's settings
If you are still experiencing any issues related to
Mystreamingtab.com hijacker
, reset the settings of your browser to its default settings.
Click on the menu button on the top right corner of a Mozilla Firefox window. Click on the Help button.

ChooseTroubleshooting Information on the Help menu.

Click on theReset Firefox button.

Click on the Reset Firefox button on the confirmation box. Mozilla Firefox will close and change the settings to default.

If the problem persists, scan your system with an anti-malware program to identify malicious entries.