Our researchers have figured that Searchsecureprime.co hijacker is designed to attack the most popular search providers – Chrome and Firefox. At the moment, statistics demonstrate that the threat's website receives close to 1 million visitors per month, mostly from the United States, Canada and Germany, Iran, India. As for the domain that has been active since November 2018, that is a very impressive rate of popularity. Additionally, as the Chrome Web Store shows, the Search Secure extension was installed almost 23k times, yet does not have any comments or ratings, indicating that these setups were not always voluntary. So if your browser got taken over by the  Searchsecureprime.co browser hijacker and you want to learn on how to fully delete it, continue reading this article and you will find out the best methods and details about the add-on virus and how to really protect your system.
Features of Searchsecureprime.co hijacker
Searchsecureprime.co hijacker is developed by an already infamous company HyperConnect Media, which seems to have a few other, similarly functioning hijackers, e.g. MySearchPlus.co,  Dailyfileconverter.co. These three plugins look all different but act the same, aiming to regulate your World Wide Web content that gets presented to you in order to benefit from excessive online advertisements and Sponsored deals, which pay for the Clicks, views and actions. The more displayed ads, rerouted visitors for the increased traffic and infected systems, the more crooks can receive. On top of that, Searchsecureprime.co hijacker is known to be collecting personal data, which later is shared with third-party corporations for them to improve Targeted advertising and etc.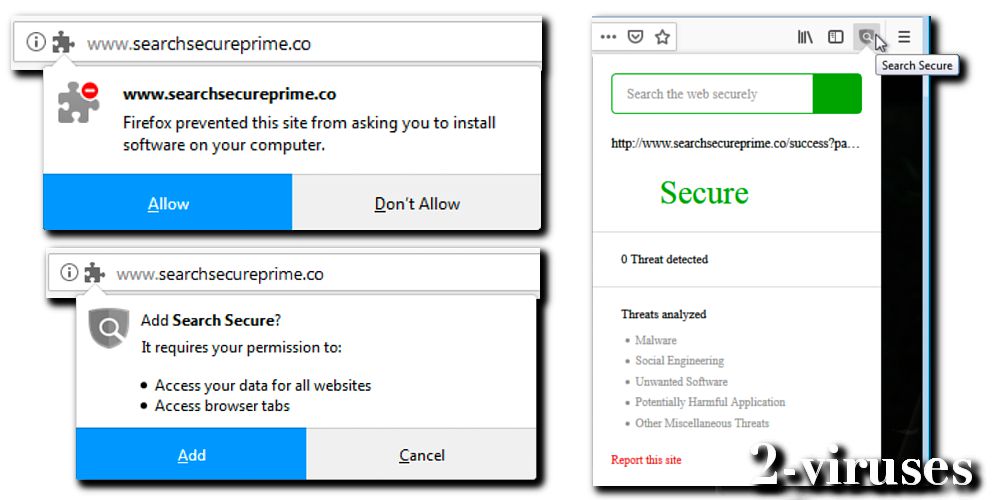 In order to be able to complete paying tasks, Searchsecureprime.co virus needs to gain authorization, which it does by running malicious scripts, that allow changing the browser's default settings without having the user to agree to it. This way Searchsecureprime.co hijacker changes your current search provider into Yahoo Search, sets new homepage and new tabs. Of course, in order to prevent any legal issue, it mentions briefly before installation that you should expect these things, and continues explaining them in the PrivacyPolicy, which no one reads. Unfortunately, as Virustotal.com report shows, none of the antivirus programs mark the site as malicious, therefore it's only up to the user to avoid this threat.
Nowadays we transfer a lot of personal and non-identifiable data through our browsers, including credit card numbers, logins, messages, work documents, healthcare information and etc. therefore we want to feel safe when going online. Paradoxically, Searchsecureprime.co hijacker does the opposite than it claims to protect you from and tracks your every step on the internet and shares it with whoever it wants. Moreover, it ends up often redirecting victims to redirects to online stores, products/services, other harmful extension installers, and uses other two subdomains to support it -search.searchsecureprime.co, wwwufixit.searchsecureprime.co.
Clearly, there is nothing beneficial for you as a user from Search Secure extension, and it should be in your best interest to remove it in order to protect yourself from identity theft, emptied bank accounts, additional malware installs or other breached data. This plugin just proves the Necessity of virtual awareness and your responsibility to protect yourself from online threats.
How does Searchsecureprime.co virus infect browsers
Browser hijacker like Searchsecureprime.co either can trick you into believing that they are the best thing in the world and will provide you with a lot of help/advantages or they can sneak into the system unnoticed and stay completely silent, up until the moment you try to remove them. In our case, Searchsecureprime.co virus does both. Even though it has a pretty decent official website which tells about the great benefits of this security extension, the main traffic/popularity still comes from less official and intended installations.
According to the Similarweb.com site, users who end up on the main site of Searchsecureprime.co hijacker, come from referring websites such as sports-related blogs, redirect viruses, free online video streaming pages and ads/links placed on some Youtube videos, Reddit and etc. You can get diverted to Searchsecureprime.co even if you are visiting the unrelated and at-the-first-sight safe domain, as long as it allows promotions from PopCash, RevenueHits, exoClick, Google Display Network advertising network companies, which seem to be paid by the developers to proliferate their browser virus.
On top of that, Searchsecureprime.co hijacker might end up getting installed into the browser through the Compiled Setup Wizards that comes from third-party vendors, torrents and etc. You must always get your software from official sources or else you can easily get unwanted applications without being aware of it. Distributors earn money from pay-per-install advertising mean from the creators of Searchsecureprime.co hijacker, therefore they are more driven to infect your system with it, without asking for permission. Yet, if you must get a program from the shady place, then at least run it on Advanced/Custom mode and deselect all additional programs, which can be premarked to get added as well.
How to get rid of Searchsecureprime.co hijacker
The elimination of Searchsecureprime.co hijacker from the compromised browser is best completed with the combination of automatic and manual removal techniques. First, you should remove the threat from your Mozilla or Chrome as shown in the instructions below, and then continue with a system scan with anti-malware programs. Although security programs are able to handle threats like Searchsecureprime.co virus, yet it is beneficial to stop this malware yourself, so it would not interfere with further elimination processes.
Spyhunter Malwarebytes are both very great spyware removal applications, which can detect and delete all the unwanted and harmful files which may have entered prior or after Searchsecureprime.co hijacker's infection. Just a few clicks are enough to complete the whole virus search on your computer, therefore you will save time and will be positive that your computer is safe to use again.
Remove Searchsecureprime.co virus from your browser
Here you will find the step-by-step guide on how to get rid of Searchsecureprime.co hijacker from Chrome and Mozilla browsers yourself. It isn't any different than eliminating any other plugin/extension, yet if you get stuck in the middle of the process this will help you to get back on track. Mind you, some readers noticed that Searchsecureprime.co virus was observed to set up in Window's Control Panel as a separate program too, therefore don't forget to check this directory.