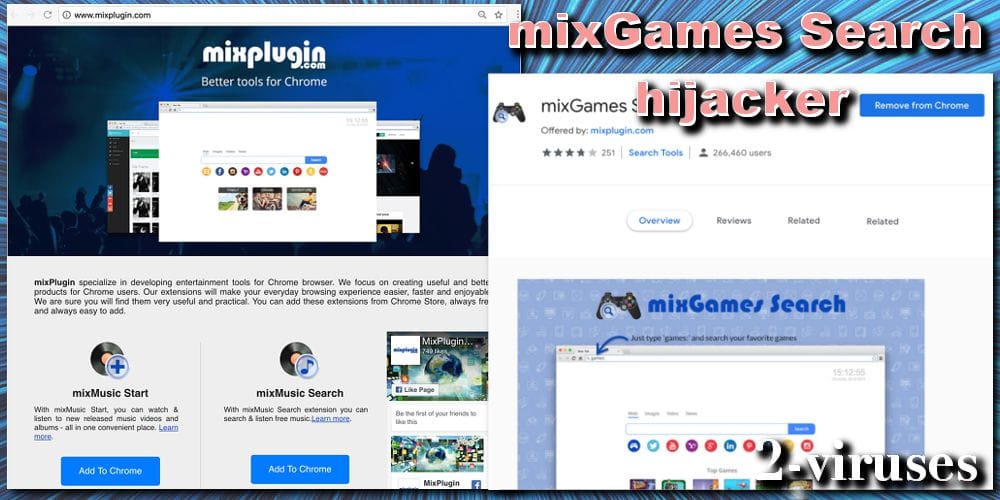 mixGames Search is an extension for the Chrome browser which offers unlimited free games that you can reach by simply using the plugin. However, the promises right after the setup appear to be false and actually mixGames Search takes over the browser by altering user's default homepage, new tab and search engine to have unrestricted ability to generate profit from excessive advertisements. Meanwhile, the user, instead of enjoying online entertainment, has to deal with all the unexpected modifications and risk their system's security when dealing with shady promotions and links.
Mixgames Search Virus quicklinks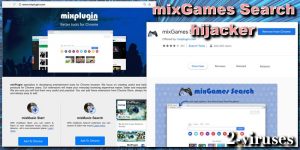 At the moment, mixGames Search hijacker affects mainly users from the United States, Indian, United Kingdom, Egypt, Belgium, but is not limited only to these regions. Although this threat is not new and has been compromising browsers for a while now, recently there have been more complaints coming from our readers that their Chrome has been attacked, most of the times without any warning. Therefore, 2-viruses.com researchers looked into the matters of this browser hijacker infection and came up with a few helpful solutions, which you shall find at the end of this article because, as you also soon find out, there is nothing positive about mixGames Search virus to tolerate it any longer. 
What's the purpose of mixGames Search virus
First of all, mixGames Search virus is a browser hijacker, just like iTheatre Search Plus, iMusic Search, iGames Search, Sport.searchalgo.com, meaning that it only makes malicious changes in search providers, in this case – Chrome. This allows developers to control the settings and content coming from the internet through the victim's browsing engine. Such changes are not the most notorious but they certainly allow crooks to abuse the typical extension authorization rights, and flood users with the unwanted ads from dubious sources, which potentially can end up compromising the system fully. Unrestricted posting gives an opportunity for mixGames Search creators to make a pretty decent revenue from PPC/PPV/PPA campaigns, affiliate links and redirected traffic.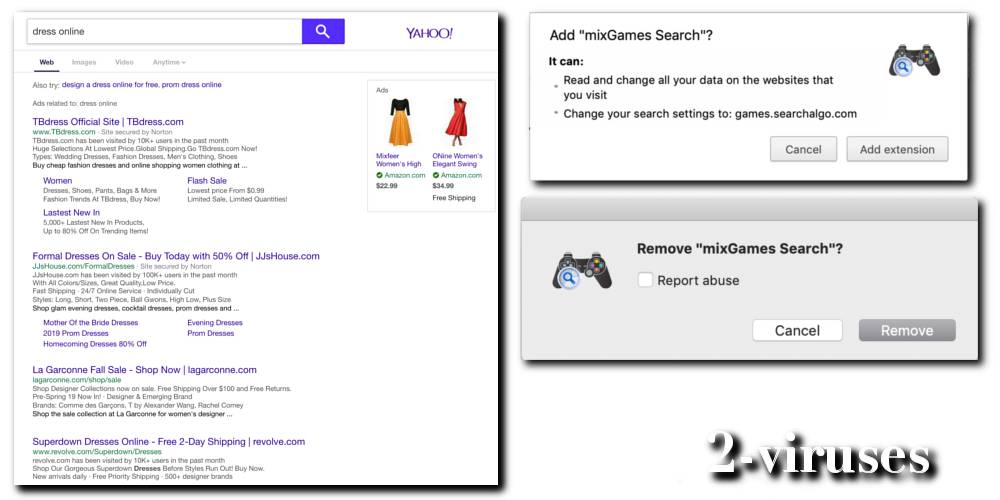 Once the mixGames Search virus Extension is added to Chrome, it connects to crooks' servers and downloads additional malicious scripts, that enable many shady features for the hijacker to perform. Only seconds later, a victim can already see the unwanted changes in their search engine, which becomes set to Yahoo Search, homepage that gets altered into Searchalgo.com and immediate redirect after installation to Gomovix.com. What is more, if the user decides to use this affected browser tons of irrelevant or targeted ads will pop-up at the top of the search or even as redirects, pushing you to purchase something, review commercials and etc., creating an irritating and interruptive online surfing experience. 
The cherry on top is that mixGames Search virus developers are very open about all the negative changes, claiming in their Privacy Policy that it is only your responsibility for what happens to your PC, and if you continue using the extension, you automatically accept the further risks. It also discloses the fact that your data is going to be tracked, collected and shared with other third-parties. 
We allow certain companies to serve advertisements and/or personalized content and collect information within our Site or Service. These companies include third party ad servers, ad agencies, technology vendors, providers of sponsored content, research firms, and other companies that help us provide more effective advertising.

We use the information we collect about and from you for a variety of business purposes, including for example: to respond to your questions and requests; to provide you with access to certain functions and features of the Service; to provide and maintain your platform account(s); to verify your identity; to communicate with you about your account and activities using the Service and, in our sole discretion for marketing or solicitation purposes, to communicate changes to one of our policies; to tailor content or offer(s) we serve you; to improve the Service for internal business purposes; to process applications and transactions; and for other lawful purposes we may disclose at the time you provide your Personal Information or to which you otherwise consent.

We may disclose Personal Information as follows: To any current or future affiliates, parent companies, or subsidiaries. To vendors, service providers, agents, contractors, or others who perform functions (e.g., maintenance, data analysis, customer relationship management, email marketing, surveys, credit card processing, data hosting, or fraud detection) on our behalf. To Customers. For example, we may provide advertisers with information to inform them about conversion rates for analytics purposes.

We may also disclose Personal Information when legally required to do so, to cooperate with law enforcement investigations or other legal proceedings, to protect against misuse or unauthorized use of the Website, to limit our legal liability and protect our rights or to protect the rights, property or safety of users of this Site, the Service or the public. In addition, we may share non-Personal Information, such as aggregate user statistics, demographic information and Usage Information with third parties.
Clearly, this is not what an honourable plugin would ever do. mixGames Search hijacker is not there to benefit the user, but on the contrary, just for its own well-being/money. 2-viruses.com team highly suggests getting rid of the threat and restoring the settings back to normal, before your sensitive data gets breached and your computer infected with serious types of malware.
How does mixGames Search hijack browsers
It has been noticed that mixGames Search virus spreads either via bundling or through redirecting links. The latter proliferation method is more obvious and simply displays the installation page for the user who accidentally clicks a link or a banner that diverts either to the mixplugin.com website or straight to the Chrome Web store. Contrary to common belief, not just adult content sites or other shady domains can cause the infection with mixGames Search hijacker, but it is the legitimate websites that people should be wary of. (Which Websites Are Most Likely to Infect You with Malware?)
In addition to that, bundling is another technique which causes unwanted mixGames Search virus installation, and actually, it probably brings the main traffic and success for this malware. This way of infection reaches such popularity because users often skip applications Setup Assistants very quickly, before even reading what they are agreeing with and forget that not all vendors are honest and there might be additional programs compiled with the main software. In order to avoid browser hijackers from getting into your computer without your notice, you should always get the programs from official sites and run the set up on Advanced/Custom mode to see what other unwanted apps are going to be brought into your computer and deselect them.
How to remove mixGames Search virus
There is no doubt that mixGames Search hijacker is malicious and needs to be removed in order to have a free and secure browsing experience back. Depending on the persistence the elimination can last from a few seconds up to several weeks since the threat can renew from a few overlooked files. So that our readers would not have to suffer from unwanted and prolonged consequences, we suggest beginning the mixGames Search virus termination with a special security tool called Malwarebytes, Spyhunter.
Running a system scan with any of the above-mentioned programs will be the first step towards a mixGames Search free browser and clean system. The great thing about these malware removal tools is that they will detect all malware that is inside the computer and not just the hijacker and you won't have to lift a finger nor waste hours of your time to do that. Once the threat is detected, these applications will give further directions on what to do for the removal. After that, the only thing you'll be left to do is to set your browser preferences back to what you desire.
Automatic Malware removal tools
How to uninstall mixGames Search from Chrome
Uninstalling mixGames Search virus from Chrome manually should be fairly easy because it's not different than any other plugin removal. You simply have to access the browser extension section and click 'Remove' on the add-on, which you want to delete. Those users who have never done this or are having issues with the process will find the below posted instructions helpful in their case. After the elimination from Chrome, we suggest to still run a scan with the anti-spyware program just to ensure that all malicious files are gone.
TopHow To remove mixGames Search virus from Google Chrome:
Click on the 3 horizontal lines icon on a browser toolbar and Select More Tools→Extensions

Select all malicious extensions and delete them.

Click on the 3 horizontal lines icon on a browser toolbar and Select Settings

Select Manage Search engines

Remove unnecessary search engines from the list

Go back to settings. On Startup choose Open blank page (you can remove undesired pages from the set pages link too).
If your homepage was changed, click on Chrome menu on the top right corner, select Settings. Select Open a specific page or set of pages and click on Set pages.

Delete malicious search websites at a new Startup pages window by clicking "X" next to them.

(Optional) Reset your browser's settings
If you are still experiencing any issues related to mixGames Search virus, reset the settings of your browser to its default settings.
Click on a Chrome's menu button (three horizontal lines) and select Settings.
Scroll to the end of the page and click on theReset browser settings button.

Click on the Reset button on the confirmation box.

If you cannot reset your browser settings and the problem persists, scan your system with an anti-malware program.
TopHow to remove mixGames Search virus from Google Chrome on Mac:
Open Chrome browser.
Enter in the url field "chrome://extensions" address and hit Enter.
Find mixGames Search virus on the extensions list and click on the recycle bin icon next to it.
Click on 'Chrome' button at the top left corner. Select 'Preferences' on a drop-down menu box.
Find 'Search' options on Settings tab. If your search engine is changed, click 'Manage Search Engines' and set your preferred search engine.
On the same page find 'Show home button' checkbox and change your homepage.
(Optional) Reset your browser's settings
If you are still experiencing any issues related to
mixGames Search virus
, reset the settings of your browser to its default settings.
On the 'Preferences' menu window, scroll down to the bottom and find 'Reset settings' button. Click it.
Confirm your selection and click 'Reset' on the following window.
If you cannot reset your browser settings and the problem persists, scan your system with an anti-malware program.