MSASCuiL is a program for displaying the Windows Defender notification icon. If you can verify that it's the real Windows process, then that's what it is. However, cybercriminals have stolen the names of genuine Windows processes before, and MSASCuiL is no exception. If you have MSASCuiL malware, then that should be removed as quickly as possible.
Msascuil Malware quicklinks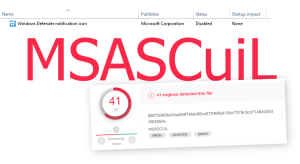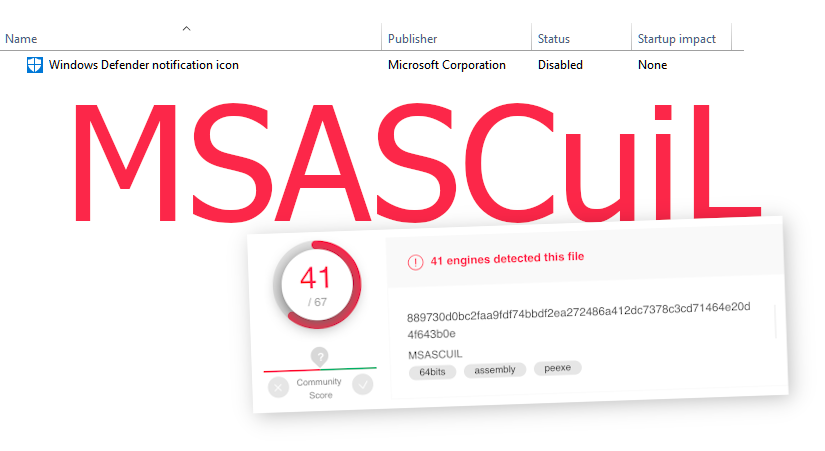 MSASCuiL malware characteristics:
Malware distribution
Misleading ads and fake software updates,

infected freeware downloaded from unreliable websites.

Malware symptoms
Crashing and closing programs, especially the browser,

pop-up ads, virus warnings, redirects,

hacked accounts and spam messages,

slow computer.

Check if MSASCuiL is real
MSASCuiL should be in Windows Defender's folders,

it should not use a lot of resources,

it should be published by Microsoft.

Removing MSASCuiL malware
Check if MSASCuiL is genuine,

use safe mode or other tools to end malicious processes,

scan the system with an anti-malware tool (Spyhunter, etc.),

restore the system.
Is your MSASCuiL – real?
MSASCuiL is a legitimate file that belongs to Windows Defender, which is the default antivirus solution for Windows PCs. MSASCuiL is a file for displaying Windows Defender's notification icon. It may appear in your task manager and in startup. The location of MSASCuiL should be in C:\Program Files\Windows Defender and the publisher should be Microsoft Corporation.
Unfortunately, MSASCuiL, Svchost, and other legitimate Windows processes and files have had their names stolen by cybercriminals. Often this sort of malware is a crypto miner that slows down your computer by hijacking your CPU or GPU.
If you suspect your version of MSASCuiL to be fake or a part of malware, you should perform a few checks.
First and easiest – you can scan your device with an anti-malware tool, such as Spyhunter or another trusted program.
MSASCuiL is relatively new and meant for Windows 10. Users of Windows 8, 7, and earlier systems should be suspicious if they see this file on their computer.
Check your MSASCuiL process manually using Task Manager. You can open Task Manager by right-clicking your taskbar (the bar at the bottom of your screen) and choosing Task Manager from the menu, or by pressing Ctrl+Shift+Esc (all three buttons together). You can check MSASCuiL's location by finding its process in Task Manager and right-clicking it and choosing the Open file location option. It should be in C:\Program Files\Windows Defender.
If your MSASCuiL is located in C:\Users\user\Appdata\Roaming or another unusual folder, that's a bit suspicious.
You can check suspicious startup items with Autoruns. You can right-click on the suspicious process in Task Manager and choose to Open file location. If you don't trust your anti-malware tool, use a service like VirusTotal to scan a small individual file. If your MSASCuiL is malware, some security programs will detect it.
If something is strange about your MSASCuiL but not malicious, it might just be corrupted and you can check and repair that using System File Checker.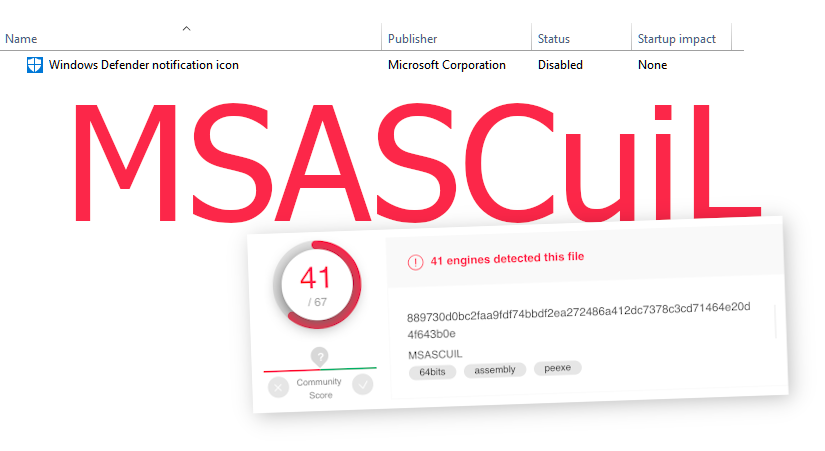 MSASCuiL malware symptoms
If your computer is infected with MSASCuiL malware – that is, malware that was named "MSASCuiL" to avoid detection – then you must have noticed some malware symptoms. These include:
Antivirus programs detect malware on your computer.
Msascuil is not located in the expected folders and doesn't have Microsoft's signature.
You're unable to visit certain websites, especially ones connected with cybersecurity. Your browser might fail to load the site or close immediately.
Your PC's resources, like CPU and GPU, are heavily used for no reason.
You see more pop-up ads than usual.
Your accounts are being hacked and your contacts are receiving spam messages from you.
In addition, some tech support scams use various malware names, real and made-up, to scare victims into thinking that their computer is infected. An example of such a scam is Windows detected ZEUS Virus. If a website or an online pop-up told you that you have MSASCuiL malware and told you to either call a phone number or download some software, ignore that, because it was probably just a scam.
If you have MSASCuiL malware – a malicious file called "MSASCuiL" – it will not disappear if you just delete the legitimate MSASCuiL file. It's important to keep in mind that MSASCuiL malware and the real MSASCuiL are separate things. If your MSASCuiL is real, just leave it alone.
How to remove MSASCuiL malware
If you think you have MSASCuiL malware and want to get rid of it yourself, we have an article on how to kill malicious processes. Like it mentions, you can use Safe Mode, Process Explorer, and various other tools to troubleshoot your PC. But it should be combined with a scan using an anti-malware program.
Another option is to restore your system to an earlier version, if you made a restore point before you had MSASCuiL malware. You should still complement this with an anti-malware scan, though.
Automatic Malware removal tools
How to remove MSASCuiL Malware using Windows Control Panel
Many hijackers and adware like
MSASCuiL Malware
install some of their components as regular Windows programs as well as additional software. This part of malware can be uninstalled from the Control Panel. To access it, do the following.
Start→Control Panel (older Windows) or press Windows Key→Search and enter Control Panel and then press Enter (Windows 8, Windows 10).
Choose Uninstall Program (if you don't see it, click in the upper right next to "View by" and select Category).
Go through the list of programs and select entries related to MSASCuiL Malware . You can click on "Name" or "Installed On" to reorder your programs and make MSASCuiL Malware easier to find.
Click the Uninstall button. If you're asked if you really want to remove the program, click Yes.
In many cases anti-malware programs are better at detecting related parasites, thus I recommend installing Spyhunter to identify other programs that might be a part of this infection.