Mac Optimizer Pro is a potentially unwanted program, a Mac cleaner/optimizer. In fact, Mac Optimizer Pro is claimed to be the word's best Mac cleaner in 2018. But today, it's detected by multiple antivirus programs as potentially dangerous. It shows exaggerated errors to scare you into paying for its license, which is not an honest tactic.
Mac Optimizer Pro quicklinks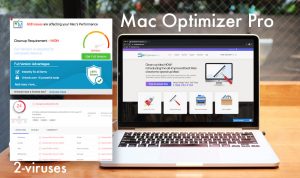 Mac Optimizer Pro is a potentially unwanted program and should be deleted:
Type of threat
PUP (potentially unwanted program).
Problems with Mac Optimizer Pro
Its functions are redundant,

it detects harmless files as problems,

it says that it can improve the performance of your Mac when it most likely won't do it,

the scans are too frequent and slow down your Mac.

Distribution
Downloaded from its home site,

offered with other free programs.

Mac Optimizer Pro removal
Stop the program,

drag it to trash or use an anti-malware scanner (like Combo Cleaner) to remove malware.
Problems with Mac Optimizer Pro
As you can see from this VirusTotal link and this one, a few of the most reputable antivirus programs detect Mac Optimizer Pro as a trojan, a PUP (potentially unwanted program), and as malware.
Mac Optimizer Pro gets this treatment because even though it's not really malware, it is kind of like a scam:
It finds useful files – cookies, cache, logs, and temporary files – and tells you that they're problems. In reality, they take up little space and are used by your programs to data for quick access, actually speeding up your Mac.
Mac Optimizer Pro uses the fake detections to say that your mac is in critical condition because the detected items are affecting your Mac's performance. This happens even when only a few hundred Megabytes are taken up by the unnecessary files. Needless to say, a few hundred Megabytes do not affect a modern computer's performance.
Mac Optimizer Pro offers a few other functions, like startup manager, that are completely redundant – your Mac can already do those things. Only, to prevent you from stopping its constant scans and pop-ups, Mac Optimizer Pro doesn't let you control its own startup. How honest.
Overall, Mac Optimizer Pro is a useless and even potentially dangerous application that tries to mislead you about how dangerous it is. Some people fall into this trap of constantly scanning and cleaning their Mac with an optimizer, but it's just not all that helpful. If you want to reduce clutter on your Mac, use the tools that Apple has made for optimizing storage space.
Your Mac can delete its own temporary and trash files. Your browsers let you manage your cookies much more granularly than Mac Optimizer Pro. And cache files are used by programs to speed up their loading times.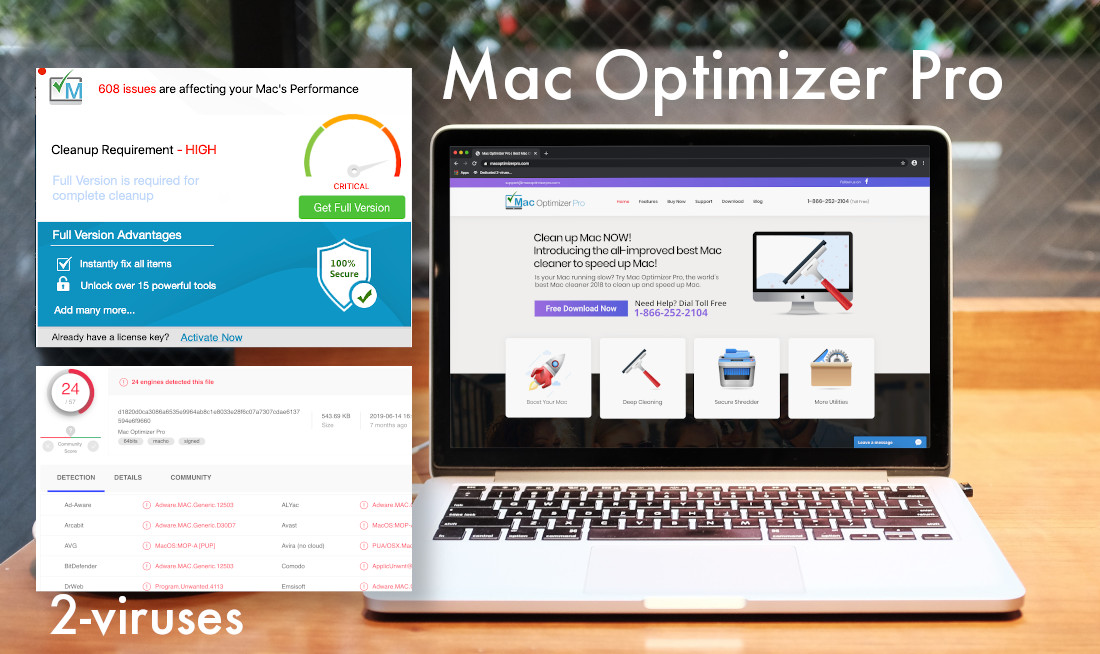 How Mac Optimizer Pro gets installed
You can find and download Mac Optimizer Pro from its home page, Macoptimizerpro.com. It looks like most people find it through search when they search for optimization tools. If they don't scan the app's installer before running it on their Mac, they don't learn that it's potentially unsafe.
But what if you didn't install Mac Optimizer Pro yourself? There's the chance that it was bundled with another free app. Did you install anything else before Mac Optimizer Pro appeared on your computer? If so, scan that installer to see if it's a bundler. Bundlers usually do offer you an option to opt out of the installation of the additional offers, but these options tend to be hidden and people often miss them, so accidentally installing something is pretty common.
This is all pretty mild. Other Mac optimizers, like Smart Mac Booster and Mac Cleanup Pro, have been seen using fake virus alerts to force people to install them and then pay for them. In comparison, Mac Optimizer Pro is not that bad. But still, be careful and don't install a Mac optimizer unless you know very well what you're getting into.
How to remove Mac Optimizer Pro
Removing Mac Optimizer Pro should be pretty simple manually, although you can use an antivirus program, such as Combo Cleaner and others. Here are the manual removal steps:
use the "Command-Option-Esc" hotkey combination to open "Force Quit Applications",
look for Mac Optimizer Pro and similarly-named processes, highlight them and click on the "Force Quit" button,
open Finder and go to the "Applications" folder,
find Mac Optimizer Pro and drag it to the Trash,
reboot your Mac.
After this, Mac Optimizer Pro should be gone from your system.
Automatic Malware removal tools