Liveadexchanger.com redirect virus is an infection that functions very similarly to Newpoptab.com, Wonderlandads.com and Viralyet.com malware samples. They proceed as ad-networks, presenting pop-ups with content that might be customized according to browsing habits, bookmarks and other details about infected people.
Threats that arise from Liveadexchanger.com malware infection
It is an adware (1) parasite due to several facts: presented advertisements are not welcome by their recipients and the possibility of being constantly monitored. Since objectionable advertisements are being delivered to your screen without permission, an ad-serving malware is definitely lurking in your operating system.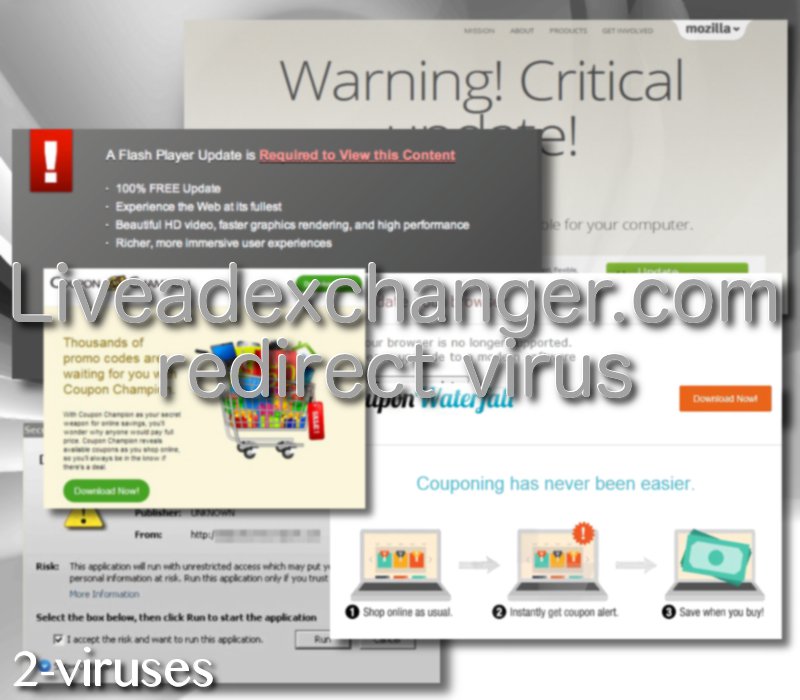 Web traffic ranks suggest surprising statistics: this website is the 718 in the world (2), meaning that it is highly determined to deliver objectionable promotions if it means better profits. We have received multiple complaints from people from France and they all indicated that this adware infection disturbed their browsing activities via Internet Explorer and Google Chrome, but we believe that mostly any browser could be compromised.
Reviews (3) about Liveadexchanger.com virus clearly emphasize the fact that this domain can be guilty for phishing strategies and scams. Untrustworthy technical support services are one of the most common features that this adware will transmit. Take a look at several statements:
"The site reroutes over to other sites with spam and viruses. It spreads viruses that affect the browser. Because of it, it is impossible to get to many other sites (due to presented spam sites)."

"This site is like Adcash. It redirects you to spam or virus embedded sites. Never go to this website; it's untrustworthy and may put your computer in danger."
Our investigation showed that there is a number of websites that kindly refer people to Liveadexchanger.com malicious domain: Shink.in, Abrezor.com, Fas.li, Roblox.com, Ispunblock.com have all been determined to cause redirection (4). People from Brazil, Mexico, United States, Indonesia and France are people that get exposed to advertisements from this deceptive ad-network. Regarding this specific audience, forced to look at the presented advertisements, we recommend you to read about an almost identical variant of Newpoptab.com in the Spanish language (5).
It was also possible to determine which ad-suppliers are providing material for Liveadexchanger.com redirect virus: Pubdirecte.com, DirectREV, Propeller Ads Media, Adf.ly, AdCash and other potentially rogue distributors of suppliers of content to be advertised. It could closely related with one ad-network of AdCash as the site is described with this statement: "Meet Adcash, your global ad partner. Whether you're looking to reach people or monetize your content, the Adcash ad network can deliver premium results".
Therefore, it could be that this company is the owner of this website and exploits a bunch of disturbing activities to generate web traffic to remote websites and engage in other scandalous hoaxes.
Take control over your operating system: get rid of malware
Since Liveadexchanger.com redirect is a frequent guest during your browsing, we almost have no doubt that your operating system is filled with malware infection, specifically adware. It could be that some potentially unwanted program (PUP) is automatically demonstrating content to receive financial support. In the other hand, it could be that you are visiting shady domains that have agreed to promote the malicious domain.
There is a way out of this mess: you can follow the guidelines we have enumerated below (it will help you eliminate an unknown tool from control panel). On the other hand, we propose you find out everything there is to known about the security status of your operating system by running a scan with anti-malware tools. Consider getting some help from Spyhunter which will show no resistance in keeping your device secure. Lastly, remember: do not install applications from unknown domain that accept all of the submitted content despite its potentiality for being infectious.
How to remove Liveadexchanger.com redirect virus using Windows Control Panel
Many hijackers and adware like
Liveadexchanger.com redirect virus
install some of their components as regular Windows programs as well as additional software. This part of malware can be uninstalled from the Control Panel. To access it, do the following.
Start→Control Panel (older Windows) or press Windows Key→Search and enter Control Panel and then press Enter (Windows 8, Windows 10).
Choose Uninstall Program (if you don't see it, click in the upper right next to "View by" and select Category).
Go through the list of programs and select entries related to Liveadexchanger.com redirect virus . You can click on "Name" or "Installed On" to reorder your programs and make Liveadexchanger.com redirect virus easier to find.
Click the Uninstall button. If you're asked if you really want to remove the program, click Yes.
In many cases anti-malware programs are better at detecting related parasites, thus I recommend installing Spyhunter to identify other programs that might be a part of this infection.
References:
Automatic Malware removal tools