Ad.directrev.com popups are annoying messages that can show up on computers, if they were infected with an adware. The goal of these popups is to advertise commercial websites and increase their traffic. Although they do not harm your system directly, seeing them popping up on a regular basis is quite irritating. Moreover, the application that generates ads, is usually installed onto computers by employing unfair methods.
As it has been already mentioned, Ad.directrev.com popups are a consequence of an adware infiltration. Such applications can affect your Internet Explorer, Mozilla Firefox, Google Chrome or whatever web browser you have on your PC set up. They always come bundled with various freeware, for example, PDF creators, video recorders, music players, etc. If you want to avoid them, you should give more attention to the installation processes of such programs. All bundles can be seen at one of the installation steps and, if you don't want to download them, you have to deselect such option, as it is usually already selected for you.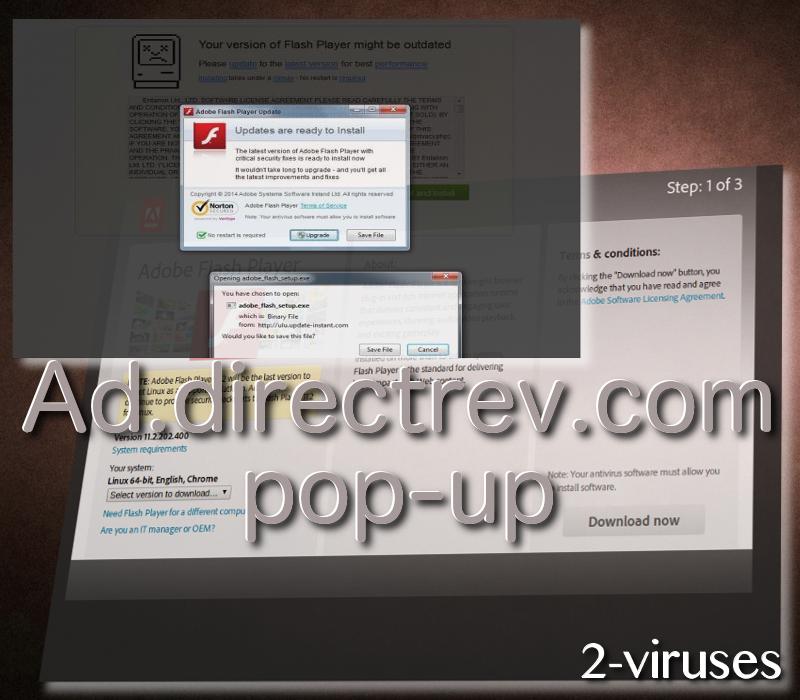 Interestingly indeed, this popup adware has its own official website available on ad.directrev.com. Nevertheless, if you enter the latter address into the address bar of your web browser, you will be rendered nothing more than a blank page. This is a typical feature of popup adwares. This sort of malicious applications possess blank websites, or web browsers cannot open them due to the suspicion of phishing activity.
If your computer's system has been infected, you will notice Ad.directrev.com popups offering you to get the newer version of your browser or the operating system you have on your machine installed, etc., since Ad.directrev.com application may have access to the information regarding your operating system, etc. When you click on the popups by Ad.directrev.com program, you will be redirected to some sponsored page. The creators of this adware get paid for advertising and increasing traffic to these sites, yet for the end users it is very bothering to deal with the ads and their redirects. No wonder that some people may even think that Ad.directrev.com popups must have been caused by some virus infection.
If any of your browsers have been affected, remove Ad.directrev.com popups as soon as possible. Run a full system scan with Spyhunter, Hitman or other legitimate tool that you trust. This professional antivirus software will eliminate these annoying messages easily. Don't forget to upgrade your anti-spyware tool to its newest version to ensure the detection and removal of the most recent unwanted programs.
Automatic Malware removal tools
Manual removal