Kissanime is a collection of sites, most notably the Kiss-anime.ws website. It offers free anime videos that are subtitled in English. Kissanime also allows its users to download (pirate) videos.
Unsurprisingly, Kissanime is full of obnoxious and malicious ads. It opens new tabs in your browser and it uses notifications to show you ads even when you leave the site. Its dubious ads may lead you to unsafe and deceptive websites. We recommend you to stay away from Kissanime or to protect yourself with antivirus and anti-malware tools.
Kissanime Ads quicklinks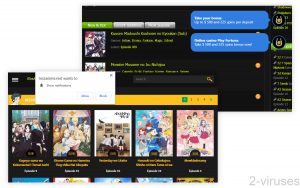 About Kissanime ads in short:
Threat type
Adware.
How Kissanime displays ads
It sends them through browser notifications,

it randomly opens new browser tabs with advertised sites.

Problems and dangers
Excessive, annoying pop-ups,

ads that lead to dangerous content (scams, malware, fake download links),

ads that lead to adult content (porn, online casinos).

How to stop Kissanime ads
Use an ad blocker or a malicious site blocker,

protect your computer with an antivirus program (Spyhunter for PC, Combo Cleaner for Mac, others),

disable notification prompts and block unwanted sites from abusing notifications.
The dangers of Kissanime ads
Ads for dangerous sites.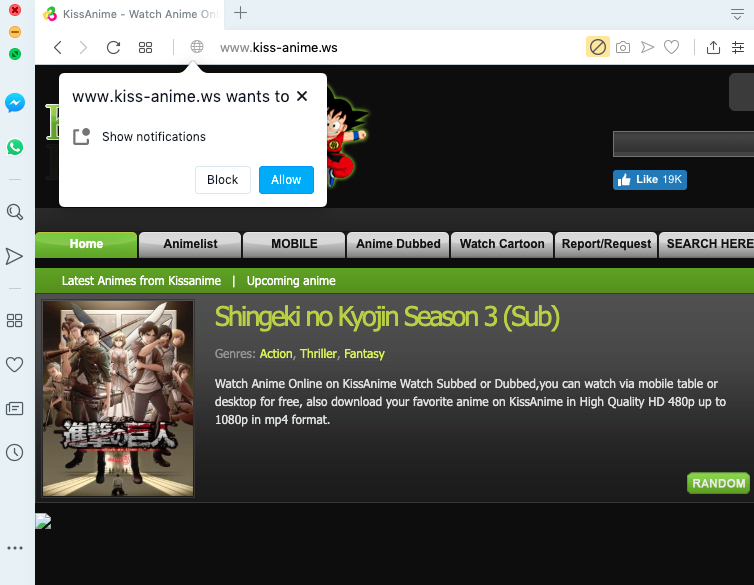 At first glance, Kissanime doesn't look like it has ads. And yet, even when you're just browsing Kissanime, it still triggers pop-ups and redirects. Redirects that land on suspicious webpages:
Get-rich-quick schemes and trading scams.
Fake virus warnings that lead to tech support scams (see Apple security breach).
Malware and crapware.
Besides, Kissanime ads may also forward you to sites for adult dating, pornography, or gambling sites that aren't necessarily dangerous but are unsuitable for children. Considering that anime is popular with children and teens, this is not ideal.
Some of the ads on Kissanime may distribute various potentially unwanted software that is, once again, not very dangerous but definitely unwanted:
Shady system optimization tools and driver-updating apps.
Malicious browser extensions that hijack your settings and spy on your activity.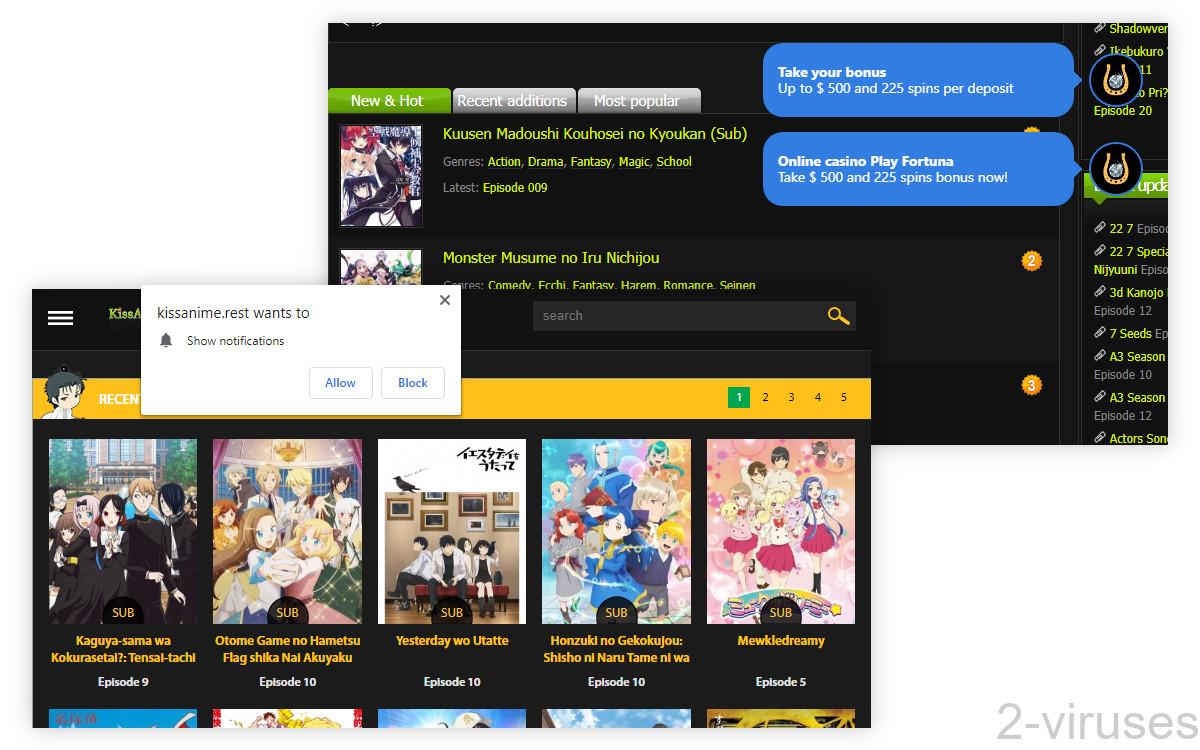 Advertising spam
Kissanime sites sometimes ask you to subscribe to their notifications. Don't do it – they're used to deliver advertisements.
Notification ads appear when your browser is open, even when the site that's sending them is not open. So, Kissanime can deliver ads to you any time.  Clicking on those ads is not safe. Kissanime's notifications are no better than its pop-ups and they promote equally dangerous sites.
You can stop these ads by clicking on their settings buttons. You'll get an option to block all new notifications from the site.
How to stop the Kissanime ads
Kissanime sites are illegal, which is the only reason they can afford to be free at all. And their operators are likely making good money from all the ads.
If you plan to continue using it and other pirating sites (KissManga, 123Movies, etc.), you need to be prepared. Illegal sites tend to show a lot of malicious ads. It's pretty much a rule. So, protect yourself with an anti-malware program that offers a web filter, an ad blocker, a malicious site blocker, or something similar. These tools might block Kissanime by default, but you can create an exception for it.
Reliable security software, like Spyhunter for Windows, Combo Cleaner for macOS, and others can also help you stay safe. use them to scan the files that you download and to protect you from drive-by downloads.
If Kissanime is sending you pop-up ads, here's how to block them:
Chrome – open Settings, scroll down to Site settings (under Privacy and security), click on Notifications.
Edge (Chromium) – open Settings, click Site Permissions, Notifications.
Firefox – open Settings, Privacy & Security, scroll down to Permissions, and click on Settings next to Notifications.
Safari – in the Safari menu, choose Preferences, Websites, Notifications.
Find the Kissanime sites that are Allowed to send notifications and switch them to Blocked.
Automatic Malware removal tools