HidenGate is a malicious, proxy network offering software that pretends to provide anonymity and protection to the user hiding one's local network IP address and other personal details that could be seen by others. Sadly, the HidenGate does exactly the opposite and instead of increasing the online performance and hiding your sensitive data it tracks your every movement online and injects tons of advertisements, pop-ups, redirects to even 'safe' websites to build some revenue for the developers.
Hidengate Virus quicklinks
If you become the accidental victim of HidenGate adware, which can find an illegal way into your computer, without you even looking for a private VPN, you might want to get rid of it immediately, because there are plenty of other trustworthy products that you can choose and your private data and computer's security gets in danger. You may have heard about other adware viruses like Multitimer, MegaOffers, Addonjet, and MgDisk, that work in a similar manner, and how much issues they caused for gullible victims that kept using them. On the other hand, no matter if you are new in the malware world or have been dealing with viruses for a long time, this article should teach you a thing or two about the notorious HidenGate virus and how to remove it.
How does HidenGate work
HidenGate software could seem like any regular program that aims to enhance users' experience when surfing online and performing various tasks online. It specifically is designed to create virtual private networks (VPN) for people who want to protect their privacy online, access unavailable websites and browse anonymously. On top of that, it claims to be free unless you want premium features that cost some money. As normal as it seems, this is not all the HidenGate has upon its sleeve.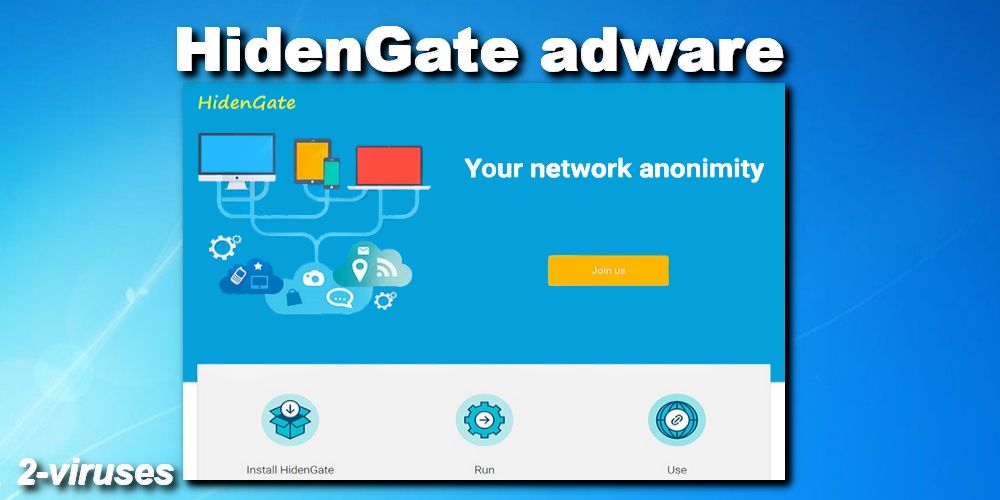 HidenGate is actually an adware program that makes profit from advertisements which are placed for the victim once it starts using the product. Tons of marketing techniques are used by this shady tool in order to add extra income for the developers on top of users paying for the full version of this VPN. Furthermore, the free trial can end up being not after all.
The most obvious monetization methods that HidenGate uses is tons of ads that generate income from pay-per-click/pay-per-view (which you can notice by the specific name – Ads by Name) , sponsored product pushing via superfluous pop-ups and redirects and browsing activity tracking, which you know is happening when you start seeing targeted for products and services you were looking before following you to every website you visit. While this seems more irritating than annoying, we should mention another HidenGate adware feature which is close ties with third parties. This is also done for the money that corporations pay in order to get statistics of the behavior pattern of users (which will later be used against you to make you buy more products), but also the ability for these unknown straight to the victim.
Mind you, VPN should be keeping you safe and anonymous online, but HidenGate virus is doing the reverse work, giving away your private and non-private data and giving access for these third-parties to post whatever they want for you, even malvertise. Although there is no proof what exact information does HidenGate virus gathers, you can be sure that your logins, online payments, cryptocurrency transactions, searches and visited websites are monitored by hackers. (Everything).
How does HidenGate adware spread
HidenGate adware has a very nice and well-developed look which can trick many even really experienced people into thinking that this program is no more than a regular VPN offering service. This is one of many that adware sneaks into computers without being in a spotlight. But HidenGate developers don't rely just on one technique and applies other, more indecent ways like drive-by-download or bundling.
bundling has really been the main way that HidenGate was distributing for a while. This means that the software hides in other programs' (usually really popular) Setup Wizards as an additional application that gets installed at the same time if the user does not select otherwise. This can be done by selecting Custom Installation and unchecking the boxes of pre-marked programs like HidenGate or downloading software from their official websites and not junkware.
If you really are looking for a VPN product take a look at the legitimate Techradar's of different tools to choose from that actually do their job and not cause any unnecessary issues.
How to eradicate the HidenGate virus
The removal part of HidenGate adware is considerably easy. You can do it either manually or automatically. The automatic removal requires you to download a security tool which will be able to detect HidenGate unwanted application and terminate it after running a system scan and noticing the malicious qualities of this adware. While there are plenty to choose from, don't forget to look at our review section just to make sure if the selected antivirus is not a rogue advertised by the HidenGate itself. We best recommend Spyhunter, which have demonstrated the best results removing HidenGate virus, despite the persistent variants.
Automatic Malware removal tools
If an anti-malware software is not what you are looking for at the moment, feel free to follow our free detailed guide on how to get rid of HidenGate malware from your PC.
How to remove HidenGate virus using Windows Control Panel
Many hijackers and adware like
HidenGate
install some of their components as regular Windows programs as well as additional software. This part of malware can be uninstalled from the Control Panel. To access it, do the following.
Start→Control Panel (older Windows) or press Windows Key→Search and enter Control Panel and then press Enter (Windows 8, Windows 10).
Choose Uninstall Program (if you don't see it, click in the upper right next to "View by" and select Category).
Go through the list of programs and select entries related to HidenGate virus . You can click on "Name" or "Installed On" to reorder your programs and make HidenGate easier to find.
Click the Uninstall button. If you're asked if you really want to remove the program, click Yes.
In many cases anti-malware programs are better at detecting related parasites, thus I recommend installing Spyhunter to identify other programs that might be a part of this infection.