MgDisk also known as Magic Disk is yet another malicious adware, which internet users should be aware of. Magic disk virus invades victim's operating system as part of free bundled up software and torrents, from untrustworthy sources.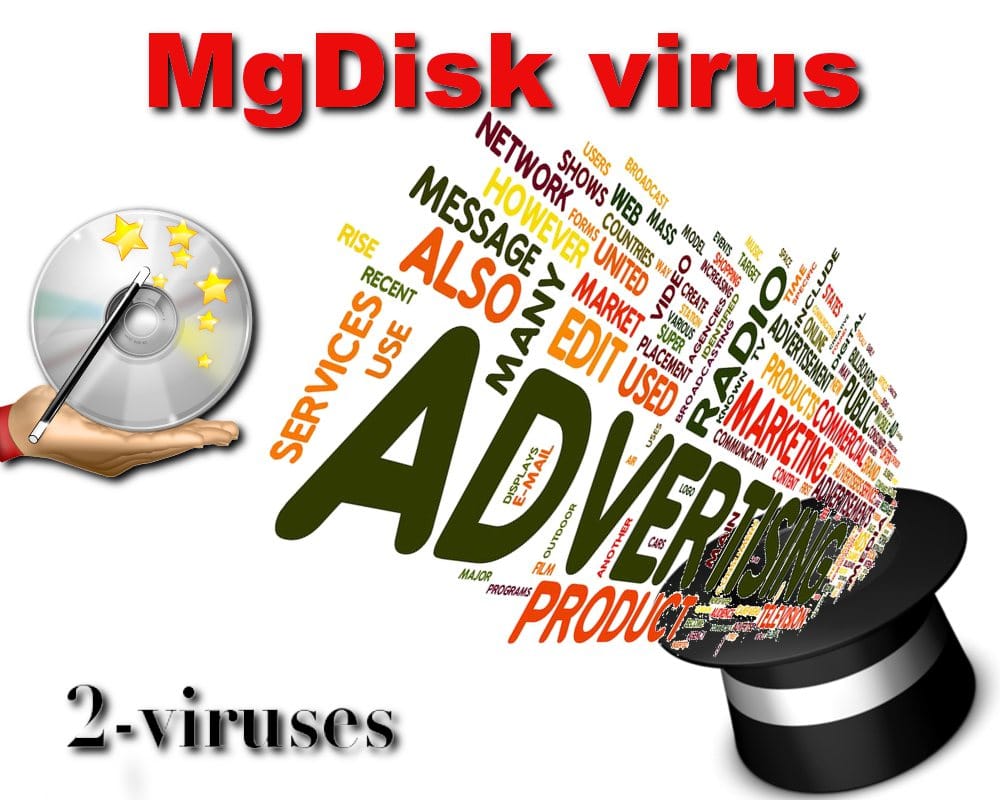 The malicious mechanism behind MgDisk , just like Mustang Browser and FreeCodecPack, is that it tries to infiltrate the system without user's permission and modify web browser's settings in order to display intrusive user-targeted advertisements. They base their ad recommendations on the victim's browsing history. These ads can show up as banners, toolbars, pop-ups and also redirects. Additionally deceptive Mgdisk has an ability to collect valuable information about the user, such as logins and passwords, bank account details and etc., while still earning revenue from advertising.
How does MgDisk enter your browser?
In most cases users notice Magic Disk adware only after the infection as a PUP on their desktop/installed software list and some even later, when the infection has already spread into the browser. The truth is that MgDisk virus gets into computer through various free update bundles, files downloaded from unauthorised websites, torrents. MgDisk virus installs together with other downloaded software and loads into the browser like an extension. It can infect Internet Explorer, Mozilla Firefox, Google Chrome internet browsers. 
When MgDisk virus settles it starts scanning infected victim's browsing history and generating vast amount of particular advertisements to earn revenue not only from sponsoring companies ads but also from referrals if user clicks on the ad and buys something. It is not hard to spot which ads are form the virus by seeing the underlined hyperlinks 'ads by mgdisk'.
Even though it may not sound so dangerous as other viruses, but knowing that some third-party application tracks your browsing activity is unsettling enough. Furthermore, it's naive to believe that MgDisk malware shows only harmless ads. Quite often other more malicious threats spread through ads into victims' computers, because adware does affect firewall and other antivirus protection leaving an easy path to other infections.
Lastly, if MgDisk can infiltrate your browser and track your net searching history it can also see all the sensitive data you have put online. Login details and passwords, bank account informations, transactions, credentials become all available for this adware. There is always a secret agenda behind every product and Magic Disk's is money, no matter, if they're made in malicious ways. That 's why there is a big possibility that if you won't take any action to delete MgDisk adware it can end up stealing your personal data and using it for their own benefit. Don't wait until you are in a much difficult to solve situation and eliminate MgDisk virus as soon as you notice it in your computer.
You can also see a very good presentation for better understanding on Understanding and Detecting Malicious Web Advertising.
How to remove MgDisk?
The removal of adware is one of the easiest problems to solve compared to other viral infections, but only if addressed at the right time – the very beginning. And so Magic Disk should be removed right before it starts casting its 'magic' on to your Mozilla, Chrome or IE. 
The simple strategy to eliminate MgDisk is to uninstall it from your PC. You can achieve it by going to Program Files and Uninstall/Add-Remove Programs section. There you should see all the software you have in your computer. Then in this list search for MgDisk or Magic Disk and once you have found it press Uninstall/Remove button. This should get rid of MgDisk virus from your browser as well but it is better to check browser's settings and Add-ons/Extensions if there's no leftovers from the Magic Disk. 
Sometimes it happens that no matter how attentively you follow removal recommendations or how many times you try to delete the program it still persistently bothers you. That can meant that it may have its 'roots well hidden' somewhere where you manually won't be able to access and a stronger, more confident tool will come in handy.  2-viruses team has tested and fully recommend Spyhunter and Malwarebytes. With these products you can scan the whole system thoroughly and safely delete detected viruses, not only just Magic Disk, because virus infections usually don't 'walk alone'. Of course, you can use any anti-spyware tool of our choice, just make sure that it is not another PUP that MgDisk is maliciously recommending you.
As for the future, be always aware of what are you installing into your computer and what websites you are visiting and what information you put on the wide world web. Ideally have some trustworthy  malware detecting/removing tools always installed on your PC to detect the viruses at the moment they try to get into your system.
Automatic Malware removal tools