GetMyDrivers is a driver updater for Windows PCs. GetMyDrivers is considered to be potentially unwanted by some antivirus scanners. While it is not malicious, you should think if you really want to use it. GetMyDrivers runs in the background unnecessarily, shows pop-ups when you log on, and asks for a subscription fee to update drivers – even though Windows updates drivers automatically for free.
Getmydrivers quicklinks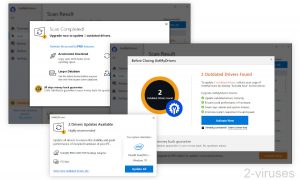 About GetMyDrivers in short:
Classification
Potentially unwanted program.
Problems with GetMyDrivers
It's a little intrusive,

its features aren't very attractive for the price,

it's a driver updater.

How it's installed
Advertised online in reviews and ads.
How to remove GetMyDrivers
Uninstall it manually,

remove it with an anti-malware program (like Malwarebytes),

stop the subscription,

if needed, block notifications from unwanted sites.
What is GetMyDrivers?
GetMyDrivers, which can be downloaded from Getmydrivers.com, is a driver updater for Windows computers. Its problem is that it's detected by a few antivirus scanners as a potentially unwanted program – Virustotal.com.
Drivers are programs that allow your hardware (printer, keyboard, various internal computer components) to communicate with the operating system. A wrong driver can cause some features of a device to not work. However, a driver can't add features that a device isn't capable of.
New drivers are released by device makers and downloaded and installed along with Windows updates (Support.microsoft.com). You can also download drivers yourself from specific websites or use a program (usually one made by the device manufacturer) that downloads and installs them for you. In my experience, a new driver for a device only gets released once every few weeks, so it's not a hassle to update them yourself.
GetMyDrivers is a third-party driver updater. It scans your computer, identifies which drivers it thinks are outdated, and offers to install new drivers from its database. Its cost is around $20 per year.
I would like to know what GetMyDrivers offers that isn't fulfilled by Windows Update (whose updates are free, by the way). I mean, automatic updates, backups, ability to roll back – that's all possible on Windows. Is there a reason to use GetMyDrivers instead?
Is GetMyDrivers safe?
Overall, GetMyDrivers is fine, if a bit unnecessary. So, why do antivirus scanners detect it?
In fact, GetMyDrivers is certified by AppEsteem, which monitors apps for deceptive behavior. That said, I still think that GetMyDrivers is useless because:
Windows Update can install new drivers for free.
You can download new drivers yourself.
You don't need to update drivers all that often.
One reason for GetMyDrivers getting flagged is that the scanners that detect it are pretty strict and protective of their users. They don't mean to imply that GetMyDrivers is malicious, only that some of its behavior may lead to misunderstandings and to people using GetMyDrivers when they do not need to.
So many driver updaters scare people into paying for them by making false and misleading promises (such aS that they'll make your computer faster, which GetMyDrivers claims as well) that now every driver updater has to be scrutinized (Never Download a Driver-Updating Utility). Programs such as TweakBit Driver Updater, WinZip Driver Updater, and others are potentially harmful. And though GetMyDrivers isn't, it's still not good.
Some driver updaters claim that they offer drivers that are newer and more feature-rich than those offered by Windows Update – which can be true, as Windows is pretty strict with its driver reviews. At the same time, Microsoft can actually afford to keep an up-to-date database of compatible drivers because it's a big company with lots of resources. It's very reliable at installing compatible drivers. How can a small program like GetMyDrivers even compare? It's more likely than Windows Update to cause compatibility problems.
In addition, GetMyDrivers is a little annoying, as it schedules a notification to appear when you log on your PC. There doesn't seem to be a setting anywhere in GetMyDrivers to disable that. GetMyDrivers also still runs in the background when you close it, which is totally unnecessary. You don't need to update your drivers often enough for GetMyDrivers to be running all the time.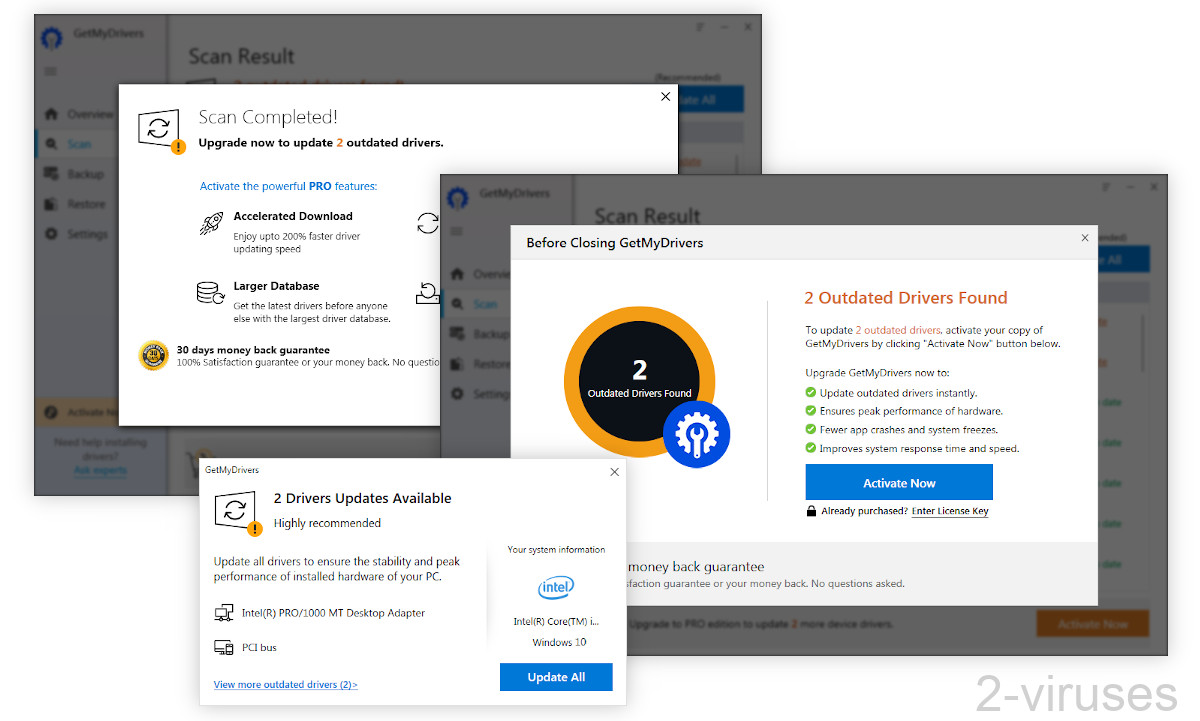 How to remove GetMyDrivers
If you decide to remove GetMyDrivers, you can uninstall it manually. You can also use an anti-malware program, such as Malwarebytes. It's strict about what programs it considers safe and which are potentially unwanted. As GetMyDrivers is promoted with the help of an affiliate program and it promotes related programs (like MyCleanID), it might not be the only potentially unwanted program on your computer.
In addition, GetMyDrivers offers a 30-day money-back guarantee.
Of course, if you decide that you like GetMyDrivers, you can keep using it without worrying about too much. Just make sure that you're using GetMyDrivers because you want to. Remember that you can get all the correct and up-to-date drivers for free, if you want.
If GetMyDrivers is showing pop-ups in your web browser, block notifications from the Getmydrivers.com site.
Automatic Malware removal tools
How to remove GetMyDrivers using Windows Control Panel
Many hijackers and adware like
GetMyDrivers
install some of their components as regular Windows programs as well as additional software. This part of malware can be uninstalled from the Control Panel. To access it, do the following.
Start→Control Panel (older Windows) or press Windows Key→Search and enter Control Panel and then press Enter (Windows 8, Windows 10).
Choose Uninstall Program (if you don't see it, click in the upper right next to "View by" and select Category).
Go through the list of programs and select entries related to GetMyDrivers . You can click on "Name" or "Installed On" to reorder your programs and make GetMyDrivers easier to find.
Click the Uninstall button. If you're asked if you really want to remove the program, click Yes.
In many cases anti-malware programs are better at detecting related parasites, thus I recommend installing Spyhunter to identify other programs that might be a part of this infection.