Get Video Converter Search is a Chrome browser extension. It replaces your search engine with feed.getvideoconverter.com and delivers web search results in Yahoo.com. Get Video Converter Search is an add-on for Get Video Converter, a separate application, which means that people who have installed Get Video Converter Search probably have a few other unwanted browser extensions, too. Not wonder there – Get Video Converter Search is spread using deceptive tactics and many of its users don't even know that they've got it installed.
Get Video Converter Search quicklinks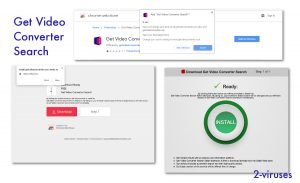 Problems with the extension
Type of threat
Effects on the browser

Search redirects
Ads in the browser and in search results
Browsing data collected

Get Video Converter Search's distribution

Adware programs and bundlers
Malicious ads and redirects

How to stop Get Video Converter Search redirects and ads

Uninstall hijackers manually
Delete bundlers and adware
Scan your computer with an anti-malware tool (Combo Cleaner for MacOS, SpyHunter for Windows)
Effects on the browser
Those people whose browser search settings are claimed by Get Video Converter Search will see the line "Search GetVideoConverter or type a URL" in the address bar. Your homepage and other browser functions are not affected, so if they're different than usual, those effects are caused by other browser extensions.
At first glance, Get Video Converter Search is nothing more than a search settings replacer. However, in the background, this extension also reads your browsing history and all the search queries that go through feed.getvideoconverter.com.
Overall, Get Video Converter Search is a browser hijacker, a search redirect virus, and adware:
This browser extension locks your search settings, forcing you to use Yahoo.com and feed.getvideoconverter.com when you want to search the web.
Information about your browsing habits is collected through Get Video Converter Search and used for interest-based ads online.
Interest-based ads are injected in search results by feed.getvideoconverter.com.
Pop-up ads are sent to you through install.

getvideoconverter.com if you allowed its notifications.

Get Video Converter Search gets installed by adware, often together with other hijackers.
Ads by Get Video Converter Search
Someone whose browser is taken over by Get Video Converter Search will thus have their browsing habits spied on, will see a lot more ads form now on, and probably be exposed to some harmful websites.
Install.getvideoconverter.com is the site on which you can install Get Video Converter Search and it doubles as a notification spammer. It offers you to accept its notifications and if you do, it makes pop-up ads appear in your browser. These Get Video Converter Search ads are for things like:
Other browser hijackers.
Shady, unregulated diet pills.
Gambling sites.
Fake lotteries and giveaways.
No doubt, people whose browsers are being spammed by Get Video Converter Search with such ads will be exposed to potentially dangerous content. Clearly, the ads haven't been screened for malicious behavior.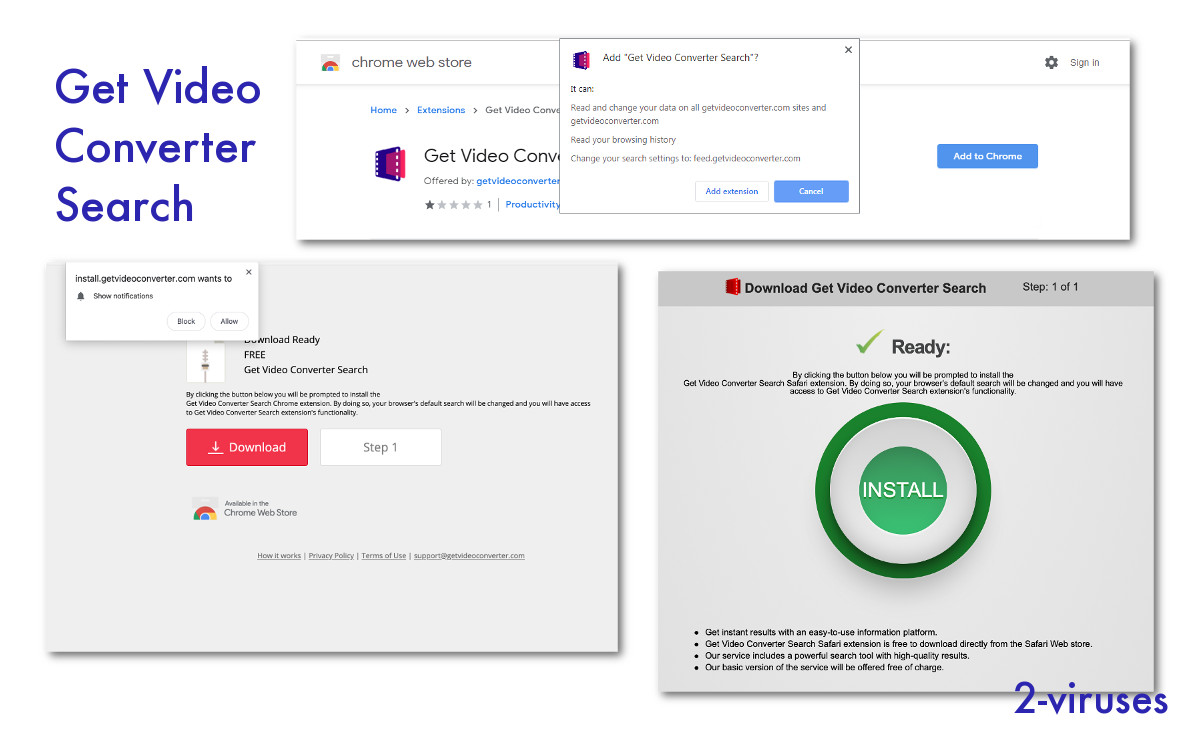 How did Get Video Converter Search get installed?
So, if Get Video Converter Search is so bad, how come it's installed on tens of thousands of Chrome browsers? (Seriously, some 70 thousand users at least).
The answer is adware sites, deceptive ads, malicious redirects online, and misleading descriptions. People don't install Get Video Converter Search because they think it's good – they don't install it intentionally at all! They get tricked and manipulated into it, or a malicious application on their computer does it without even asking.
Get Video Converter Search is associated with a bunch of bad websites, including notification spammers like install.stream-all.com and install.notify-service.com – sites that send ads to your browser and spread scams and malware. Get Video Converter Search is also visited after people go to sites like onlinevideoconverter.com (a site that once was hacked to spread a ransomware infection) and y2mate.com (this site is just full of bad ads). Ads, links in social media, and redirects by infected websites lead to Get Video Converter Search.
With Get Video Converter Search, other hijackers are distributed. Ones like PDF Converter HD, or Radio Fanatics. They and Get Video Converter Search are installed on a site that looks like the "Flash SD App Required To Proceed" page. This page is often used to convince people that they're required to install an extension. It's totally false and these pages should always be ignored.
But malicious ads online isn't the only way for hijackers to spread. Adware viruses and bundlers can install Get Video Converter Search without you noticing, under the guise of installing a totally unrelated program. These bundlers get your consent to install adware with the help of some deception. They hide important information in terms of service and advanced settings that are not shown to users by default. Bundlers are distributed on download sites as free software and they can be almost any random program.
How to remove Get Video Converter Search
The Get Video Converter Search extension needs to be removed to free the browser. Related and similar extensions, too. Also, it's a good idea to delete bundlers and adware from the computer. This can be done using anti-malware scanners (SpyHunter for Windows, Combo Cleaner for MacOS). It can also be done by just looking at the programs and applications that were installed at the same time as Get Video Converter Search hijacked the browser. Looking up the reputation of those programs online or scanning their files with an anti-malware tool should reveal if they're known for bad behavior.
Automatic Malware removal tools
TopRemoving Get Video Converter Search from Chrome
Click on the menu button on the top right corner of a Google Chrome window. Select "Settings".

Click "Extensions" on the left menu bar.
Go through the extensions list and remove programs you do not need, especially similar to Get Video Converter Search. Click on the trash bin icon next to Get Video Converter Search or other add-ons you want to remove.

Press on the "Remove" button on the Confirmation window.

If unsure, you can disable them temporarily.

Restart Chrome.
(Optional) Reset your browser's settings
If you are still experiencing any issues related to Get Video Converter Search, reset the settings of your browser to its default settings.
Click on Chrome's menu button (three horizontal lines) and select Settings.

Scroll to the end of the page and click on the Reset settings button.

Click on the Reset button on the confirmation box.

If you cannot reset your browser settings and the problem persists, scan your system with an anti-malware program.