StreamAll is a browser hijacker for the Chrome browser and Install.stream-all.com is the website where it's downloaded from. The extension is presented as a helpful addition to the browsers of fans of movie and television news. However, StreamAll is actually a very basic example of a mildly malicious extension: a browser hijacker and adware. While it does not present any immediate danger, StreamAll should be uninstalled by those who don't want dishonest and risky software on their devices.
Streamall Stream All Redirects quicklinks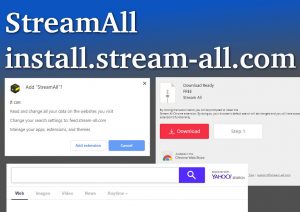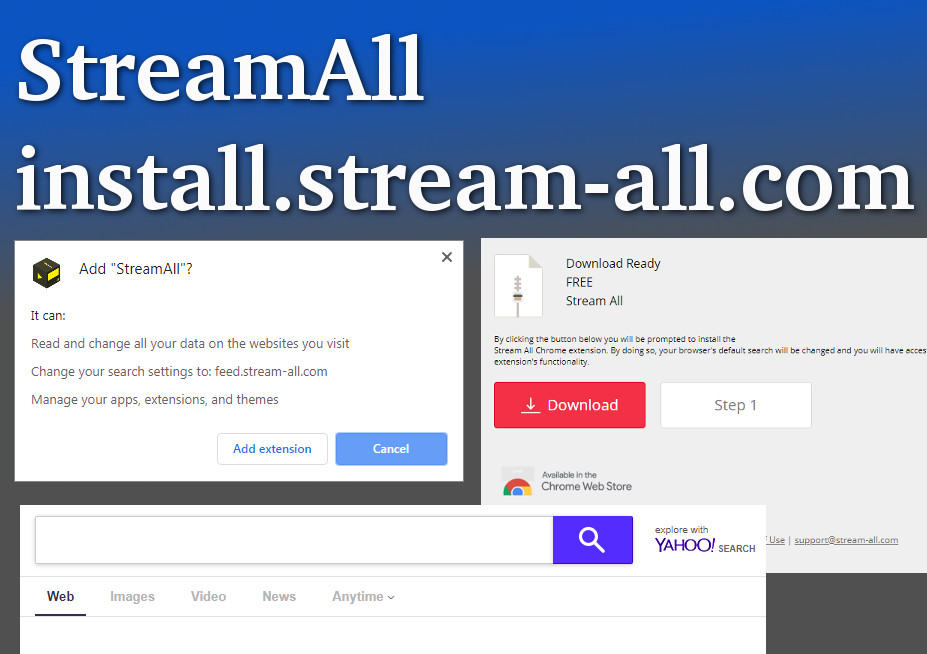 StreamAll is recognized by these signs:
The text "Search StreamAll or type a URL" is present in your address bar.
Typing "stream" into your address bar changes the text to "StreamAll |" and redirects the search to "stream-all.com/search".
Normal queries are sent to Yahoo.
What is StreamAll?
StreamAll is supposed to help you search for news about films and television. If you prefix your query with "stream", your search will be redirected to a page that the add-on's developers think is good for finding that information. I thought that stream-all.com was a horrible movie news aggregator, but that's up for each user to decide. This function does not make StreamAll malicious and could be used by a safe and legitimate add-on.
The main symptom of StreamAll as a browser hijacker is that the search queries that are typed into the address bar are sent to the Yahoo search engine. This symptom isn't unique to StreamAll but is shared with lots of other hijackers, like TheCookingClub or quickweathersearch.com. Malicious extensions try to take over your search engine in order to control what results you see, inject promoted content into them, and track what you search for and what you click on.
Being a browser extension, StreamAll has the power to make changes to how your browser works, such as editing the content of any website that you're on, which means that it could, if it wanted to, read the data you type anywhere online and display anything on any website. That's essential to it presenting ads that it can later profit from. The people who install StreamAll are the unwilling audience of the advertisers who partner with this extension's developers.
How is StreamAll advertised?
StreamAll is advertised using redirect viruses. Redirecting sites that, upon landing, immediately send you to a promoted page — whether it's an investment scam, a scareware application, or a phishing site. Sites that do this end up promoting some very dangerous products and using extremely aggressive advertising strategies. Being in a company like this shows StreamAll in a bad light.
Adware also promoted StreamAll and works very similarly to a redirect website. The difference is that an adware application has more power than a browser extension and can manipulate more settings. For example, an adware program can open a new browser on its own.
If you don't remember even seeing the Install.stream-all.com page, that could mean that the add-on came in a bundler. If you download your software from freeware hosting sites, some of your installers may have been a bundler that installed additional software in the background. This happens because the developers of the additional programs are willing to pay the distributors for each installation, giving the distributors of the bundlers an incentive to make it as difficult as possible to avoid the additional installations. This is used to spread malware but is rarely used by any legitimate and reputable products.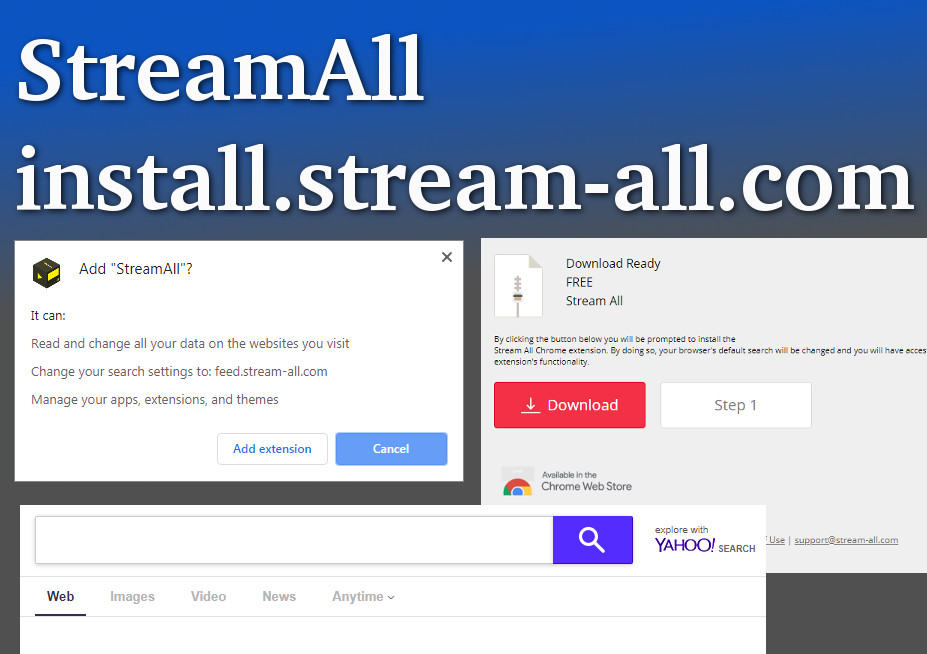 How to remove StreamAll
If pop-ups from Install.stream-all.com are attacking you, then you must have accidentally subscribed to this site's notifications. This is remedied by accessing the settings of your browser and finding the list of websites that can send you notifications. The simplest way to do this is to catch one of these pop-ups and to click on the gear button to access the settings. Alternatively, you can type "chrome://settings/content/notifications" into the address bar and find Install.stream-all.com in the list of websites that can send you updates. Block Install.stream-all.com form sending notifications and the pop-ups will stop.
StreamAll — the extension — can be removed manually. Rick-click on its icon next to the address bar and Remove it or follow the guide below this article.
Check if you have any more malicious software on your device by performing a scan with Spyhunter (Windows), or Combo-Cleaner (Mac). If it was a bundler that brought StreamAll on your computer, it will probably be detected, too, because even the mildest malware is tracked by cybersecurity professionals.
Automatic Malware removal tools
TopHow To remove StreamAll Install.stream-all.com Redirects from Google Chrome:
Click on the 3 horizontal lines icon on a browser toolbar and Select More Tools→Extensions

Select all malicious extensions and delete them.

Click on the 3 horizontal lines icon on a browser toolbar and Select Settings

Select Manage Search engines

Remove unnecessary search engines from the list

Go back to settings. On Startup choose Open blank page (you can remove undesired pages from the set pages link too).
If your homepage was changed, click on Chrome menu on the top right corner, select Settings. Select Open a specific page or set of pages and click on Set pages.

Delete malicious search websites at a new Startup pages window by clicking "X" next to them.

(Optional) Reset your browser's settings
If you are still experiencing any issues related to StreamAll Install.stream-all.com Redirects, reset the settings of your browser to its default settings.
Click on a Chrome's menu button (three horizontal lines) and select Settings.
Scroll to the end of the page and click on theReset browser settings button.

Click on the Reset button on the confirmation box.

If you cannot reset your browser settings and the problem persists, scan your system with an anti-malware program.