Yopcgames.com is a spam advertising site disguised as a game pirating site.
Yopcgames.com lists various games and offers them for free. However, instead of downloading files, it opens advertisements. It asks you to complete "offers", subscribe to services, install apps, and participate in prize draws/phishing scams. Avoid Yopcgames.com as it has nothing but ads and spam.
Yopcgames Com Pirating Spam Site quicklinks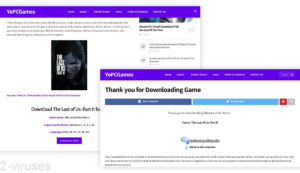 Yopcgames.com in short:
Classification
Scam,

adware.

How Yopcgames.com works
People discover Yopcgames.com when searching to download free games,

instead of downloading games, the site forwards visitors to sponsored sites.

Dangers posed by the site
Yopcgames.com advertised potentially harmful content, such as advertising sites and mobile service subscriptions.
How to stay safe on Yopcgames.com
Protect your device with an anti-malware program (Spyhunter, Malwarebytes, others),

block malicious websites and ads,

don't go to pirating sites,

only download programs from trusted sites.
Is Yopcgames.com safe?
How people find Yopcgames.com
Yopcgames.com is a website that offers visitors to download PC games for free. Users encounter it in web search results when they search for games to download for free:

Yopcgames.com is getting pretty popular, too. Web analytics sites estimate that it was visited more than 200 thousand times in April – up more than twice from March. People from all over the world, from USA to India and Indonesia seem to flock to Yopcgames.com for free games.
Despite being relatively popular, Yopcgames.com has no recognition online. No community around it. Search online for information about it returns no relevant results (at the time of writing, at least). This is because Yopcgames.com is fake.
How Yopcgames.com fails to download games
Yopcgames.com is not a real game pirating site. Rather, it's one of those piracy spam sites that clutter internet search results. It's similar to Macbookgames.net and Gamerroof.com – sites that show obnoxious and very misleading ads.
Yopcgames.com is not safe to use, although it's not as dangerous as sites like Gamefabrique.com that actually download installers.
Here's roughly how Yopcgames.com works:
People search through Google or another search engine for a certain game to download for free.
They find Yopcgames.com among the results. Yopcgames.com offers to let visitors download and install the game.
The person clicks on the link and clicks Yopcgames.com's Download button.
They're presented with a bunch of offers that they're supposed to complete in order to finish downloading.
The offers lead to various advertisements, such as sneaky subscription offers, notification hijackers, and phishing sites.
In the end, no game is downloaded from the site.
This works for Yopcgames.com. It pressures visitors to interact with the ads that it shows and, as a result, it makes money from advertising.
And here's Yopcgames.com listing a game that is simply unavailable on Windows: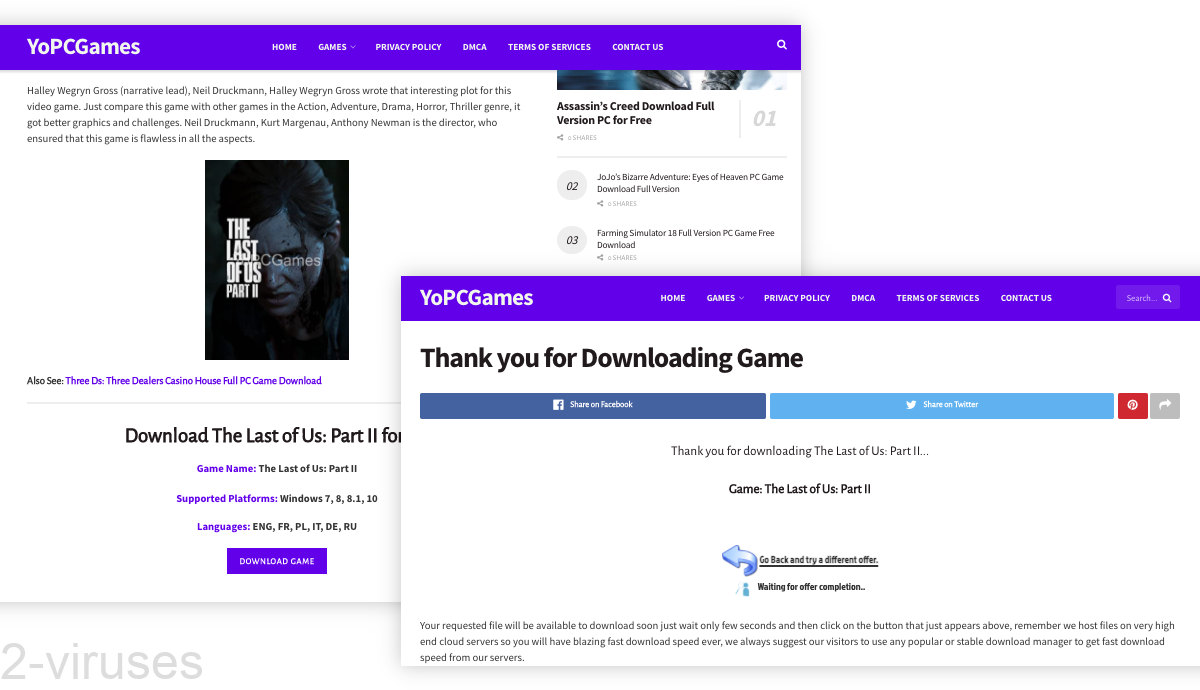 Dangers posed by the ads
Yopcgames.com asks visitors to complete various tasks to finish downloading files. to finish downloading, it asks users to complete tasks. These tasks vary, I'll try to describe a few that I encountered on Yopcgames.com.
Some tasks ask you to sign up with your phone number to receive tips, guides, and discounts for popular games, such as Roblox and Among Us. What's hidden in fine print is that there's a weekly fee for these tips. This fee is just a few euros, but it can definitely add up over time.
Another sort of task is to install apps. Some of these apps are useless, others might have some valuable features. The problem is that they might be unwanted.
Finally, I encountered quite a few notification hijackers on Yopcgames.com. These are sites like Unread-notification.com, Makeklick.biz, etc. Sites that spam your browser with pop-up ads.
Just visiting Yopcgames.com won't infect your computer with malware. But it can expose you to dishonest ads, lead you to subscribe to ad spammers and paid useless services, as well as to install potentially unwanted apps.
Here are a few examples of the sites that Yopcgames.com forwarded me to: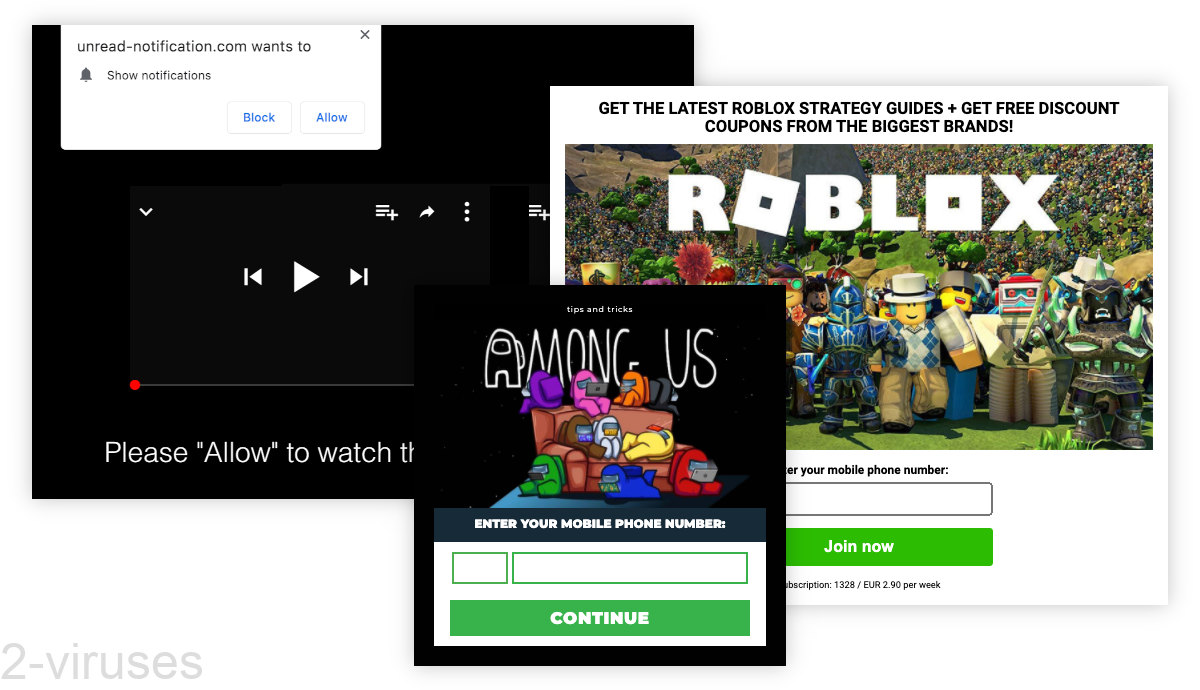 How to avoid Yopcgames.com
To avoid malicious sites like Yopcgames.com, don't pirate games. Illegal sites are full of bad ads. If you can stay away from them, you will be much safer online.
Other than that, use ad blockers and malicious site blockers (some anti-malware programs can do this) to stop dangerous ads from showing up. This will tremendously improve your safety on the web.
Try to only download content from trusted websites. Always research the site before downloading anything from it. If you can't find discussions about the site, then leave it and look for something else.
Always have a security program protecting you, such as Spyhunter or Malwarebytes. Don't disable it, not even for cracks and other software.
And remember that what looks too good to be true – is. Yopcgames.com lists some games that are simply not available to be installed on PC, such as various Playstation 4 and 5 games. This is a huge red flag.
Automatic Malware removal tools